Something strange is happening! Crossrail has some new Elizabeth Line maps on its platforms – and these indicate a rather strange route that hasn't been envisaged before. This route is from Shenfield to Abbey Wood – via Liverpool Street! As the pictures below show, this really is something. What would it mean if TfL is really planning on operating the eastern side of the Elizabeth Line in such a way that wasn't anticipated before? By the way it seems its only by quirk this could even be happening!
Is Crossrail really considering such an operation and if so what are the problems that could arise? And does it indicate the main central core of Crossrail could open even later than anyone thinks?
The new Elizabeth Line route map at Gidea Park – with Abbey Wood added as a branch – a foretaste of what's to come?
It is absolutely clear when one looks at this map that it depicts Liverpool Street Crossrail/Elizabeth Line station. For that to be the case the Northern Line has to be depicted as a connection. It puzzles me why TfL would have a route map like this drawn up – there must be a reason behind it. If its a mistake of any sort, its a bloody big one!
However lets not assume that its a mistake. There has to be a rationale behind it. The most obvious is the fact both Crossrail/TfL are bound by a legal agreement with the Canary Wharf Group. As part of this legal agreement, if the Elizabeth Line is not operational through Canary Wharf in 2021, a significant penalty will need to be paid out.
Yes you read it right! Canary Wharf, Custom House, Woolwich and Abbey Wood are featured on the new route maps!
This significant penalty alone means TfL has some considerable plan up its sleeve. It doesn't expect to have to pay it, but with things still slipping in terms of Crossrail progress, there's never been a better time to be insured totally against any possibility of that happening….
If it has to be paid, this penalty amounts to £15 million a year, that alone seems to be a possible reason for this rather curious way of trying to get a much delayed railway into working order. As we will see in a moment its not the only possibility however….
Liverpool Street's Crossrail station now seems to be progressing well enough for a Shenfield to Abbey Wood service to begin.
As is quite well understood, the central core (Paddington/Stratford/Abbey Wood may not be open until even 2022 – because of numerous problems including Bond Street which has just suffered another batch of delays in the seemingly rather futile efforts to get it finished, thus this initiative could be a means of avoiding any possible new slippages that might occur in completing the line's problematic stations and infrastructure.
The line is on target to open between Paddington main line station and Reading from this December, as has just been said there's absolutely no sign yet of when the central core route will fully open. Rail has indicated this will be sometime between October 2020 and March 2022. If TfL can open part of its core route in advance of that, there will no doubt be a great jubilation.
Despite these delays the eastern part of the new line from Liverpool Street to Abbey Wood is quite well complete and could quite easily be put into service sooner than anticipated, the opus of this being to avoid the penalties that have just been mentioned. However that's just one possibility. Here's a discussion at a GLA meeting earlier this year on that penalty…
Discussion at the London Assembly Budget and Performance Committee in January 2019. Source: GLA
Does this actually mean trains could travel from Shenfield via Whitechapel and Liverpool Street/Moorgate to Abbey Wood? Well its very confusing! Its seems it would be easier to run the Shenfield – Liverpool Street – Abbey Wood services separately (eg Shenfiled – Liverpool Street and Abbey Wood Liverpool Street) because there isnt the fullest capacity to run an intensive service by sending trains down to Whitechapel and then along the eastbound line to Liverpool Street via the Whitechapel crossover as an out and back operation.
A service every fifteen minutes is easily possible, given enough slack, as the transit times between Whitechapel and Liverpool Street is two minutes. Ten minutes would be the absolute minimum via the Whitechapel crossover but it would be easily affected if there were delays. In my view if a effective ten minute service was required it would mean most trains would likely have to go via the Fisher Street crossover.
Anything less than ten minutes is quite difficult is, besides reversing, lots of trains will be doubling back though Stepney Green junction. A five minute service using Fisher Street and the line's ATO capability is possible, however given the very tight margins, it could easily go wrong because of the number of trains doubling back.
A 345 service to Liverpool Street main line station. Eventually these will reach Liverpool Street via Pudding Mill Lane and Whitechapel!
Its possible TfL plan to have a Shenfield out and back operation, with a branch service to Abbey Wood. How this could work is the Shenfield trains would arrive at the westbound platform and then travel empty to the Fisher Street crossover and thence back to Liverpool Street to form a return to Shenfield.
Conversely the Abbey Wood services could switch tracks at Whitechapel in order to arrive at Liverpool Street's eastbound platform. They would wait here for just a couple of minutes before returning to Abbey Wood. I would assume a train makes its way to Liverpool Street (same as the Royal Oak option if its enabled here) whilst the driver changes ends. Certainly there are various options besides this including doubling back of drivers.
It could be that combination, or a mix of combinations using both Whitechapel and Fisher Street crossovers, or that every train from Shenfield to Liverpool Street then goes on to Fisher Street and back in order to form an Abbey Wood working. Then back to Shenfield by the the same means.
None of the above will involve what are known as 'Zorro' moves (a case of changing direction twice.) These can only occur if out of sequence moves are required either direction at Fisher Street or a train approaching Whitechapel wrong line either direction and requiring access to its normal route. Those in the above scenarios will be straightforward movements involving just one reversal.
The newer format at Forest Gate showing the Northern Line as a interchange service – which must mean the destination depicted has to be Liverpool Street platforms A & B (Crossrail/Elizabeth Line.) Compare with the older map (below.) The Northern Line is not on this older one.
Clearly TfL has some plan because its most recent platform diagrams clearly show Liverpool Street (Crossrail) station. The evidence comes from the fact the Northern Line is depicted on these as an interchange via a passageway from the Crossrail/Elizabeth Line platforms.
The question is whatever happens this initiative will see the Abbey Wood line have a somewhat infrequent timetable especially considering its meant to be a turn up and go Metro service every few minutes.
In that respect it seems its going to be a fairly light service – every ten minutes at the most to either destination.
The older route map at Forest Gate – without the Northern Line depicted – clearly the destination is Liverpool Street main line station.
If its possible to run both Shenfield and Abbey Wood trains to Liverpool Street/Moorgate and then out of service to Fisher Street where they would then return to Liverpool Street to recommence service, why should Farringdon station not be be open too? Or are they expecting it not to be open for quite a while too like Bond Street?
The strange thing is the line diagram does not even depict that possibility of using Farringdon. Liverpool Street is clearly the passenger terminus for this operation.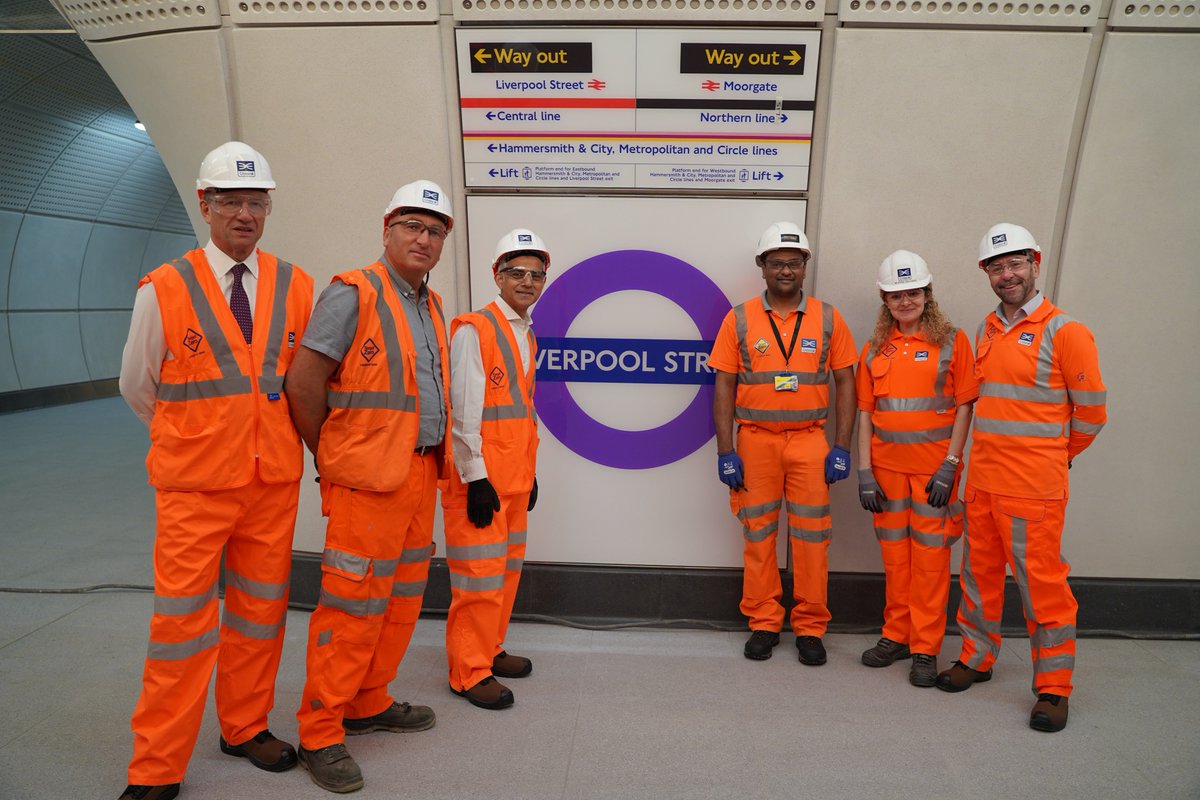 Photo of the Mayor and his entourage at Liverpool Street Crossrail. Source: Twitter
The main reason for showing this picture of the Mayor at Liverpool Street is because of the platform sign behind the group. It clearly shows the connections that will be served and this is exactly the same as the one to be seen on the line diagram at Gidea Park and Forest Gate – namely that the Northern Line is depicted as an interchange point – and this clearly shows TfL intends to run its trains wholly via this deep level station.
Class 315 at Gidea Park – with the Shenfield to Abbey Wood route diagram clearly evident.
Earlier I said there was another possibility for this scenario. Is it possible this rather odd Shenfield to Abbey Wood service is something to do with the fact Liverpool Street will currently only accept seven car Class 345s?
That is in fact another side of the equation! In order to allow Liverpool Street to accept the full nine car Class 345 trains, platform 18 will need to be closed completely whilst platforms 16/17 receive work to extend them. Now this is interesting! If Crossrail (operating as the Elizabeth Line) does not open then there is no way the Liverpool Street platforms can be modified.
For this work to take place (and the main line station to be able to retain its capacity for its numerous other train services) the Class 345s must instead use Liverpool Street Crossrail platforms A & B – in order to allow that one main line platform, number eighteen, to be taken out of commission and the other platforms made longer.
Class 345 at platform seventeen which will become the furthest platform in use. The adjacent Electrostar is at platform eighteen which will be removed.
To sum up, what we are seeing here is the route diagram that can be seen at Gidea Park indicates a possibility of opening the new line between Pudding Mill Lane, Liverpool Street and Abbey Wood earlier than the rest of the core section – and by doing this TfL will achieve two objectives.
The first is to avoid any possibility of incurring penalties payable to the Canary Wharf Group. In fact its insurance against this happening.
The second is to permit the platform modifications to go ahead at Liverpool Street – in advance of the full central core route opening – by which time the full range of train services can then be offered including extra peaks only nine-car Elizabeth Line trains into Liverpool Street main line station.
Class 345 at Forest Gate for Shenfield. Will these start from Abbey Wood rather than Paddington, Heathrow or Reading? Who knows!