This is the big question. Reliability is a continual thing. In many instances it seems railways just have no good level of reliability. South Western, West Coast Main Line, Thameslink, even London Underground. Loads of people complain about these dire services especially as their jobs and livelihoods depend on railways being the reliable form of transport they are often set out to be.
The lines in and out of Euston suffered yet another huge show of disruption. How many times this week has that been? As the two following tweets show, there was some dispute as to the actual number of total shutdowns this week affecting Euston station…
Today's bad news… source: Twitter
Twitter source (Note: This tweet has been deleted. Fortunately it was screencapped at the time this post was written.)
As I personally notice, this week alone train services in and out of Euston have suffered some form of total shutdown five times (six, maybe even seven times, times according to the above tweets.) That means barely any day this entire week in which reliability has been an asset.
UPDATE 1st November evening: People were being held outside Euston late afternoon and this evening for the umpteenth time in a week as the repairs to the damaged cantenary at Kensal Green continues. The usual crowds outside and inside the station as staff try to prevent people accessing the station and its platforms due to the many cancellations.
I am writing this because at the end of that week that has just been mentioned trains are once again suffering total chaos due to overhead power lines just outside Euston. Trains are not starting out from destinations such as Manchester and Glasgow because there is apparently no point in sending trains out if their destination is greatly uncertain!
I was first alerted to today's problems via tweets from the Caledonian Sleeper. Their services had suffered problems and indeed it seems people had to disembark and use other services to Euston – without having their luggage with them. Its only in the last few minutes the Caledonain Sleeper has made it into platform 15 at Euston where its beleaguered passengers could finally collect their luggage.
London Overground wasn't affected by this latest debacle. Ironically yesterday (31st October) their was entirely shut down due to problems at Willesden Junction as the next tweet shows…
Just exactly how many shut downs have there been this week? Thats Friday to Friday of the period 25th October to 1st November.) It seems to me its been at least five times but I could be wrong, so let's see what it actually was judging from social media….
Rush hour chaos at Euston early evening 1st November as services are suspended due to works at Kensal Green. Source: Twitter (Note: Account has been either suspended or deleted thus an archived image has been used.)
November 1st – Total chaos and many trains cancelled due to power lines down at Kensal Green.
October 31st – London Overground suffers total shutdown between Euston and Watford due to issues at Willesden Junction.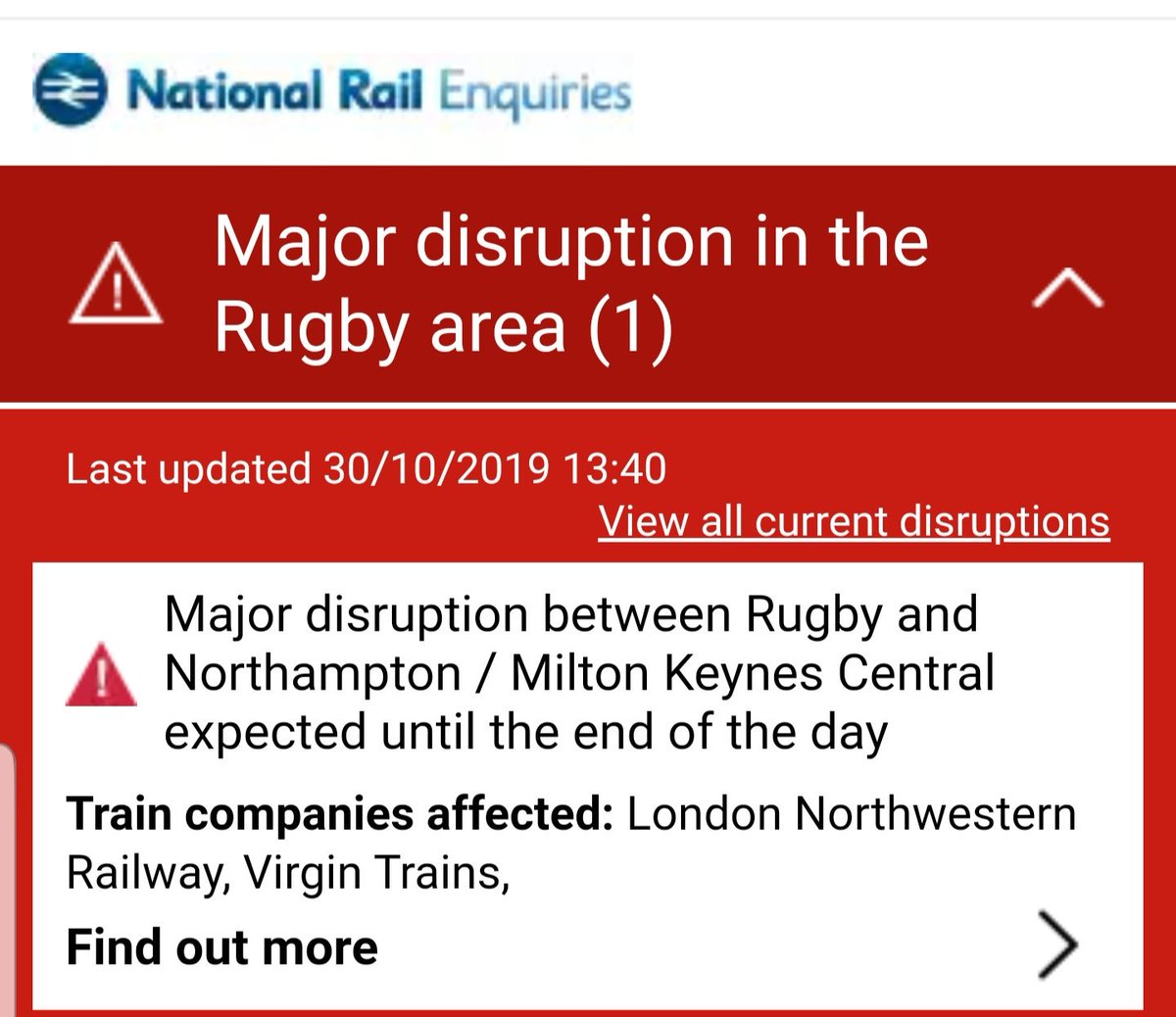 October 30th – Ongoing disruption affecting many services. Apparently due to staff shorages at LNWR.
Twitter source (Note: The tweet itself has been deleted however it was screencapped anyway.)
October 29th – London Overground shuts between Harrow and Watford (due to a faulty train at Bushey) whilst LNWR suffers cancellation due to sfaff shortages. Virgin and LNWR suffered cancellations too in the Birmingham area due to overhead line problems near New Street.
October 28th – Many delays on LNWR Euston to Northampton – many complaints of short formed stock. Many delays and cancellations both morning and evening peaks on all services inc Virgin trains. Complaints of trains being cancelled so the stock can simply run non stop to Euston (or other destinations) in order to be on time! Its a tactic thats increasinlyg used across the board to get trains back in their allocated slots. Many of the major rail companies employ this to an increasing extent. It works but its very poor PR for the beleaguered passengers who see it as a strong indication the train companies simply don't care, that they would rather see their passengers abandoned to the elements….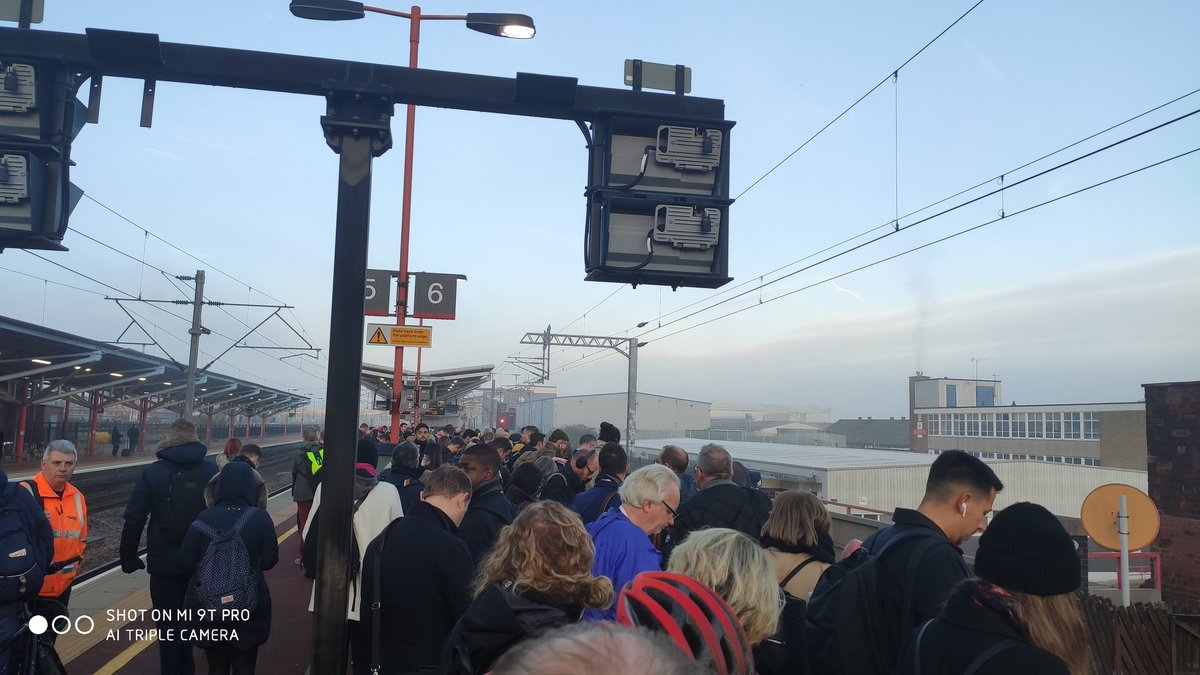 People at Rugby waiting for trains on the 28th. Many services cancelled. Source: Twitter
October 27th – Considerable knock on from flooding on the 27th but also many services cancelled too which were largely unrelated unrelated to the flooding.
October 26th – Flooding causes cancellations to many services and complete line shut-downs in the Midlands/Staffordshire areas. Again something considerably beyond the remit of the railways.
October 25th – big shut down due to someone on the power lines at Camden. Some said the person had fallen from a bridge whilst others said it had been a case of trespassing on the railway… There was a fatality as a result however and its something completely beyond the remit of the railways.
As a rail enthusiast I think railways are nice. Of course I'm biased. I have been a lifelong railway enthusiast! However it seems to me the present time seems to be procuring an even more unreliable railway system. In part its due to hugely increased traffic, the downsides of privatisation, a lack of coherency across all systems from the train operators to the infrastructure management, and what seems to be an increasing element of uncertainty. In short a huge increase in rail usage has made the entire system more prone to slippage.
Locomotive damaged this morning by overhead wiring at Kensal Green. Source: Twitter
When I look at what is happening it looks as if the railways barely have any endearing plus points these days when it comes to reliability. Social media brings homes the enormous of the problems of many who unfortunately get stuck on trains. Messages such as 'How long are we stuck here for?' 'We are stuck in the middle of nowhere, will we be able to get to London in time to see Hamilton?' 'I have an important meeting in London, my job depends on the success of that and this is the one day you guys choose to screw it all up.'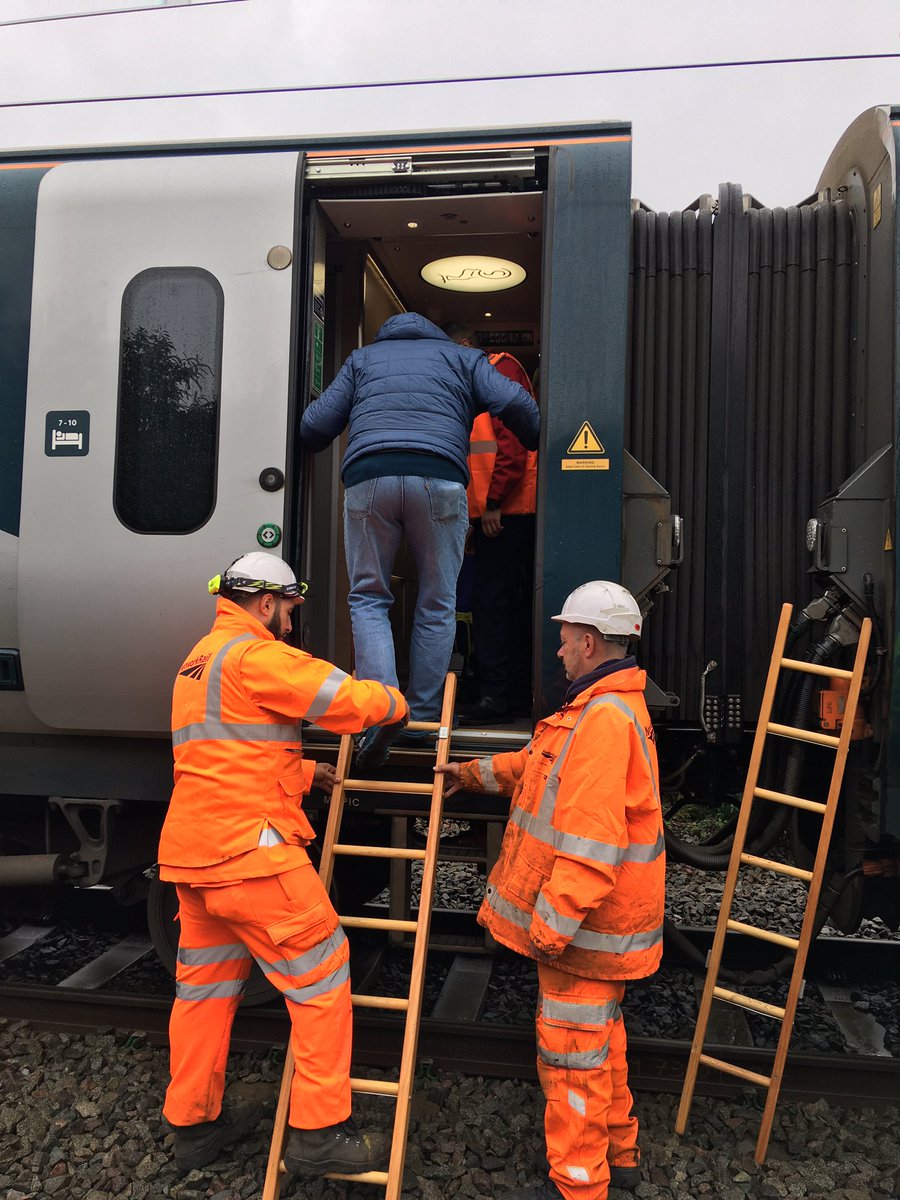 Passengers being helped off a London North Western train at Kensal Green. Source: Twitter
The messages from London's Underground are just as equally depressing. Loads of complaints about the Central Line (trains suspended because of a bag stuck in a train door) the lack of Piccadilly Line trains to Uxbridge, regular signal failure son the Metropolitan, the list is just endless. Reading these after a few days makes one want to give up in despair and just have the whole damn lot closed down. Our railways are simply not doing the job!
This week the services at Euston seem to have gone for Olympic gold. Practically every day of the week has seen a total shutdown of services or failing that, a service that is in no way commendable and has not endeared its thousands of passengers in any way.
At this rate the railways are on the verge of succeeding at driving people back to the roads – because too many people are becoming irate with their train services. These simply cannot be relied upon at all.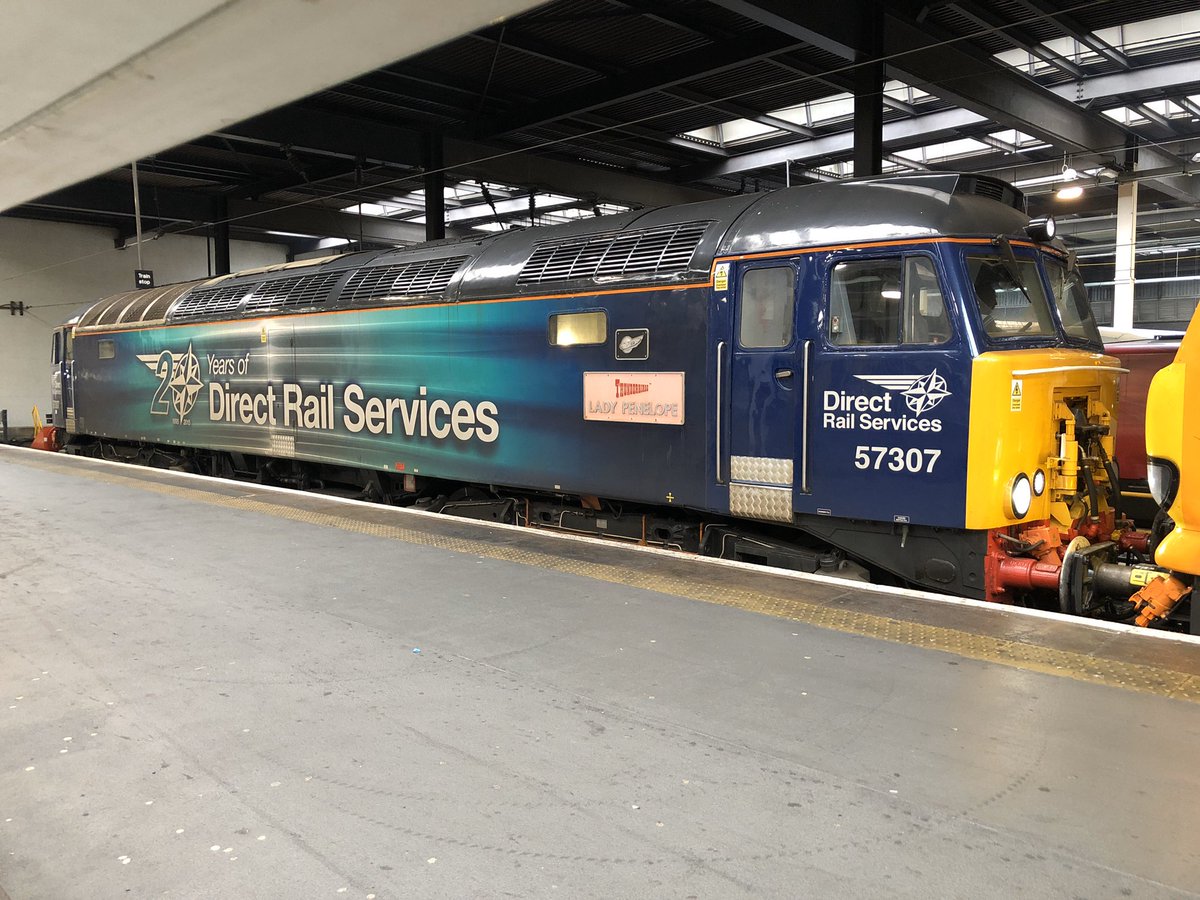 'Thunderbird' Class 57307 was employed to bring the Caledonain Sleeper into Euston at lunch time today. Source: Twitter
Yes there was one day when things were entirely beyond circumstances and that has to be included as part of the equation in running railways. But to add to that practically seven other days of failures is just not acceptable.
The railways do have a monopoly of sorts. That cannot be argued. It is a useful monopoly (let's leave the issues of HS2 and privatisation out for the moment.) Their increased popularity plus the fact people are somewhat hesitated to use the roads or contribute to global warming means rail has a huge advantage. But they are not living up to the expectations that are needed to move them forward greatly in these troubled decades.
This is a very important time. We want people to use the railways and to feel comfortable in their use of the railways and feel that trains have a very useful contribution to make. Not to find them some Russian roulette sort of thing where either its a totally good service or a service that's just gone down hill completely and one may as well not exist…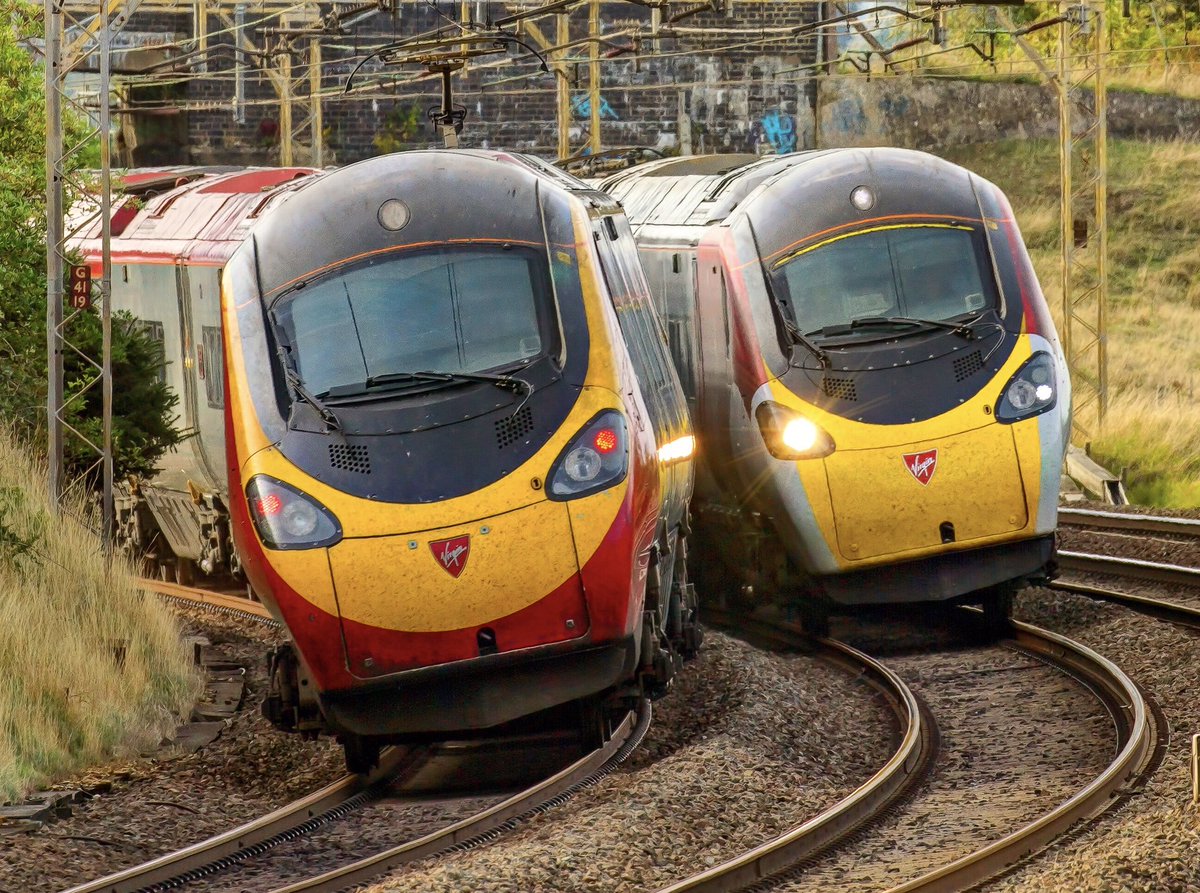 Are our railways leaning towards the abyss? Who knows! A pair of Pendolinos north of Linslade tunnel. Source: Twitter
It seems to me its very rare these days to find a railway service that has near on 100% reliability. Most days people are going to find a service that's at best shot through with cancellations and other delays.
Railways are an important factor in terms of climate change, C02, greenhouse gases etc. They are also important in the need to move people efficiently and over increasing time, to help the world to achieve its ideals of becoming more sustainable. This is very important.
But if the railways continue on the somewhat current depressing trend, its going to force people back onto the roads. More cars. More taxis. More buses. Who can blame people? Being stuck on a train is no fun. Being stuck on a road at least offers people an individual hope they will find a way out of it. Being stuck on a train and not knowing anything and having to wait hours for rescue even (and then walk perhaps miles along a rail track) is nothing short of shocking. Its not easy to walk along railways, especially when most wear what is their office clothing (lightweight shoes, heels, skirts, smart suits, the rest of it) and its something a lot of people will get very upset about.
I dont know if the railways can manage the huge challenges that lie ahead. I would think over the next few years it'll be either make or break. This being that this new and brave experiment in getting people off the roads has failed miserably and people would rather be stuck in a traffic jam than anything else.
Its either that or one where the railways shall be a huge success story which has enabled a lot of people to travel whilst at the same time reducing carbon footprints, pollution, the need to drive, and so on. This has been the trend for quite sometime but as far as I am concerned, its slipping badly.
At the moment it seems to me the railways are practically hanging off the very side of the wall that isn't the one wanted. Its the side with the snake pit below. Do we want that great slide and the subsequent devouring to happen? I think its time this issue really got to grips with. Ultimately I don't think it matters whether its the current set-up or nationalisation that are the solutions but rather a new vision that's badly needed.