Six weeks ago I published a post about the inconsistency in the signs made for the new Elizabeth Line. This is a follow up and there are some more surprises to be had! That is specifically the roundels at Woolwich which denote the line as Underground and not Elizabeth Line.
I haven't actually seen the uncovered ones at all, but I have seen the totem they are placed upon. Like most others the only pictures I have seen actually showing red roundels at Woolwich in place of what should be an Elizabeth Line sign are those shown on social media. The totems themselves are a disaster as I explained in my previous post.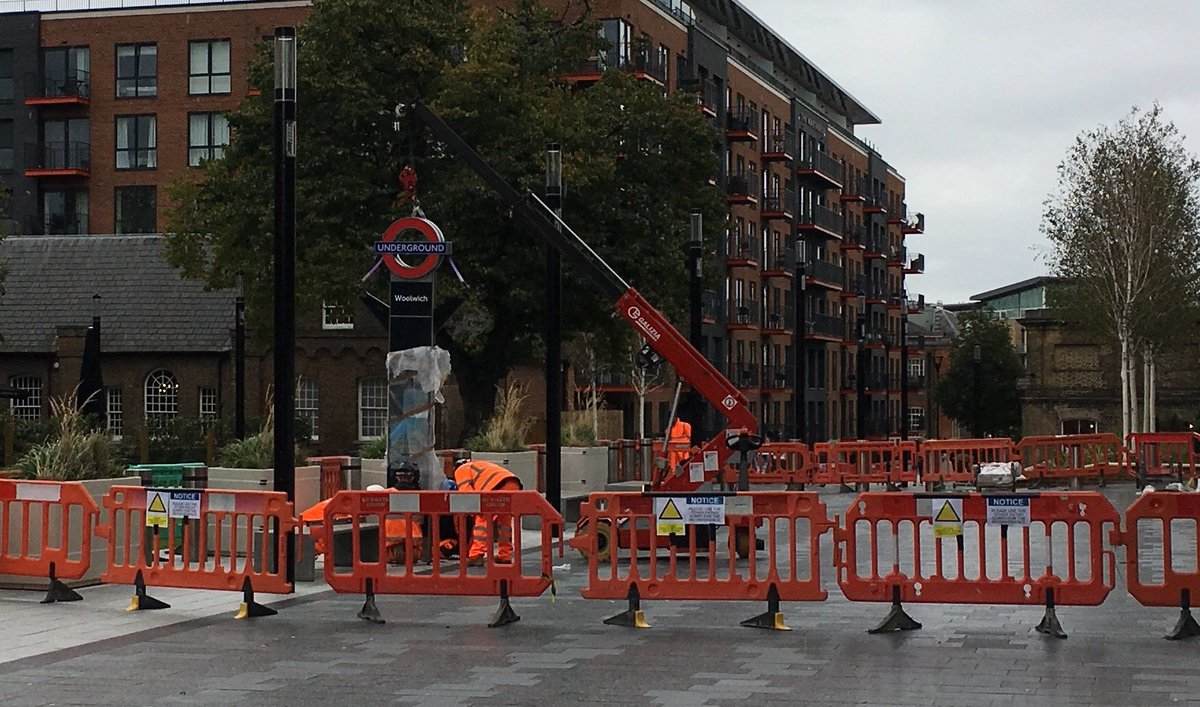 Woolwich's not even on the tube is it? The first most knew was on October 17th when a red tube roundel was installed at Woolwich. Source: Twitter
Almost immediately that one red roundel installed it was covered up (embarrassment perhaps?) But not before pictures of it had been uploaded to the social media. It was uncovered for a short while again about a week ago and further pictures were taken of it proving once again Woolwich station was sporting underground signs. Shortly after that it was covered up in white decal. Which led to some asking why they were now doing white tube roundels!
The second sighting of that red roundel (27th November.) Source: Twitter
Another pic by the same account ( South London's Finest ) Source: Twitter
Its very difficult to see anything than just pure plastic covering on these roundels! This is the new Beresford Street roundel.
I went to Woolwich to investigate after I saw a tweet which set my mind thinking on this matter. I arrived at Woolwich as it was dark and the new promenade lights outside the Elizabeth Line station were all lit. It was difficult to see anything really, however I soon found some positions from which the street lights highlighted the hidden 'underground' text.
The roundel directly opposite the Crossrail station with its 'underground' clearly evident.
Upon seeing that it was proof enough the new Woolwich Elizabeth Line station was really getting Underground roundels, and not the purple ones seen at the other stations! Its rather odd because the station frontage itself displays purple (which is the Elizabeth Line of course.)
The new Elizabeth line roundel opposite the Royal Arsenal gateway in Beresford Street. This roundel too is a red/blue London underground one!
One result of my visit was I found there now are in fact TWO of these new roundels with 'Underground' on them, not the one that was previously known to exist. There's this new one in Beresford Street that too has a tube roundel!
Its very hard to see the 'underground' on the sign in Beresford Street however with a bit of work and a long zoom it can be viewed.
One wonders why this is happening. As most of us know Woolwich isn't even on the tube. Its not to say we don't want it to be on the tube. Its just totally inconsistent especially in regards to the huge drive that has been underway to establish the Elizabeth Line brand. Not only that the Elizabeth Line isn't even a tube line to begin with!
There is for example a tube roundel at Whitechapel which is also an Elizabeth Line station, however this (see the second pic below) is apparently the right sign. The same can be found at Paddington, which means if its primarily a tube station then its a red roundel. If we look at Tottenham Court Road the combined Central/Northern/Lizzy entrance has a red roundel, however the specific Elizabeth Line in nearby Dean Street has the correct purple roundels. Its the same as at Farringdon East and West. What these do illustrate is if its a dedicated Elizabeth Line station (or entrance) it should have purple roundels. But that is not the case at Woolwich!
There is an inconsistency to these examples too as I have explored in my other post, but let's not dwell on that here.
Woolwich Crossrail/Elizabeth line station with its LT roundel at right.
These new roundel signs are at least meant to be of a specific design and have been around since May 2014 when the one at Paddington station (plus two River services ones at Embankment and Westminster) were installed.
The one at Whitechapel (which I haven't personally seen) is a specific Elizabeth Line oriented sign yet consistency too is not being followed here.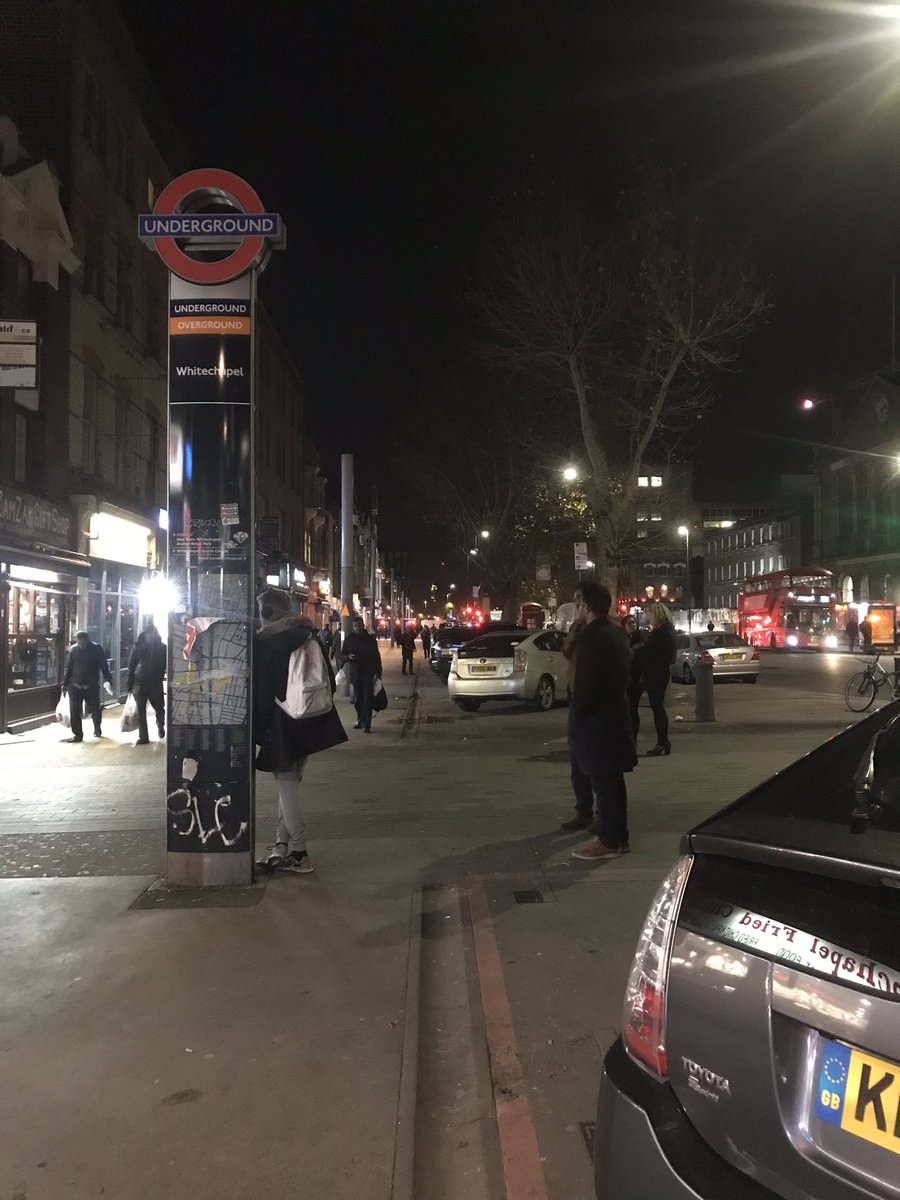 The new totem sign seen at Whitechapel. Source: Twitter
Whitechapel's is the only example I have seen that tries to match what the TfL idiom specifies. That is, an Underground roundel with other line identifiers. There's a mistake here because what is needed is 'Elizabeth Line' and the space for that has been taken up by this second 'underground' label!
Is there any real reason for their wanting Woolwich to be an 'underground' station? Well, if one looks back at the Metropolitan Railway this was an underground line but it also traversed right across London in a sort of Crossrail way. It went from New Cross right to North West London and then out into deepest Buckinghamshire, almost touching Oxfordshire.
Maybe that is what they are thinking of. The Elizabeth line becomes a sort of 'Metro/RER' which means they could then use anything they like including tube roundels!
The River roundel at Embankment. Source: Google Streets
There's one problem though – since we have Elizabeth Line roundels either side of Woolwich (this being at both Custom House and Abbey Wood) it does seem an odd deployment in having 'underground' signs at Woolwich.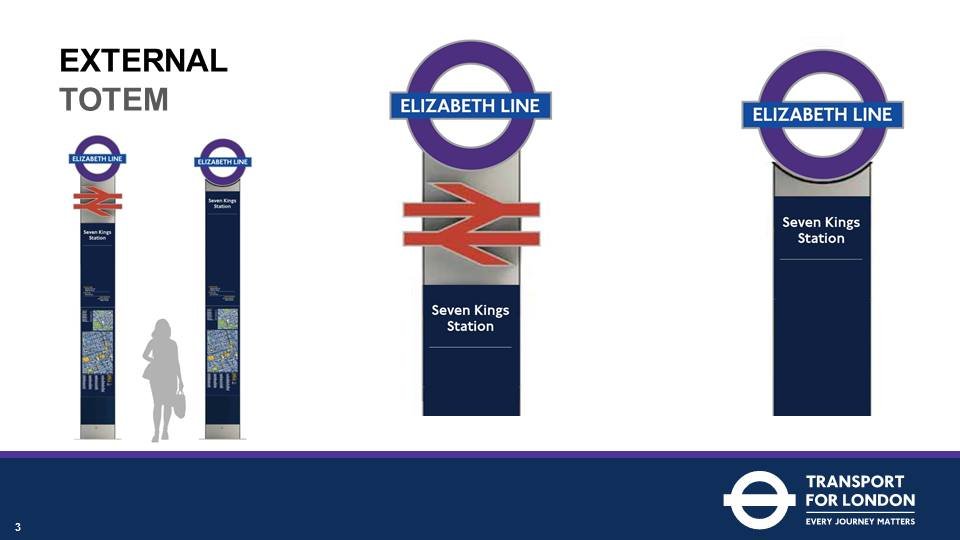 TfL's Elizabeth Line standards specify a purple roundel and definitely not an Underground one! Source: Twitter
The totem roundel at Paddington.
The following quote, taken from TfL's design idiom for the Elizabeth line conveys some importance on the need for consistency in the new line's identity:
The consistent use of the Elizabeth line colour palette is vital to ensure the brand is fully recognisable across all aspects of the Elizabeth line service…. The core Elizabeth line colour palette is detailed below, and these colours are to be used for the prime manifestation of the Elizabeth line brand and the primary signifier of the service.
Consistency in Elizabeth Line signage and colour is very important according to TfL's idiom!
Its clear TfL envisages the Elizabeth line roundel as the most important signifer for that new railway. Its telling us the brand won't work so well if its not used in this way. Thus it is a great puzzlement that they actually want to flout the very rules they have set out!
Examples of how TfL's signs should look.
Murky Depths told me there could be some reasons for this happening. What Murky Depths thinks it could be is this: 'Berkeley Homes want to make more money from homes they are building in the vicinity – and the underground roundel has greater brand recognition = higher asking prices.'
It would be an explanation for this anomaly. However it seems to me whatever the reason is, its somewhat a bit like giving the Central Line at Theydon Bois or Epping an Elizabeth Line roundel!
One's response would be 'the Elizabeth Line doesnt go to Epping!'
Exactly! Neither does the Central Line go to Woolwich!
Conversely one could say the Underground goes to Shoreditch and claim it as such by placing tube roundels here instead of Overground. The Central Line's tunnels passes deep beneath the street the Overground station is located, but there's no way one can get down to the tube. People would see the use of 'Underground' as a cheat because they will know its an Overground line.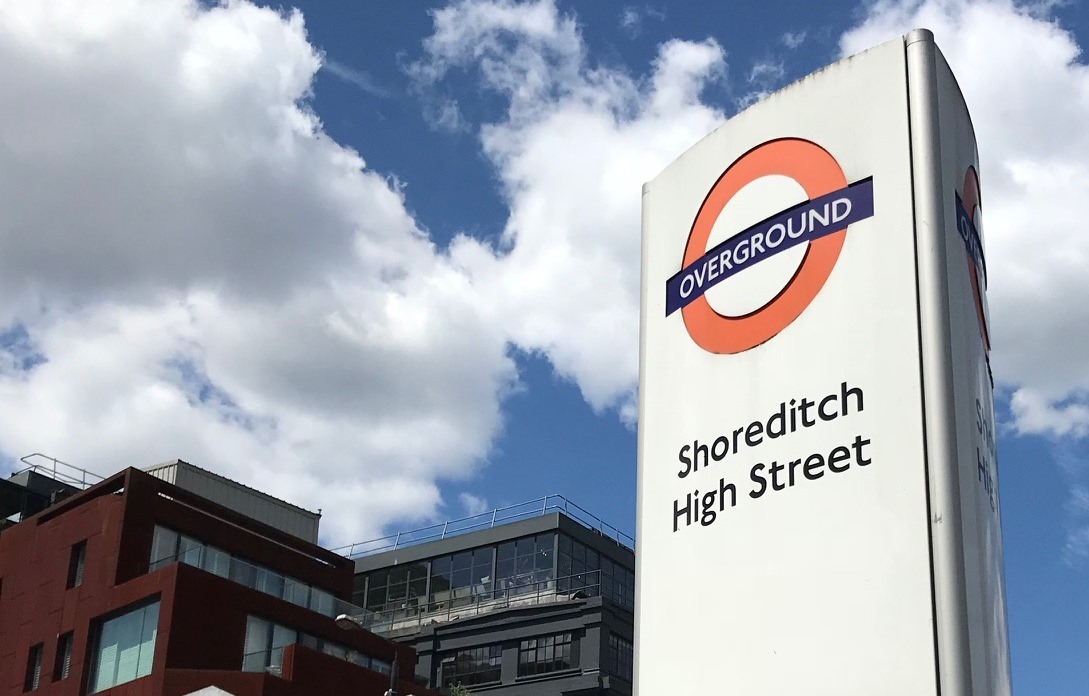 Imagine this at Shoreditch being replaced by an Underground roundel? Wouldn't work! Source: Tower Hamlets
In some ways it seems possible there is some thinking that a tube roundel might raise expectations for a particular location. However its certainly bizarre. Let's consider this one fact. Many places are going up in estimation (and properties in value) because its the Elizabeth Line arriving (no matter how late it is at the moment), with perhaps the exception of Abbey Wood where things are taking a considerable downturn. The following quote is of interest…
From the private sector perspective Berkeley Homes suggested that in relation to Woolwich, whilst Crossrail has not been able to immediately increase residential values prior to station opening, it has given them the confidence to push their residential product to a higher level in design and quality with the confidence that people will pay for quality where the development ticks the other boxes in terms of connectivity, access to local services and amenities.
There's another issue here in terms of what Murky Depths suggests. The tube roundel is of a somewhat lesser quality than the Elizabeth line. Its quantity rather than quality. The Elizabeth Line has consistently been pushed as a superior product compared to the tube/underground and if Woolwich should be 'Underground' then Berkeley are essentially downgrading the status of their oversite development !
If one looks at Berkeley's plaudits (for example here) its clear they look forward to the purple line arriving. Why would they want red roundels when its the purple everyone wants? Its 'Crosslizpurp!'
Consistency across the board or not?
Would it be in contravention of the trades description act to describe the Elizabeth Line as a London Underground line when it isn't? Its rather like describing a packet of crisps as a packet of cheddars! Imagine a roundel at Chancery Lane tube station saying River Services! You'd know damn well it wasn't what it claimed to be! Yet that's what they are doing at Woolwich.
To conclude, if its desired that Woolwich station has underground roundels, then I think it shows a sense of stupidity. All this blag about consistency and strict standards (not forgetting it being on time and budget and the rest of it) and then saying something like 'hey that Canary Wharf station (yes the one specially built by others to save Crossrail time and money) dont come up to scratch let's rip it all out and start again!' In fact there's lots of instances where 'standards' have apparently not been met in the course of constructing the Elizabeth Line and everything has been ripped out at huge cost – and they come up with these inconsistent, non standard, Elizabeth line signs at Woolwich!