So it arrives! Crossrail goes to the wild west a year after the whole damn new line had been due to open in Central London. This westwards stage in fact was supposed to be its fourth and final stage! As it turns out they're opening it – 'on time and on budget' – sort of! If one reads the original Crossrail blub (don't worry I know they deleted it but you can read an archived page here) the stage westwards to Reading was planned to open in December 2019, completing what would have now been the new Elizabeth Line.
From December 2019, customers from Reading and Heathrow will be able to travel all the way through central London to the West End and the City and beyond without needing to change trains. By linking Berkshire and Heathrow in the west, to east London and Essex in the east, the line will transform travel across the South East, carrying over 200 million passengers every year. It will increase rail capacity in central London by ten per cent, reduce congestion on the London Underground, and an extra 1.5 million people will be within 45 minutes commuting distance of London's key employment districts. Source: Crossrail
Many of us now realise Crossrail has a knack of doing things back to front! And what's more, the Elizabeth Line wont be fully opened until at least 2021 the way things are going!
Originally Crossrail was planned to go to Aylesbury. Then they switched it round to Maidenhead. They decided that wasn't wild enough so they sent it on to Reading! Its heading out way westwards. Why they didn't decide to terminate it at Reading West is quite beyond me…

Crossrail to Reading. Look how far to the right side of the map the centre of London is! Source: DB Schenker
Bizarelly the whole section from Paddington to Maidenhead is metro, rather like the other sections. A regular pattern of stopping points. Beyond Maidenhead, its well, you know… Sonning Cutting and a couple of Thames branches just for the fun of it – except Crossrail doesn't show these on its map!
The last bit of metro excitement is just before Maidenhead – Brunel's bridge across the Thames with its famously shallow curved arches. At the time it was built many though the bridge would collapse. It didnt and Turner got to paint his famous Rain, Steam and Speed. I suppose TfL thought its passengers had never seen a real railway cutting – let alone a historic viaduct (sorry Wharncliffe!) And it seems Brentwood cutting's just not up to the job!
Maybe they at Crossrail also wanted Londoners to realise the Thames didnt just fall off the map either – wouldn't want us to be flat earthers would they? Or even the fact Crossrail ignored the Royal river in any way. Yep it goes under the Thames at Woolwich but not a bit of London's watery highway can be seen anywhere from the new line.
But going over the Thames at Maidenhead one can certainly spot the famous river. Londoners might have Brayed at themselves and said, 'what on earth went there? Was it some ginormous ornamental pool with boats?' And I suppose in a way Crossrail had thought that simply wasn't good enough. Let's double the excitement by going to Reading – and yes the Thames is there too! Hey Londoners, its far more than the ginormous stretch of water we think it is!
Come to think of it Crossrail could've gone all the way to Kemble where a special shuttle bus service would take people to nearby Thames Head – and us Londoners could take a gander at a stone (and perhaps sometimes see a trickle of water), before saying 'aha, so that's where our ginormous bit of water originates! Must let the folks at home know this. And yay, its selfie time! '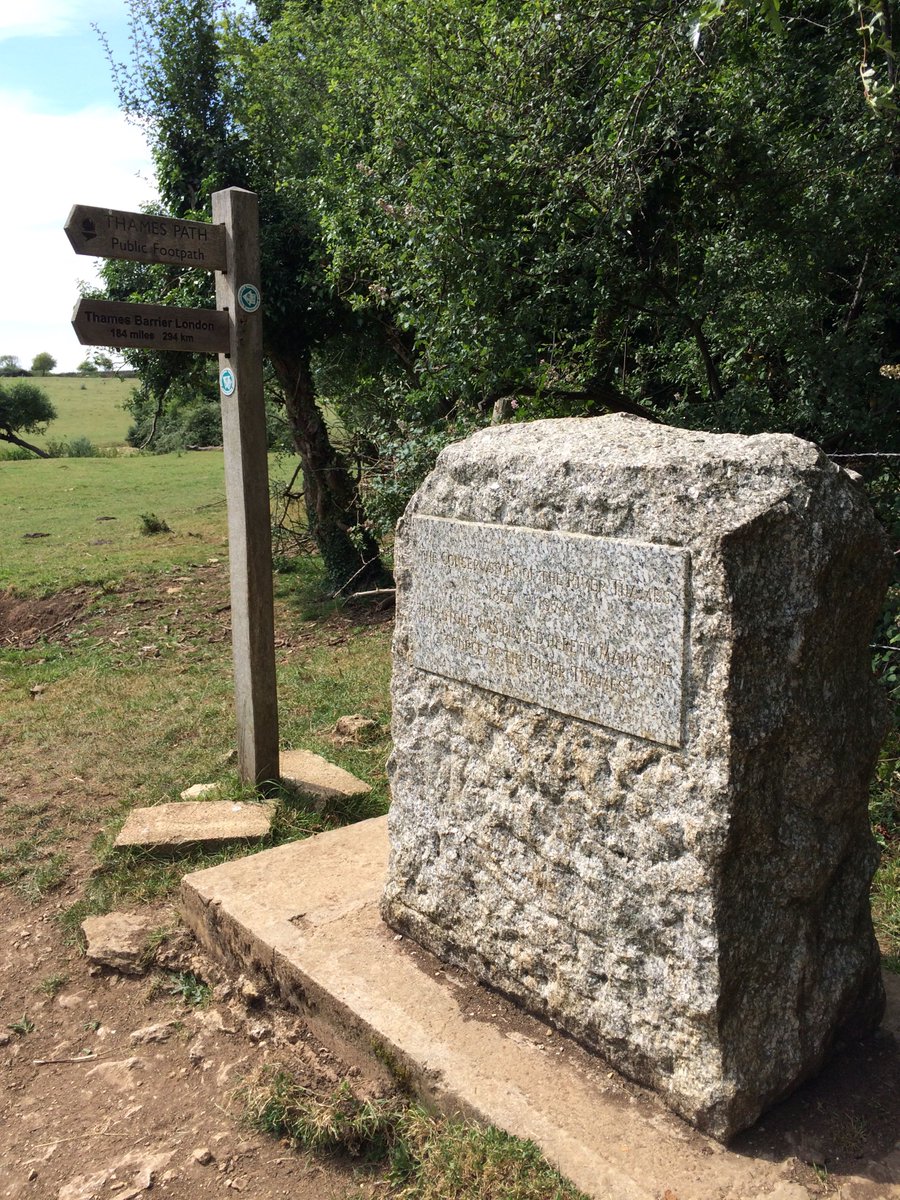 Where it all begins. The ginormous bit of water that formed London! Its Thames Head, more than 200 miles from the sea.
Bit unwieldy though, taking a metro line into deepest Gloucestershire! Crossrail calling all all stations to Didcot, and then hot footing it onward to Swindon, Kemble… At least they could stable the Class 345s on the old spur towards Tetbury.
If one thinks about it… Maidenhead, well just about logically sort of right. A sort of 'metro' service isn't it? But Reading? Every half an hour? What does one call Crossrail beyond Maidenhead? A branch line or something like that? 🙂
Look at the latest tube maps! Reading's on there! Not Yeading but Reading! You read that right. Reading with an R not Yeading with a Y. Whether it should have been an R or a Y, I can assure you Crossrail's still 'eading west!
Perhaps Crossrail (Elizabeth LIne) had visions of a once former Metro line to Verney Junction for all anyone knows. Maybe someone in the ideas department at Crossrail said, 'we can do better than that… "Verney Junction…." pfft! That's nothing! We're going one stop better. If we get the plan accepted to extend Crossrail to Reading it will be BRILL!'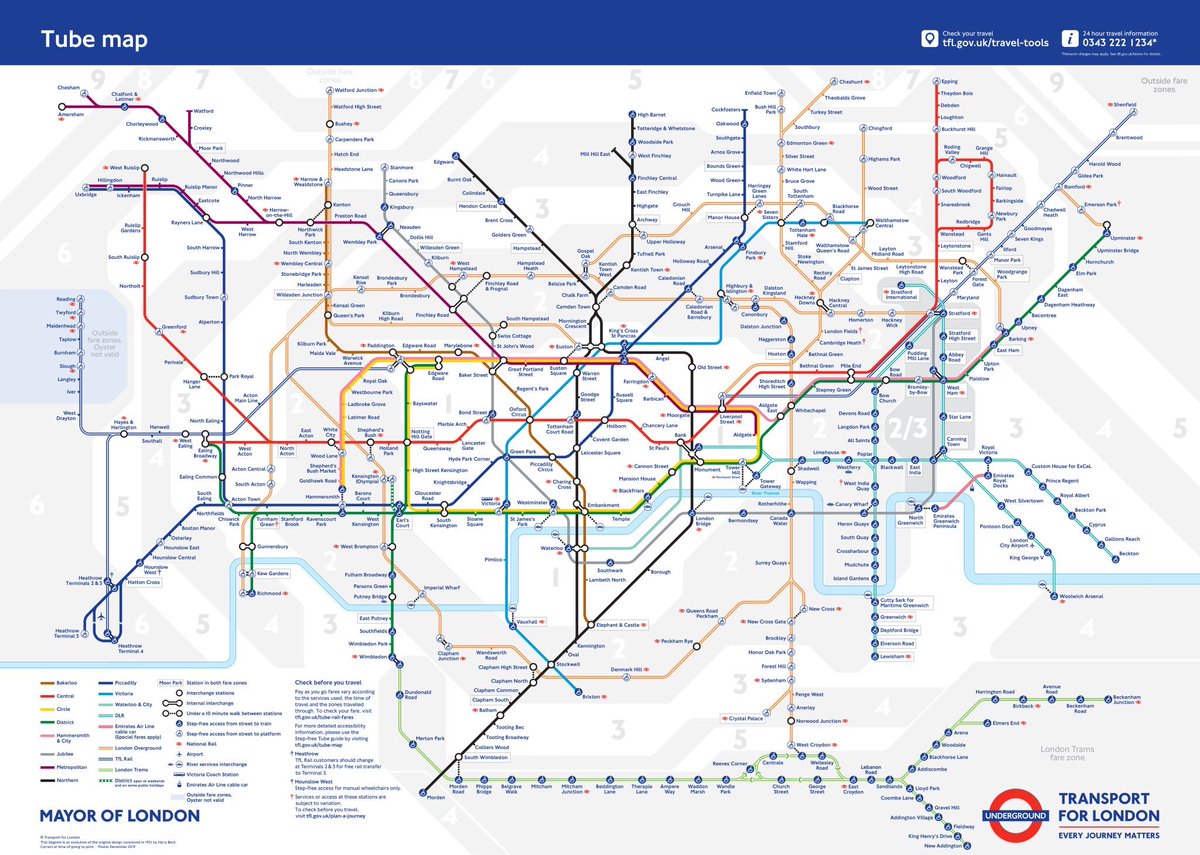 TfL's new tube map. A TUBE MAP yes! With the branch to Reading stuck ingloriously along its left hand side! Source: Twitter
They've had to put the end of the Lizzy line in a location that's almost adjacent to Northolt… its as if someone had got West Ruislip Ben Dover'd so badly it landed somewhere near Cockfosters!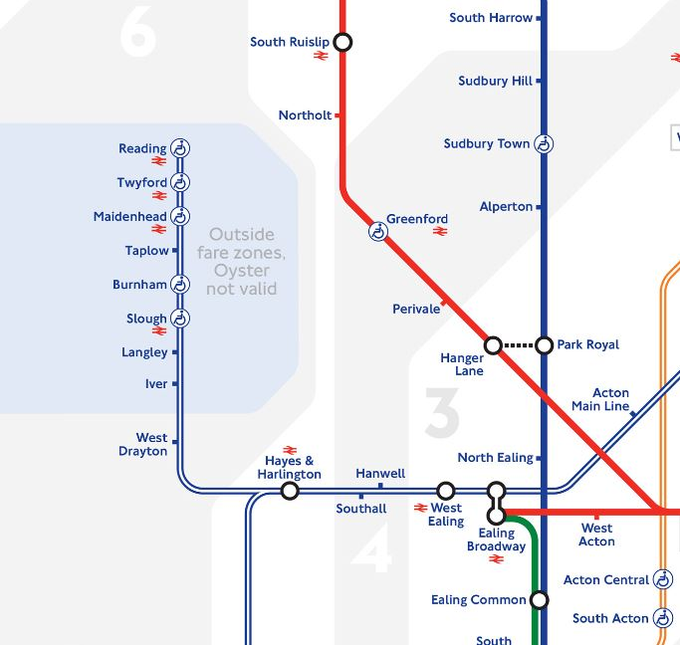 There! A larger sized map showing the Reading bit much more clearly! Source: Twitter
As a result we have this bizarre tube map showing the Elizabeth Line (btw its TfL Rail for now…) showing it extending to Reading – but they can't squeeze it in properly! So they've had to bend it like Ben D… erm no… bend it like Beckham – but instead of straight into the goal itself its sort up and over – and backwards into one's own goal!
The other thing is the section from Iver to Reading is shown as being an undefined area within a Zone 6 area. Looking at it carefully does it mean the points onwards from Reading are actually in Zone 6? Thatcham? Pangbourne? Didcot? Newbury? Is there some secret commuters in the Thames and Kennet Valleys do not know?
Look at the map I created below and see just how far Crossrail goes beyond the tube boundaries. The grey area illustrates this. The bits on from Harold Wood to Shenfield and West Drayton to Reading are the newer bits. Combined these two areas actually match the total coverage of the tube map area itself! No wonder TfL have had to shorten the Shenfield section considerably and bend the Reading branch round so much it looks bloody ridiculous…
Map I created specially just for Crossrail! The full extent of the purple lines is shown. Notice how small the normally defined tube map area (grey) is!
Do you know the craziest thing about this long Crossrail foray to the west? The section from Maidenhead to Reading's practically the same length as the entire central core section from Abbey Wood to Paddington! Three stopping points against ten for the other!
Look at the map hard and one will also realise Paddington to Reading is three times longer than Paddington to Abbey Wood. Imagine the amount of petrol the Class 345's drink just to travel the same distance three times over once they have left Paddington!
In terms of length, Crossrail's new line on TfL's latest map is far shorter than any of the tube lines, even Tramlink, on the same map! Even the piddling Waterloo & City's longer than Crossrail's Reading branch!
Since it was opened in 1840, there's never been any other station along this lengthy section beyond Maidenhead other than Twyford. Brunel saw it as an opportunity to really show the paces of his new trains (they were broad gauge if one remembers…) thus its always been a case of 'let's just bloody well get to Reading!'
That's exactly what Crossrail's doing!
On the matter of balancing things out, if one were to extend the line the other way where would it have gone? Apparently Southend. Why Crossrail didnt even want to go there no one knows… maybe Twyford sounded more posh than Rochford and Langley so much better than Hockley? There's one other point to consider – the Queen (that's our Elizabeth) has been to Reading and its locality many times. Alas for Southend its been just the once. Can't send the Elizabeth Line there can we – not even if it has a 'Victoria' station!
Another plus towards the efforts to get the Queen's own railway line to Reading!
Ultimately on the face of the evidence, Reading (in General) has far more to commend it as an Elizabeth Line terminus than any Essex seaside resort 🙂
When the TfL maps with Crossrail's Reading branch first came out just a week or so ago, I pondered upon these and decided Crossrail's efforts had been to no avail. I mean if they had wanted to end up somewhere near Northolt, they might as well have built their line to Uxbridge instead of Reading. Now that would have been a balanced sort of railway line. Heathrow down one bit and Uxbridge up the other. Cowley could have been reopened plus a couple of other new stations – off the top of my head these would have been Cowley Peachey and Ferndale.
So I redrew the TfL map to show Crossrail going to Uxbridge. It fits so much better and its all entirely within Zone 6 which makes perfect sense.
Crossrail to Uxbridge! The sites with question marks could well be new stations at Cowley Peachey and Ferndale stations. Map adapted from TfL.
Rough draft I did without the additional stations en route to Uxbridge.
If Crossraill's designers had a bit more vision they could have had a far better railway. It would have fitted perfectly into TfL's latest wheeze of a tube map instead of this big joke of a map trying to show the Elizabeth Line going to Reading.
Changing the subject… this weekend it'll be December the 15th, the day the services to Reading officially begin. Do enjoy the new services but don't forget there's no loos on Crossrail's trains! So its crossed legs if one hopes to take a piss… and if its the other… run! Cos there's nowhere to hide!
Footnotes:
1) Little of the Uxbridge Vine Street branch remains thus reinstating it would have been difficult – sad to say!
2) Yes I know the Class 345s are electric! The petrol thing was just a joke (and yep, I know trains that aren't electric are diesel powered rather!)