Sixty years ago this week the last passenger trains rain on the County Donegal Railways. Its popular knowledge the last public trains bowed out on December 31st 1959, but what is less known is the railway continued solely as a regular freight operation for a further five weeks or so. Which means, like several other narrow gauge systems both in Britain and Ireland, services soldered on longer without passengers. The freight service officially ended 6th February 1960 however its said an impromptu service was provided for a few more months.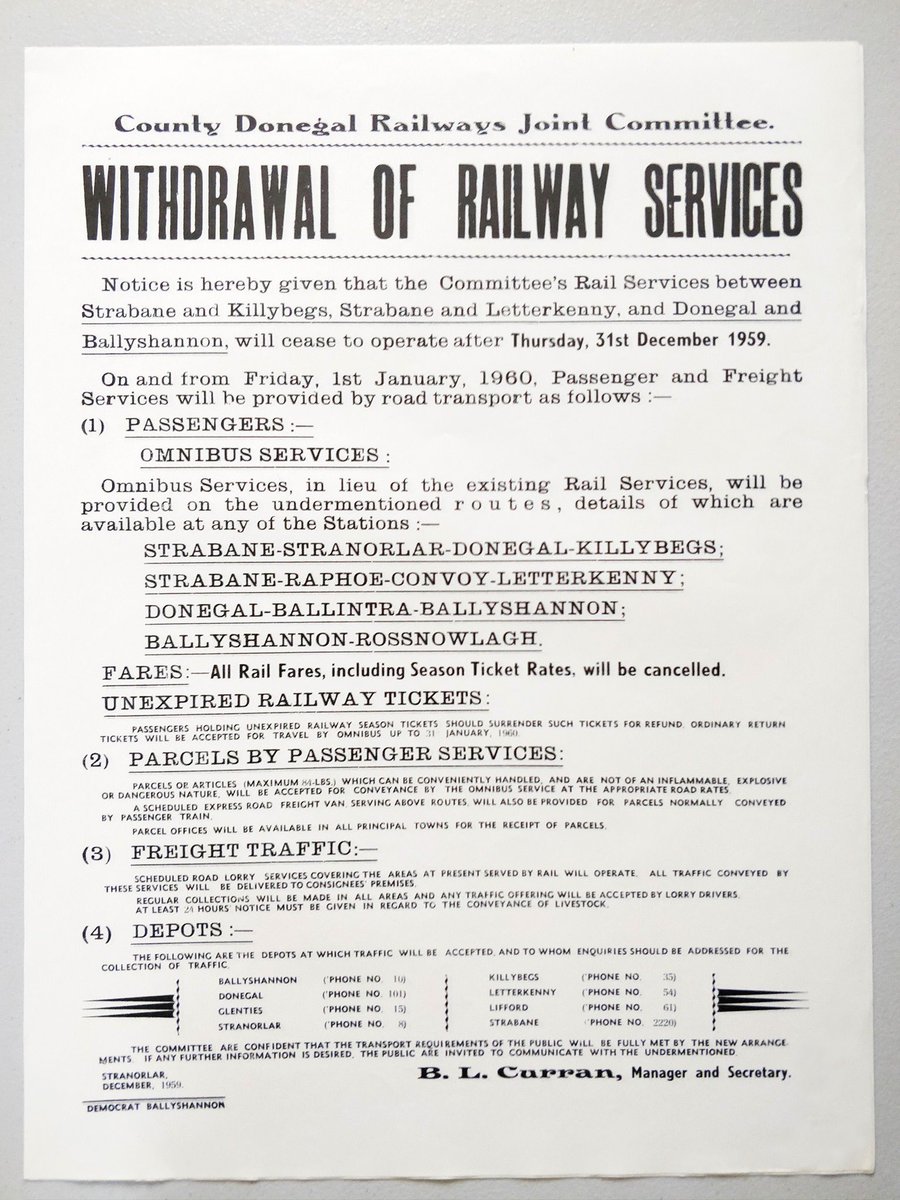 The end of the CDRJC. December 1959 notice announcing the system's closure on 31st December 1959. Source: Twitter
Although the closure notice implies all freight services were to finish at the end of 1959, a skeleton service continued between Strabane and Stranorlar.
Its a difficult task to write about the County Donegal Railways Joint Committee without writing too about the earlier railways which were built and eventually formed part of the CDRJC. In a nutshell that came about because it was decided the narrow gauge and standard gauge systems (some of which were converted to narrow gauge) in north-west Ireland should come under one overall supervising body.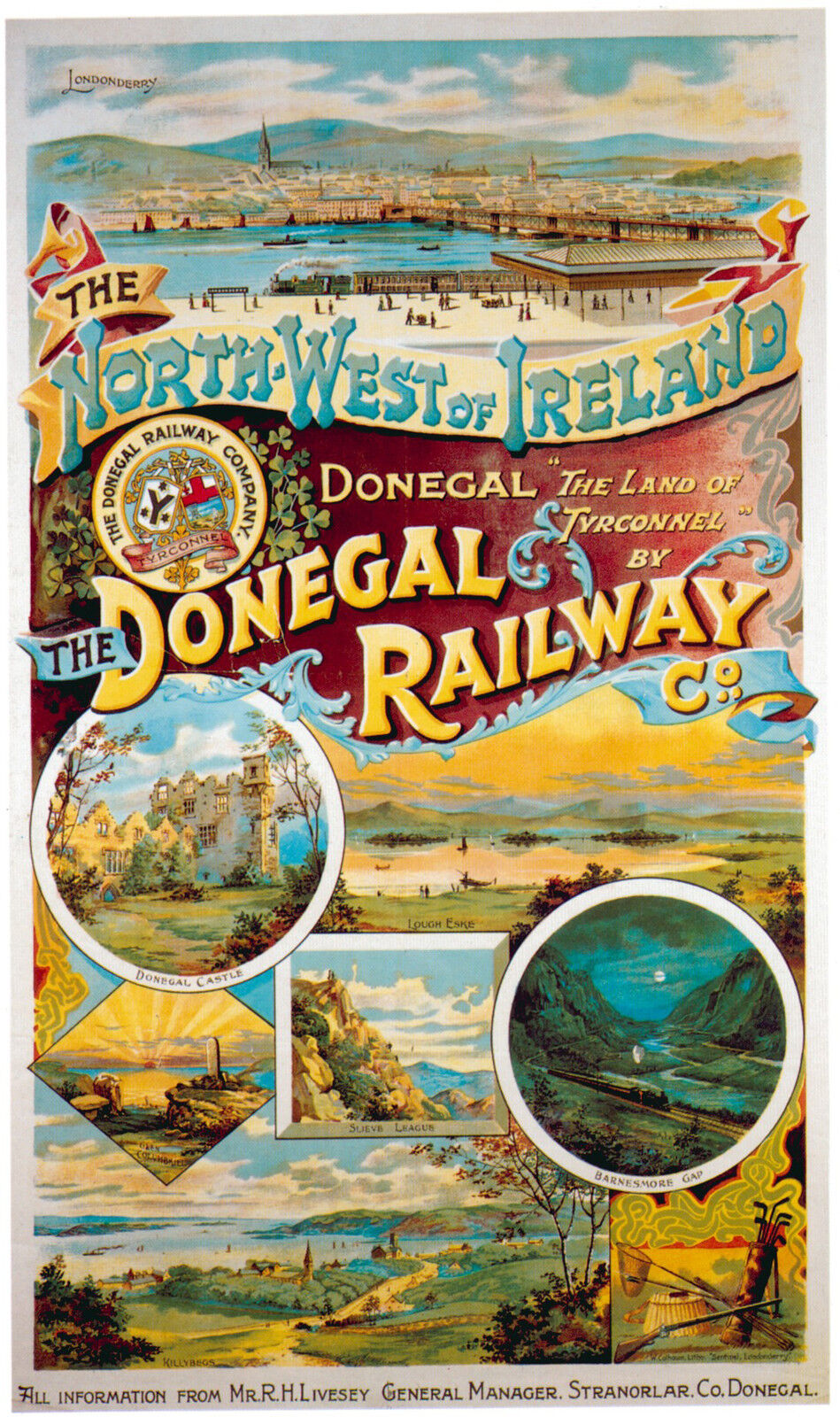 The old Donegal Railway poster. This was before the various lines were merged under the CDRJC. Source: EBay – plenty of other CDRJC memorabilia here.
The CDRJC's acquisitions eventually resulted in a quite substantial narrow gauge railway system consisting of well over 120 miles. This was connected to the Lough Swilly Railway's network at Letterkenny so there was in fact a total of 235 miles in the entire three foot gauge network – and some have pointed out it was in fact the largest narrow gauge railway network in Europe.
For a narrow gauge railway in this part of Europe, the CDRJC had the longest journeys of all with a couple or so trains a day undertaking the entire journey between Derry and Killybegs, a distance of sixty five miles. Most journeys however were Derry/Strabane to Donegal and then change for either Ballyshannon or Killybegs.
Despite being a narrow gauge railway the CDRJC was in fact noted for pioneering the use of diesel railcars and locomotives, in fact it was the first railway in the world to use these new forms of motive power. This pioneering work was due to the railway's famous manager, Henry Forbes, based at Stranorlar.
Henry Forbes, the CDRJC's secretary and traffic supervisor, and later the railway's manager. Source: Facebook
The first diesel railcars were actually buses bought from the Derwent Valley Railway in Yorkshire during 1929 and converted to rail use. Picture from E.M.Patterson's book.
The same railcar today – at the Ulster Transport Museum. Source: Flickr
Henry Forbes was also on the committee of the Clogher Valley Railway and he too encouraged that line to modernise by investing in diesel railcars. When the Clogher Valley closed the CDRJC acquired these railcars. The pioneering diesel locomotive Phoenix also came from the Clogher Valley railway. It had originally started life as a steam tram engine, but wasn't successful. The CDRJC purchased it and Forbes had it converted to diesel.
Phoenix in its earlier form as a steam tram locomotive. It remained unused in the CVR's Aughnacloy works for three years until Forbes had it purchased. Source: 16mm Modellers
Interestingly Henry Forbes once put forward an idea that both the Donegal and Lough Swilly Railways should amalgamate. The latter wasn't very enthusiastic.
The CDRJC system 1958. The Glenties line closed 1947 and Strabane – Victoria Road closed 1954. Source: Twitter
CDRJC distances:
Derry to Strabane 14 miles (23km)
Strabane to Letterkenny 19.25 miles (32km)
Strabane to Stranorlar 13.5 miles (22km)
Stranlorlar to Glenties 24 miles (39km)
Stranorlar to Donegal 18 miles
Donegal Town to Ballyshannon 16 miles (26km)
Donegal to Killybegs 19 miles (31km)
We now work through the various lines and stations managed by the CDRJC, starting with the route from Strabane to Killybegs.
Strabane
Eske at Strabane in 1948. Source: Facebook
Strabane. Source: Pinterest
Its said Strabane station was the largest railway junction in Ireland. Its correct in terms of the routes offered, however there was just one actual junction! There were lines radiating in five different directions from here – three narrow gauge and two standard gauge. And the one junction for the narrow gauge splitting the lines towards either Derry or Letterkenny.
Railcar no.17 at Strabane. Source. Twitter (Note: As of May 2020 the account 'RailwayanaUK' has been suspended/deleted thus an archived image is used here.)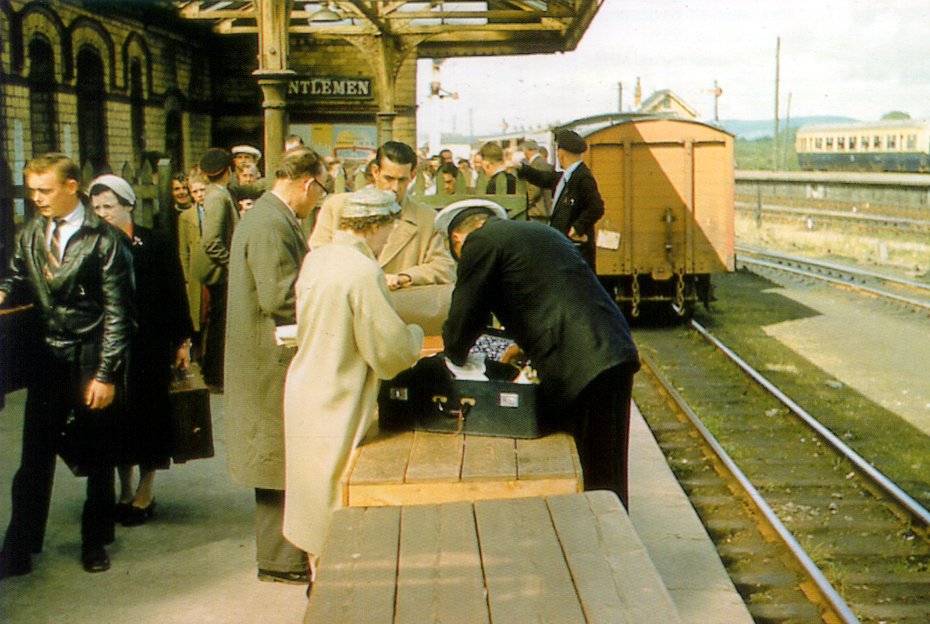 Customs inspection at Strabane 1958. Source: Twitter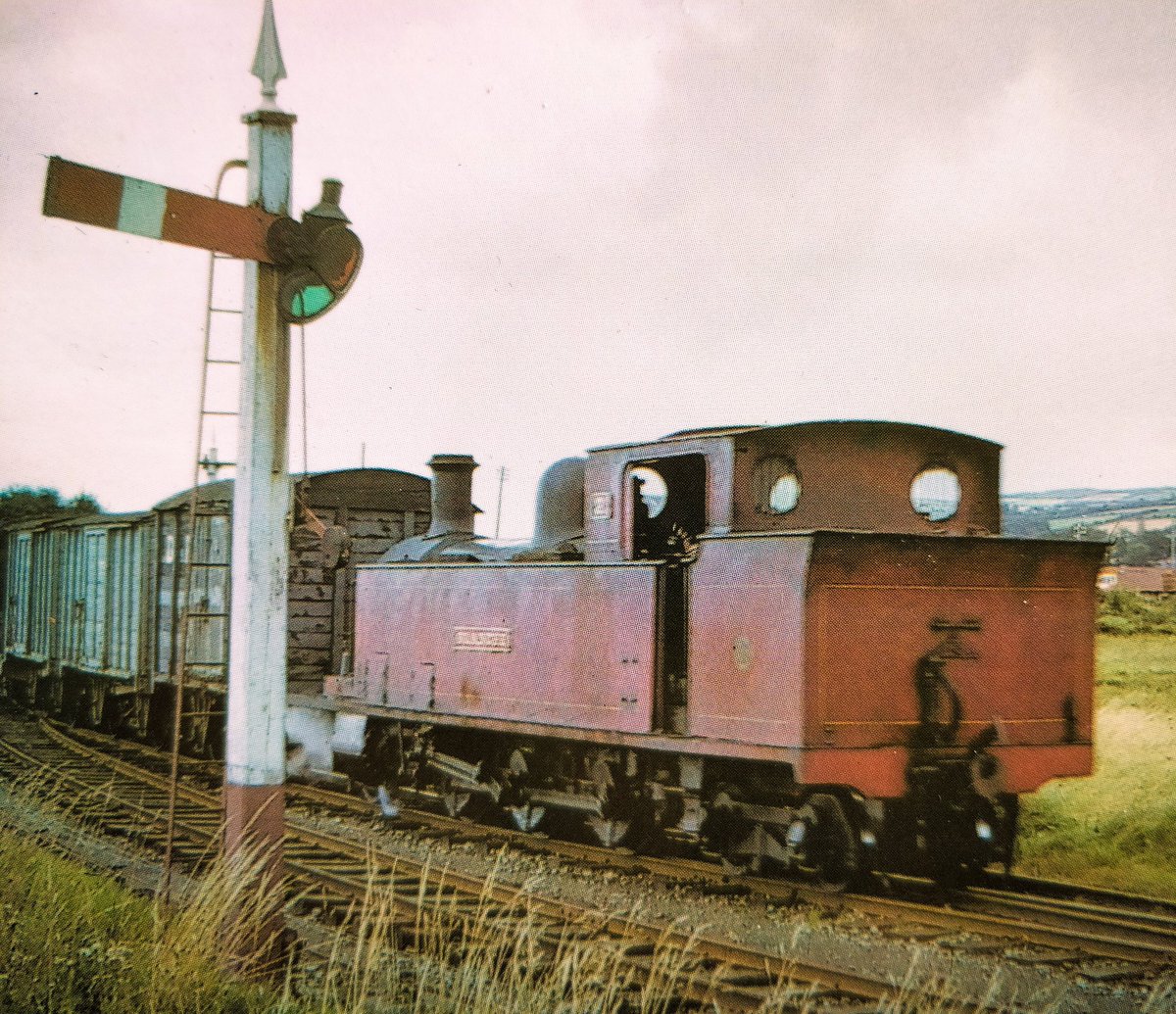 Near the end. No.2 Blanche with a freight at Strabane. August 1959. Source: Twitter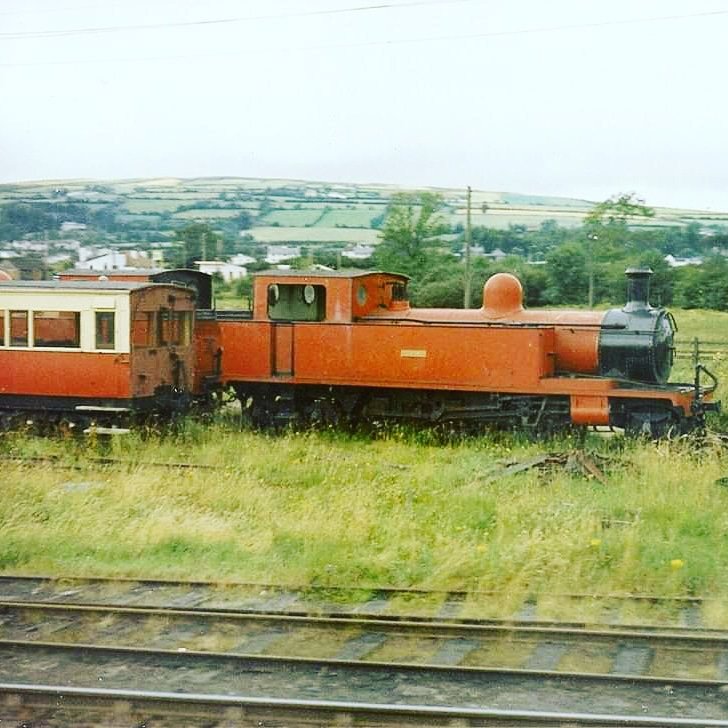 Abandoned CDRJC stock at Strabane, seen 1964. Source: Twitter
Stations from Strabane to Stranorlar were at Clady, Castlefin, Liscooly and Killygordon. For the purposes of this feature just the more important stops westwards to Killybegs are shown.
At this point it must be mentioned the railcars stopped at many places besides stations and halts. These were usually at crossing gates where there was a keeper present. The CDRJC however found many of these stops rather untenable in terms of timetable keeping. In 1944 the committee ordered only the following specific stops be used.
Official railcar stopping places. From E.M.Patterson's book.
Castlefinn
Castlefinn was at the border crossing thus this small station was of considerable importance. Its also where the railway operations were centered in the final few weeks of services after the passenger side of the railway had closed in 1959.
Castlefin station. Source: Castlefin Online
Meenglas at Castlefinn. The table on the right was for customs and invariably all the passenger trains used this platform. Source: Flickr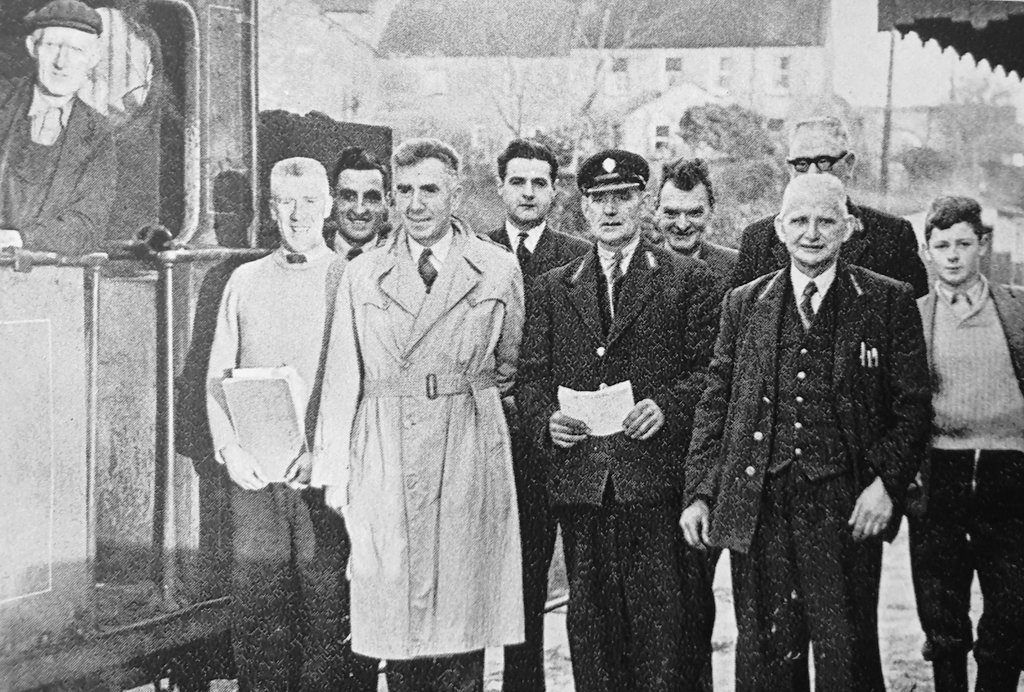 After official closure, Castlefin was the subject of a photo opportunity on 1st January 1960 with members of the CDRJC's staff present. Clearly that locomotive had to steam here thus the railway was still operational! Source: Twitter
Stranorlar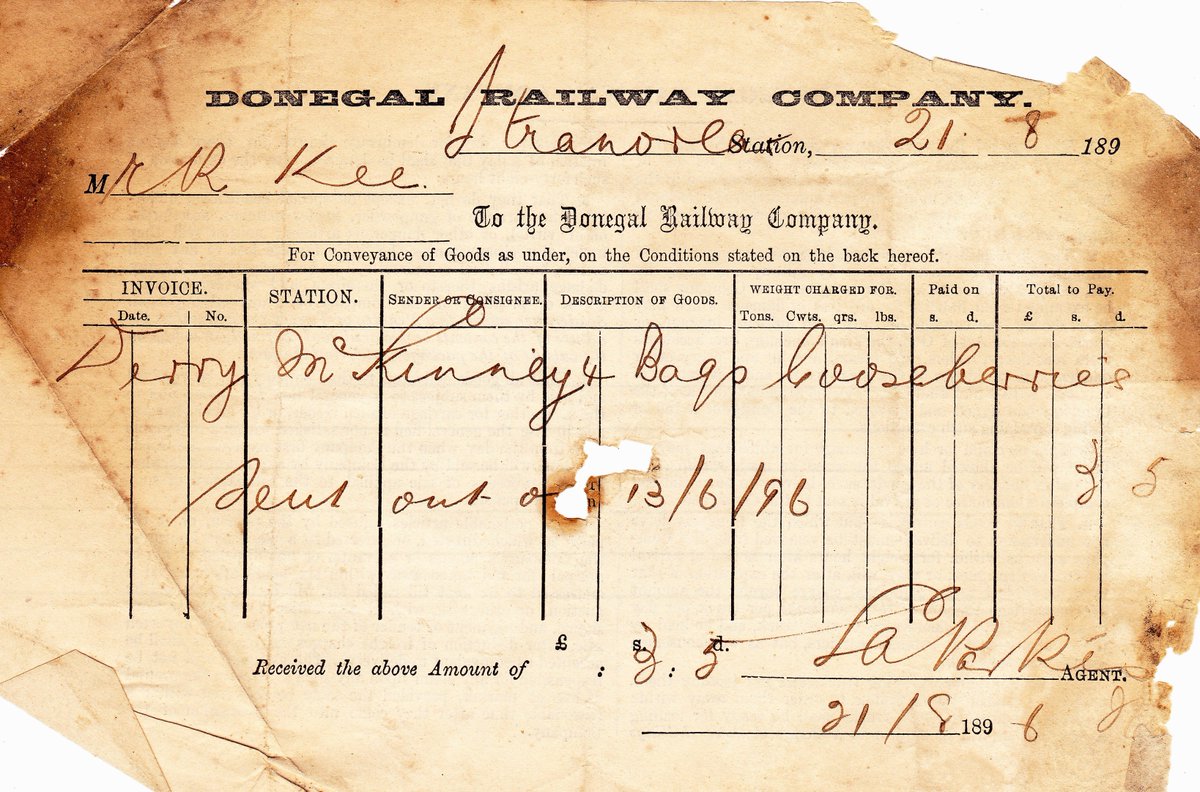 Invoice for conveying 4 Bags of Gooseberries from Stranorlar to Derry in August 1896 . Source: Twitter
The second ever diesel railbus for the CDRJC. Source: Facebook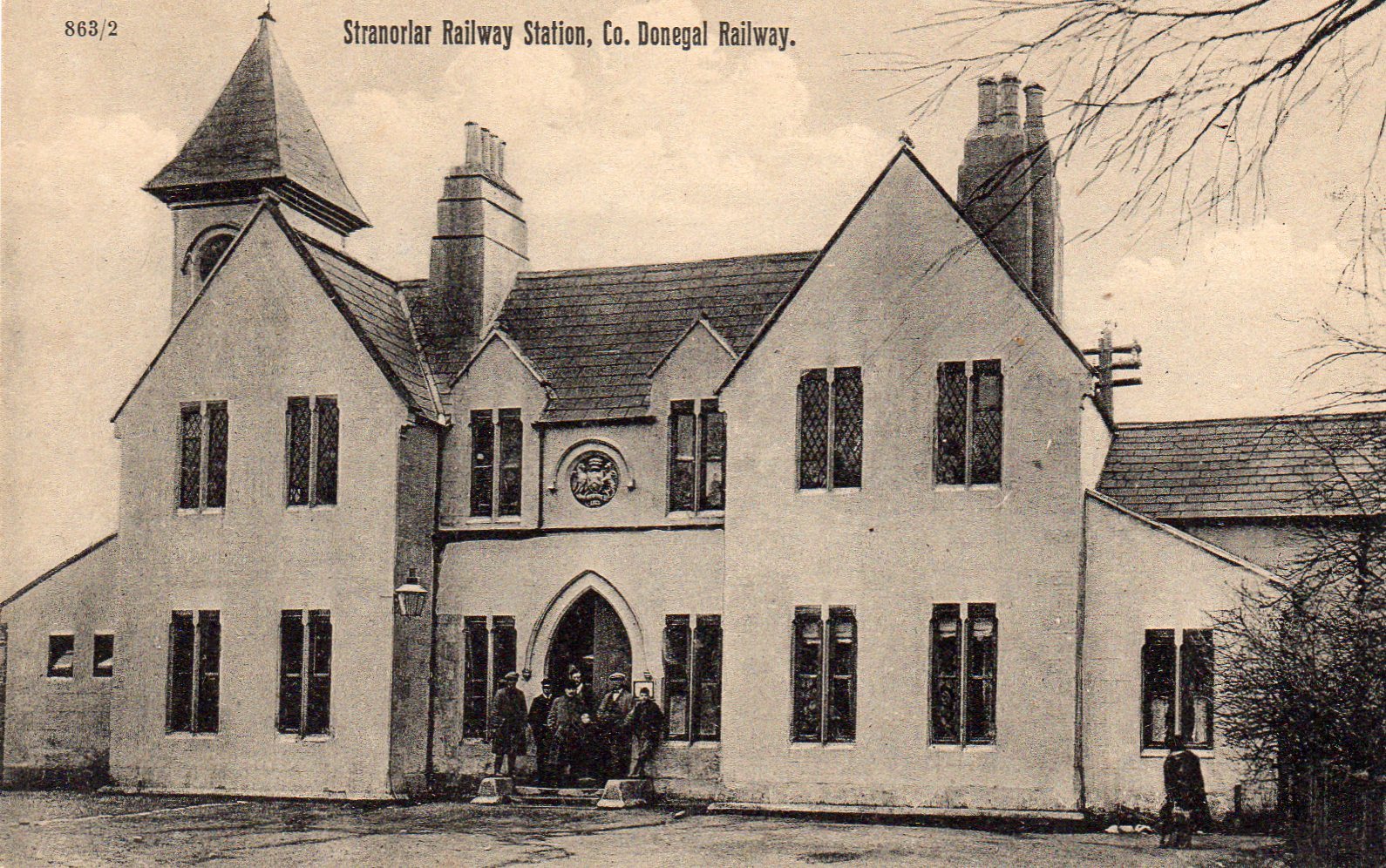 The main frontage to Stranorlar station. Source: EBay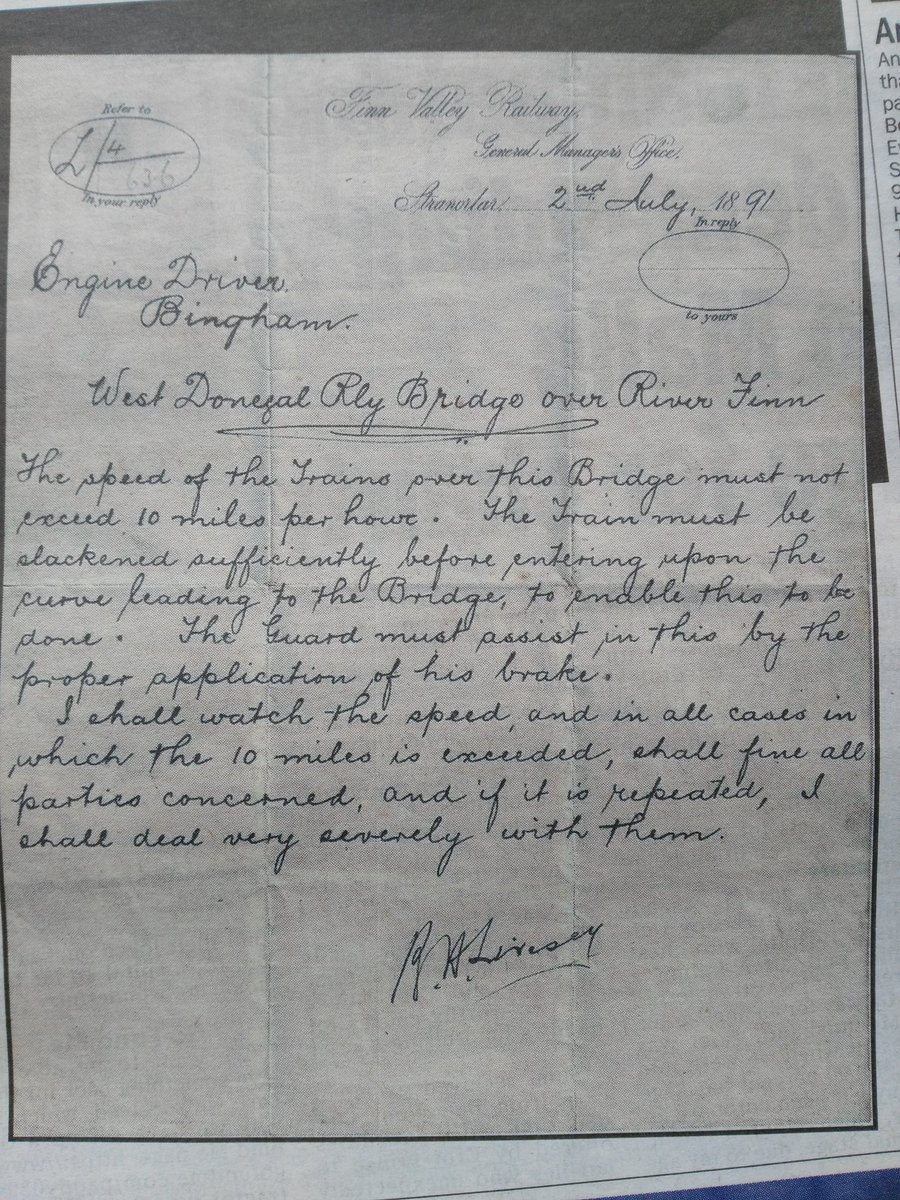 Letter from 1891 warning drivers of a restricted speed of 10 mph over the River Finn bridge. Source; Twitter
In Phoenix's earlier years it was allowed main line duties. This is the celebrated pioneer diesel locomotive at Stranorlar with a train from Strabane. September 1938. Its performance wasn't that good however, mainly due to a fairly low top speed of 27mph. Thus it got related to Strabane where it spent the rest of its working life as a shunter.
Stranorlar had an extensive works for the maintenance of rolling stock. That for the railcars on the left, locomotives on the right. Picture early 1950s.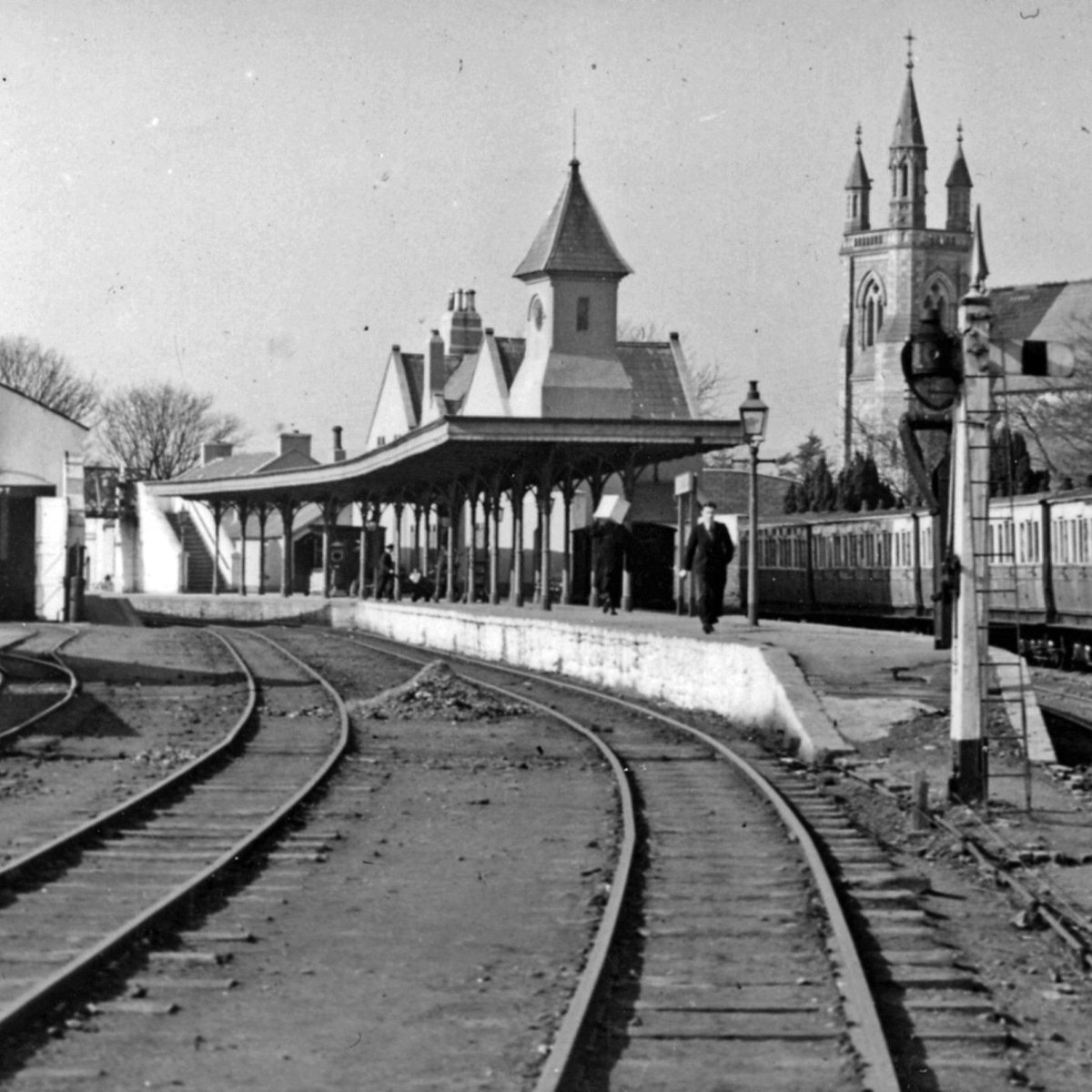 Stranorlar station in 1948. Source: Twitter
Railcar no.7. Source: Facebook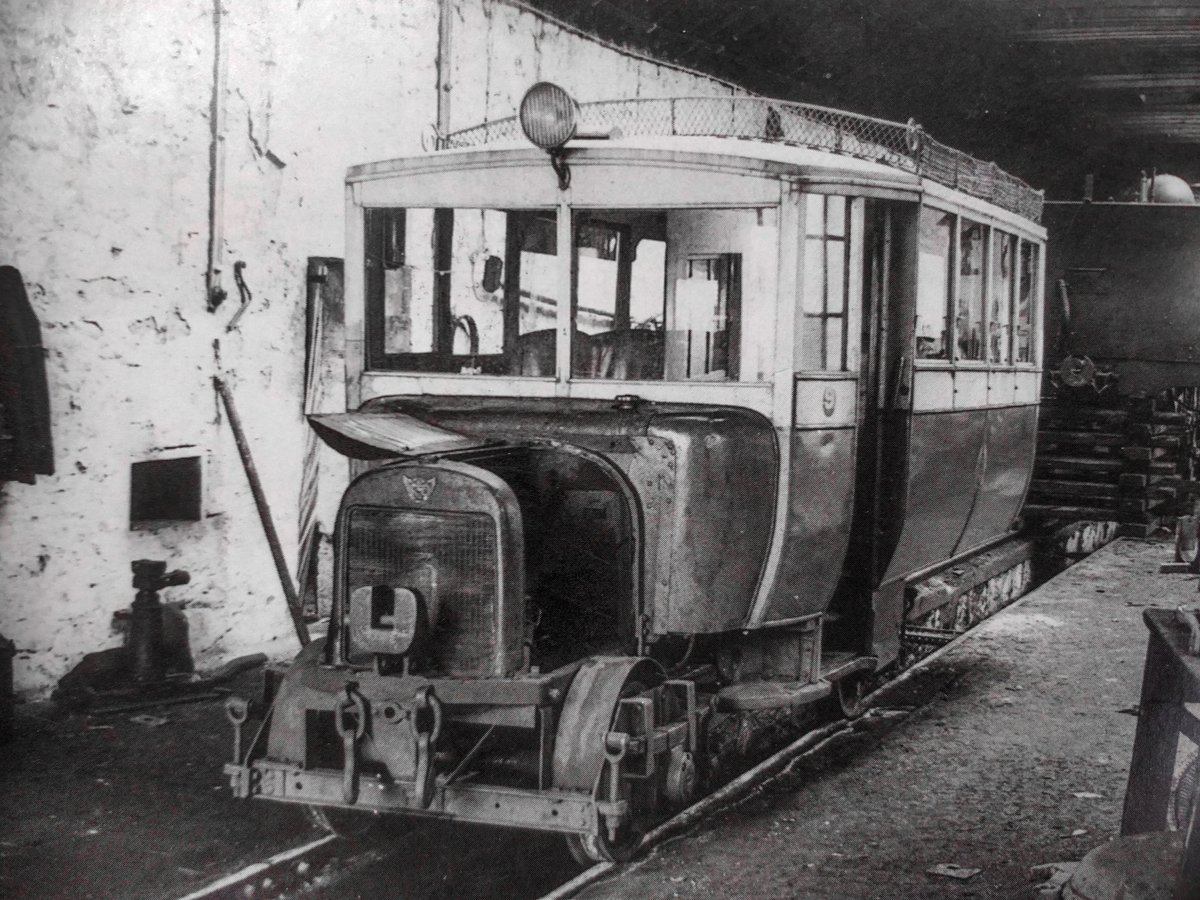 Railcar 19 at Stranorlar workshops. This was actually a bus converted to rail use! Source: Twitter
No. 18 railbus at Stranorlar. Source: Twitter (Note: As of May 2020 the account 'RailwayanaUK' has been suspended/deleted thus an archived image is used here.)
From Stranorlar the railway had a considerable climb of just over 500 feet in a distance of about six miles. This ascent took the railway to its summit at Derg bridge, just before Lough Mourne. It then descended nigh on 500 feet again by way of a more leisurely descent in the twelve miles from Lough Mourne to Donegal, with a good part of this section being through the famous Barnesmore Gap.
Stations were at Meenglas, Barnesmore, Lough Eske and Clar Bridge.
Lough Mourne
Railcar 20 during a special stop by the shores of Lough Mourne. The Barnesmore Gap can be seen in the distance. Source: Flickr
Barnesmore Gap
The spectacular gap was essentially a ready made pass through the Blue Stack mountains of Donegal. Both rail and road found it of great use. The railway itself clung to the sides of the hills, considerably higher up than the roadway – and it was quite a spectacle to see the narrow gauge trains making their way through the gap.
Meenglas heading up the Barnesmore Gap with a eleven coach train on a special excursion August 1959. Source: Flickr
Impromptu photo stop in the Barnesmore Gap heading from Donegal towards Stranorlar. August 1959. Source: Flickr
Source: Pinterest
Meenglas with the same excursion seen earlier passing Barnesmore halt heading for Ballyshannon. August 1959. Source: Flickr
Railcar no.10 on the approach to Barnesmore halt. Source: Twitter (Note: As of May 2020 the account 'RailwayanaUK' has been suspended/deleted thus an archived image is used here.)
Lough Eske
One of my favourite pictures happens to be this of Railcar 16 at Lough Eske in 1959 with a carriage in tow. I cut this out of a rail magazine years ago and put it in a picture frame! The Blue Stack mountains – forming the Barnesmore Gap can be partially seen to the left.
Donegal
The next station of importance is that at Donegal. The buildings still exist and there's a heritage centre centering on the former 3 foot gauge network. Many – even the railway itself – knew the station as Donegal Town, probably because it was almost right in the centre of town! But perhaps more so because it was in fact the county town.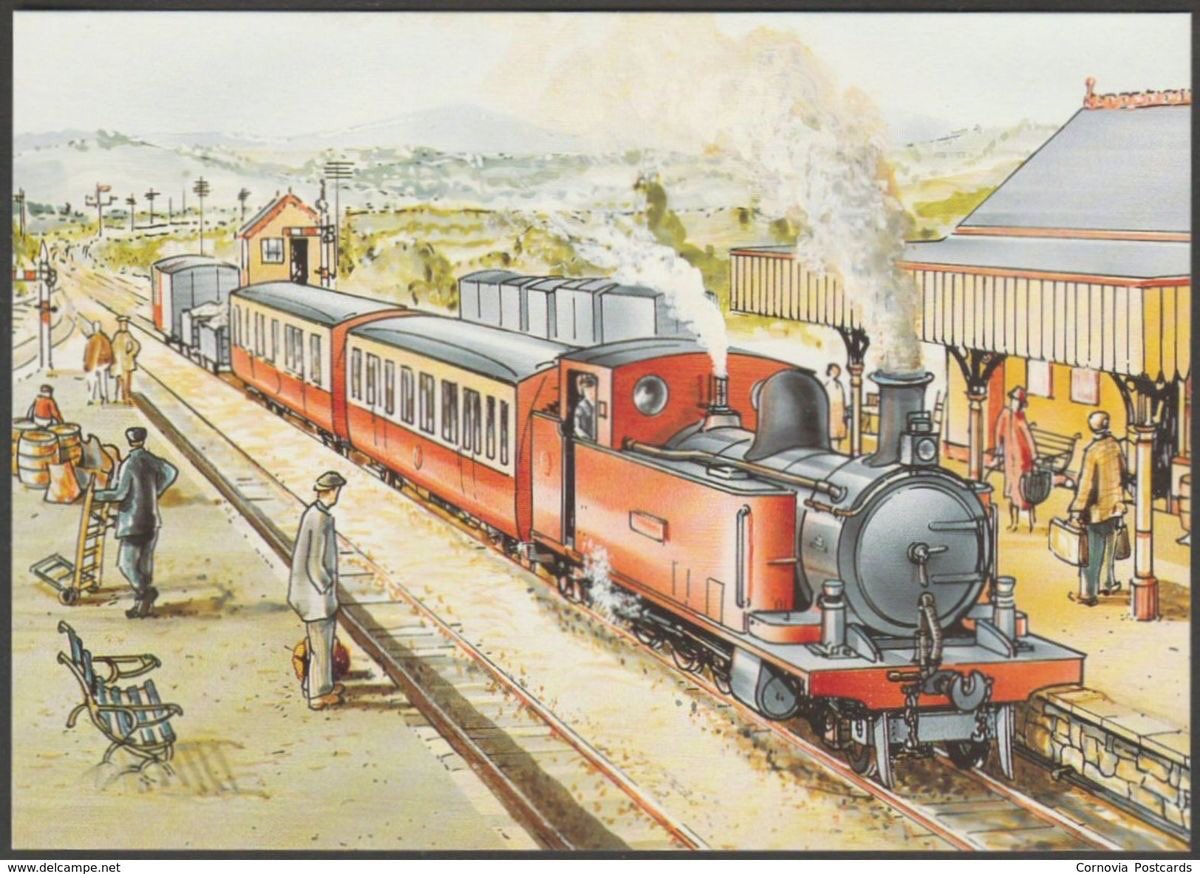 Colourful artwork depicting a train at Donegal Town. Source: Twitter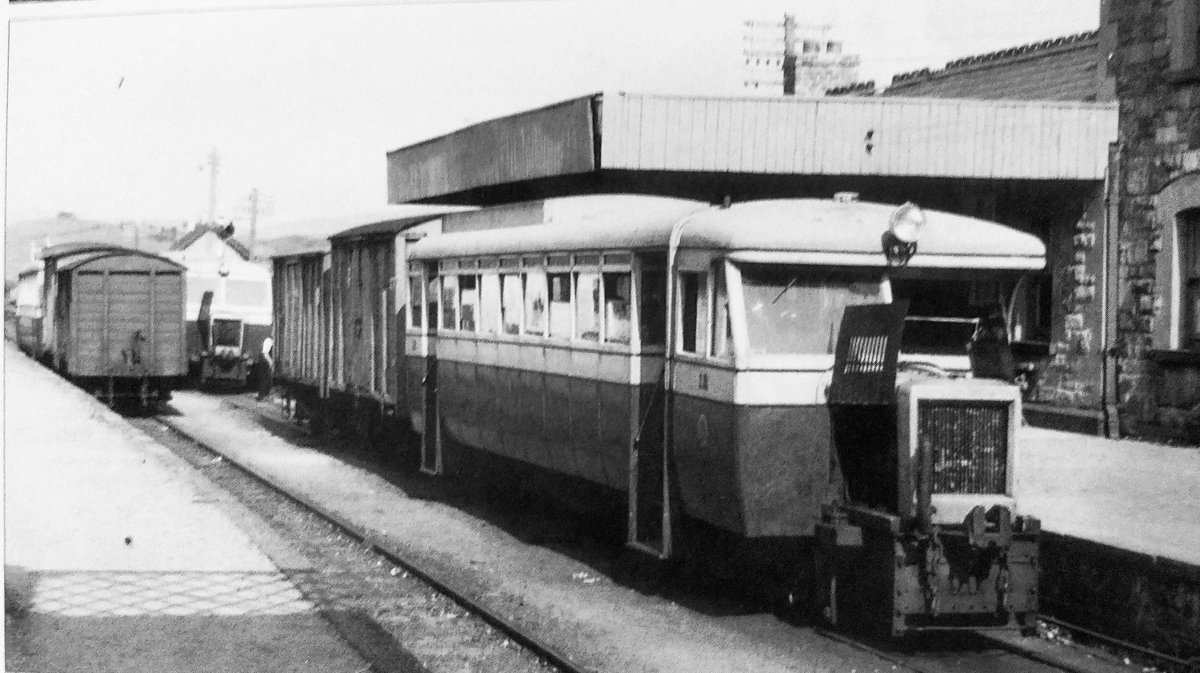 Railcar 12 at Donegal Town in May 1957. Source: Twitter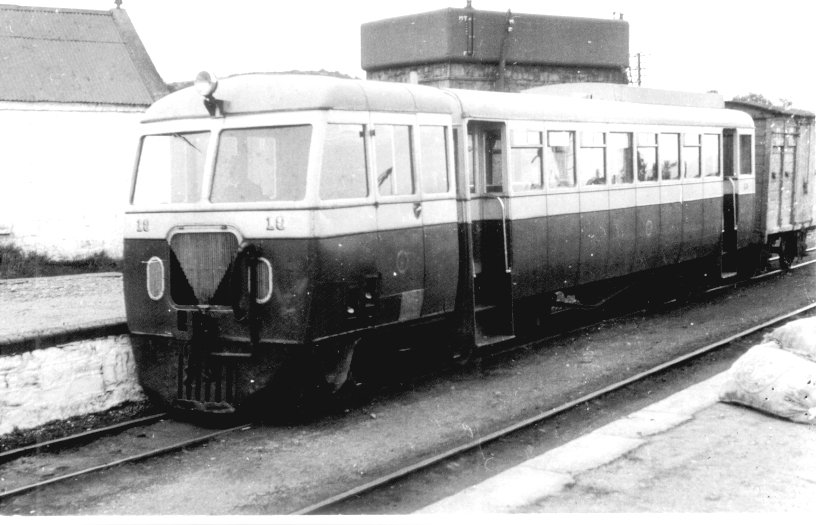 Railcar 19 at Donegal Town in 1958. Source: Twitter
Railcar 10 at Donegal. Source: Facebook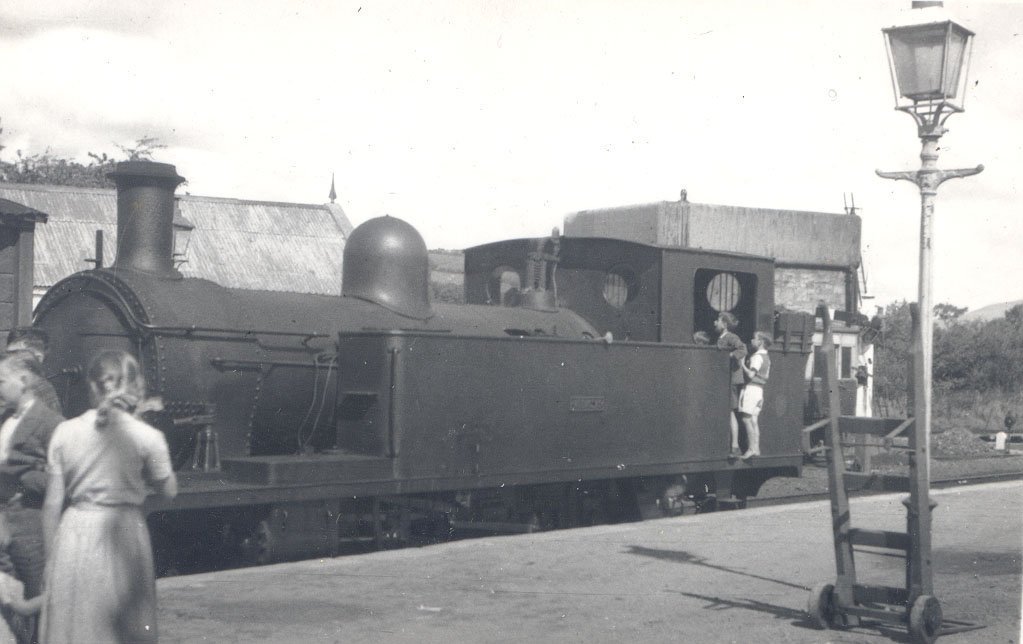 Unidentified Class 5 at Donegal on an eastbound train. Source: Twitter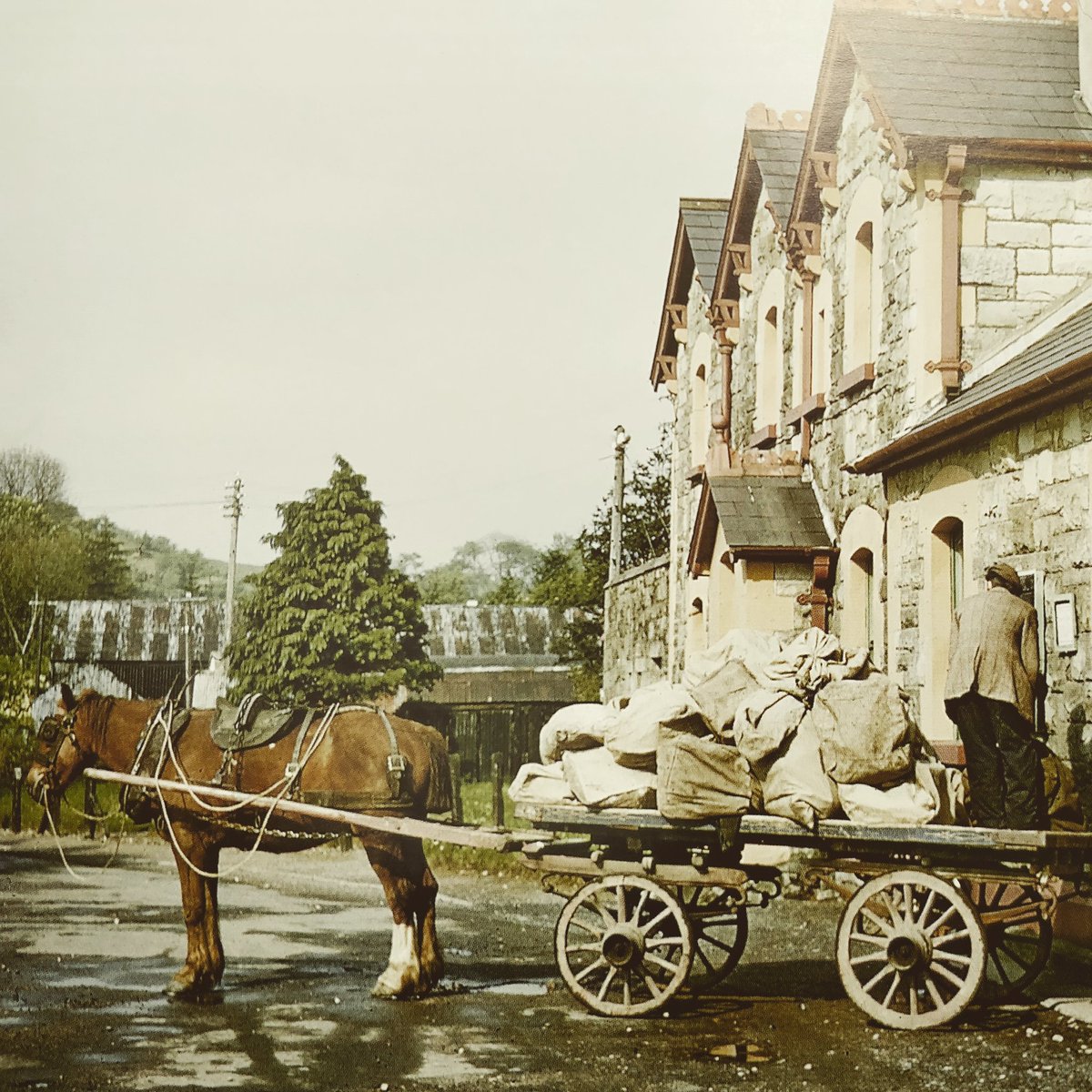 Date not known but prob 1950s. Mail being transferred to horse & cart at Donegal Town. Source. Twitter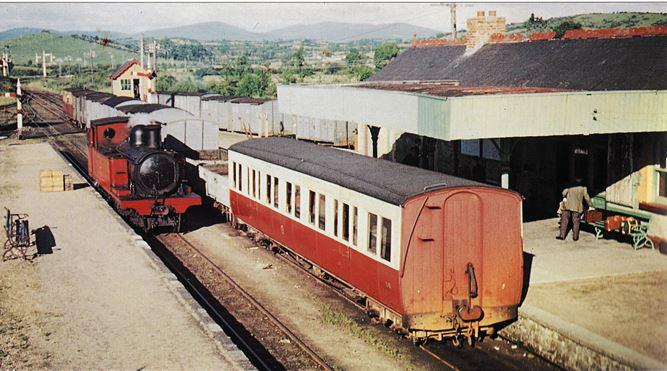 Colour pic of Donegal Town with a 5T present. Source: Twitter
Staff on Railcar 18 at Donegal Town. Guy in centre was the driver, Joe Thompson. Source: Facebook
Night time pics are almost non-existent however this one's from an early 'Phoenix.' Its No5 at Donegal Town.
(The Phoenix was the journal of the South Donegal Railway Preservation Society and first published in 1991. It of course featured many photographs and stories of the CDRJC not featured anywhere else. The Phoenix continues to be published to this day by the Donegal Railway Heritage Centre.)
Meenglas at Donegal Town with only four more months of rail services left. August 1959. Source: Flickr
The line from Donegal to Killybegs followed the coast but because of the many inlets from the sea the route was extremely winding. As the crow flies the distance is just over 13 miles (or 21km) by both rail and road it was an extra four miles or so. Stations were at Killymard, Mountcharles, Dooran Road, Inver, Port, Dunkineeley, Bruckless, Ardara Road and Killybegs.
Mountcharles
Killybegs to Strabane working featuring railcar 20. August 1959. Source: Donegal Live
Bruckless
Bruckless station. Source: Whyte's
Killybegs
The line terminated almost by Killybegs pier. There was a siding onto the pier itself.
The final full timetable for the railway depicted Killybegs and its pier on the front cover. Source: Pinterest
Railcar no.19 at Killybegs. Source: Twitter (Note: As of May 2020 the account 'RailwayanaUK' has been suspended/deleted thus an archived image is used here.)
Killybegs harbour in the early days. Note the railway station and the lines onto the pier. Source: Mapio
Killybegs in 1895. Note the solitary wagon. Source: Internet Archive
There were proposals to extend the railway from Killybegs to Teelin pier, a strategic location in terms of government facilities, a fishing port and outstanding scenery which would have been a draw for tourists. Nevertheless the terrain beyond Killybegs was considerably mountainous and it is said any line thence westwards would have resembled a Swiss mountain railway!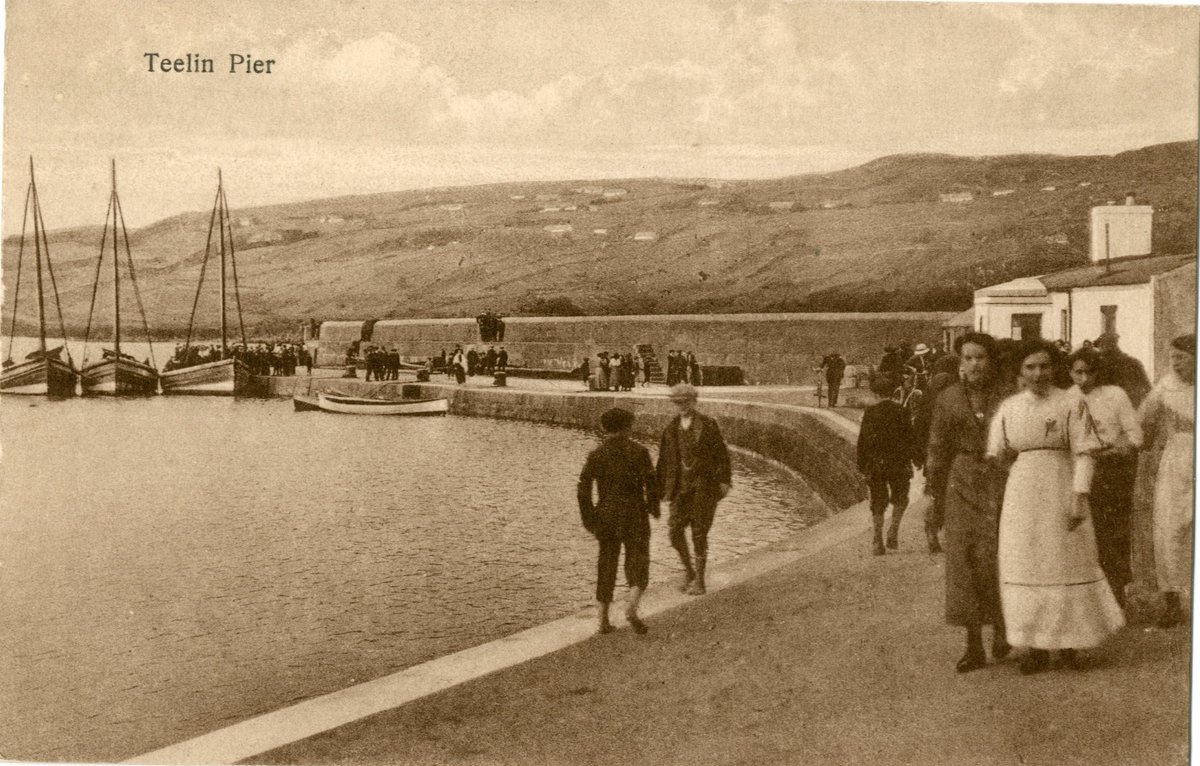 Teelin Pier, once the proposed terminus for the Donegal Railway. Source: Twitter
Donegal – Ballyshannon
Of the two branches westwards besides Killybegs, one was the CDRJC's southern branch and the other the system's longest branch heading in an almost due west direction. The Glenties branch was an early victim of cuts and closed in 1947. That to Ballyshannon lasted to the end of services in 1959.
Stations to Ballyshannon were at Drumbar, Laghey, Bridgetown, Ballintra, Rossnowlagh and Creevey Halt.
Bridgetown, en route to Ballyshannon. August 1959. Source: Flickr
Rossnowlagh August 1959 with railcar for Ballyshannon. Source: Flickr
The southern terminus at Ballyshannon in August 1959. Source: Flickr