Vietnam, Indonesia, Thailand, Ecuador, India and other parts of the world all have one thing in common and that is their narrow gauge railways, but whats more is some of these railways are too a part of the daily lives, the social fabric, of town and city dwellers. There are markets, cafes, shops and shanty towns sited along these tracks with trains passing just a few feet away from the people who are sat or stood by the tracks.
Hanoi, Vietnam:
Hanoi is probably most well known for its 'train streets' – that is streets on which railway tracks run – they're not tramlines either! They're proper narrow gauge main lines!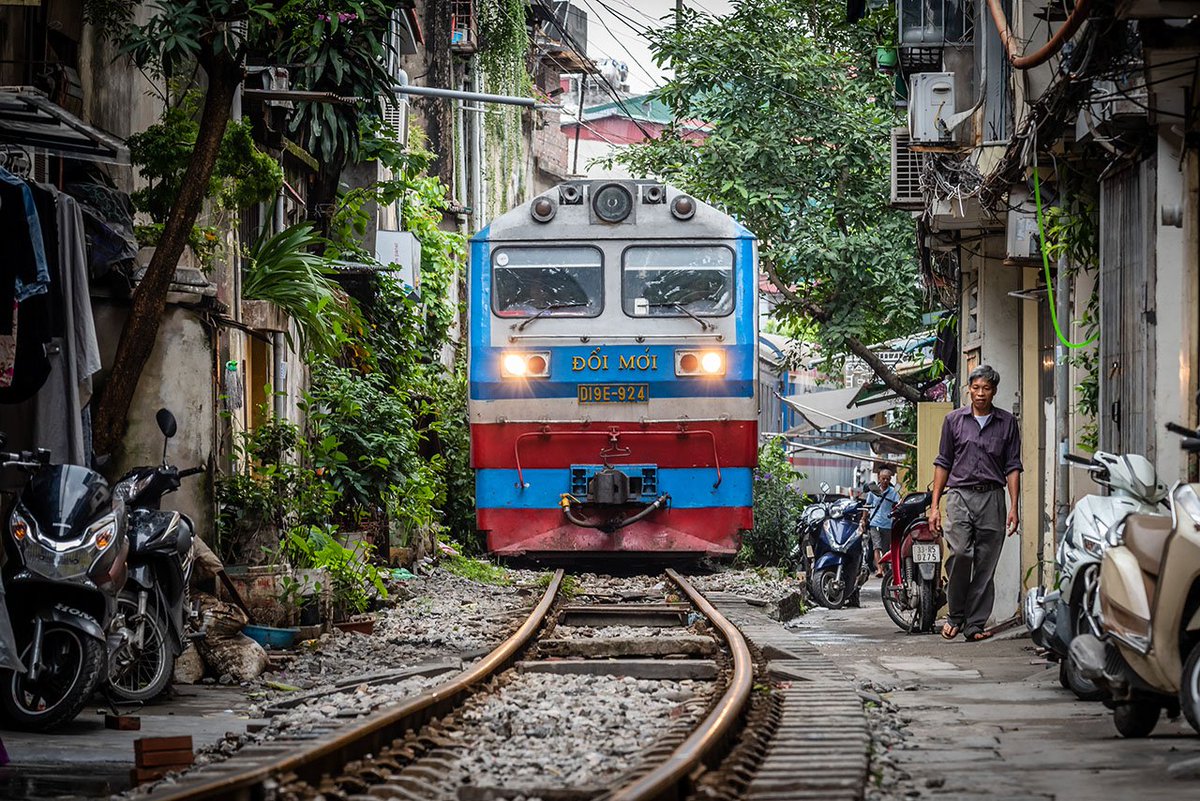 Nice view of the train coming down 'train street!' Source: Twitter
The train streets in Hanoi have recently become problematic. They are hugely populated by tourists – its said the streets have been 'Instagrammed' with at least 76,000 images tagged #trainstreet – and people have been coming in their hordes as a result.
Some people take a very laid back attitude! Source: Twitter
There have been near accidents. Not actual ones as I understand it, but close enough to cause the railways huge concern. Last October (2019) the authorities clamped down on these streets and sent tourists away. The above video shows police imposing a lockdown in the train street and tourists arguing the clampdown was pointless. Locals also gave their views.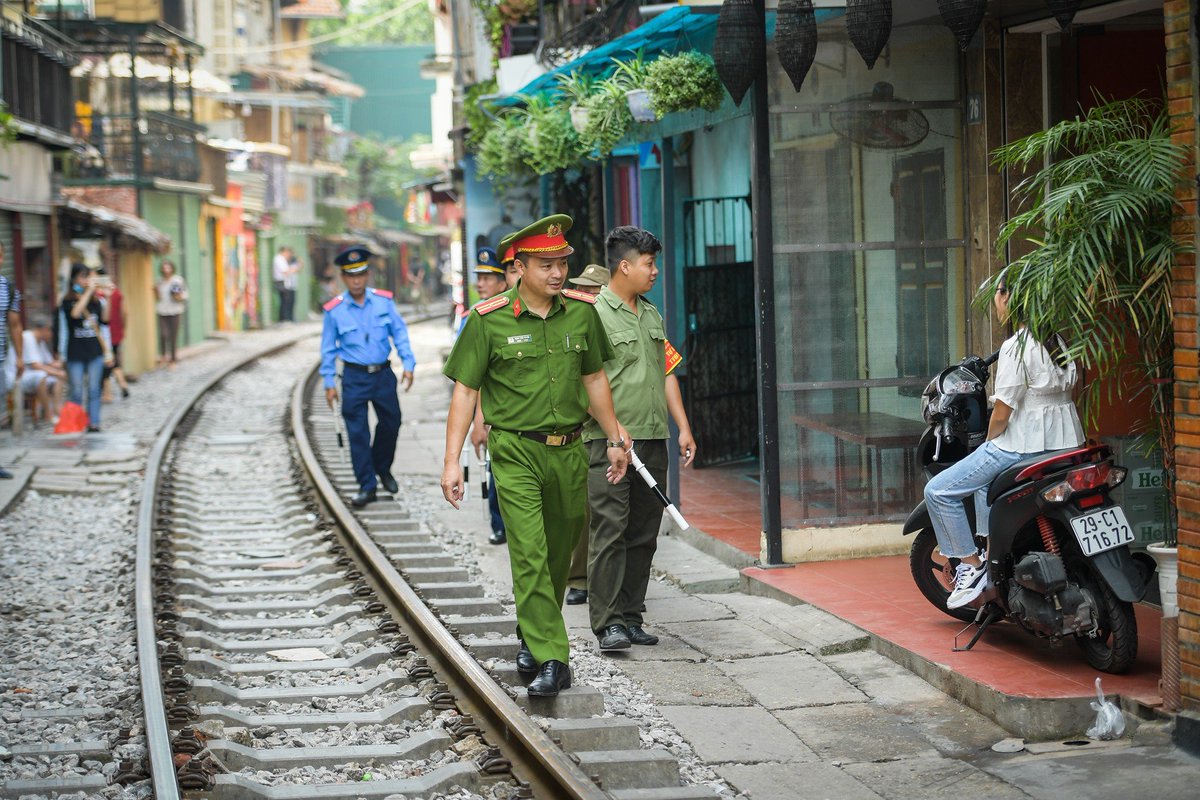 Hanoi police patrol the train streets during the clampdown on tourists. Source: Twitter
Currently there is a stand off of sorts as the authorities try to keep these streets safe – but at the same time trying not to risk the wrath of the locals whose lives hugely depend on the tourists coming to see these unique streets.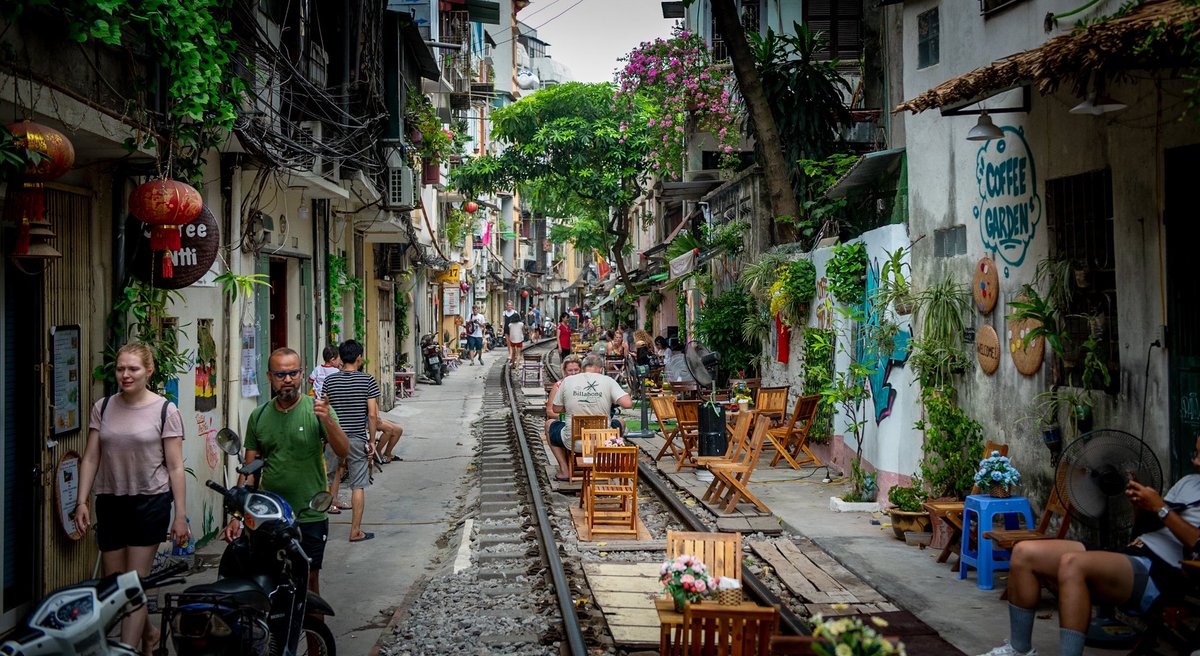 Recent photographs suggest things are all okay once again. Source: Twitter
The trains pass through just twice a day which means there's a very laid back atmosphere – because trains are here only for a few minutes of the entire day – and locals do ring a bell and try to make sure everyone is safely out of the way by the time a train is due.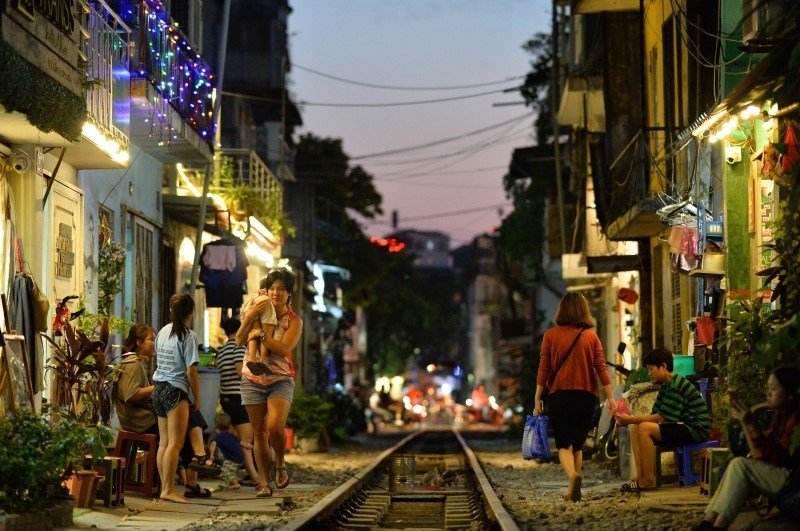 Night scene in Hanoi's train street. Source: Twitter
These pictures and videos show the most populous 'train street' (its located between Le Duan and Kham Thien streets in Hanoi's Old Quarter, just a short distance from the main station) however this isn't the only one in the city there are others. This one by decree of its very central location is a magnet for tourists. There are various rail routes into the city all merging at the substantial city centre station.
Maeklong, Thailand.
Maeklong's 'train street.' Source: Twitter
Kolkata, India:
This is a shanty town, not a market so there isnt the usual scramble as people clear the tracks in readiness for a train about to come through. Despite the apparent excitement of a train passing close by what this video does is like the others it too highlights the considerably harsh conditions many poor people live in… The tracks aren't standard gauge either – they're broad gauge (5′ 6″.)
Kemayoran, Indonesia: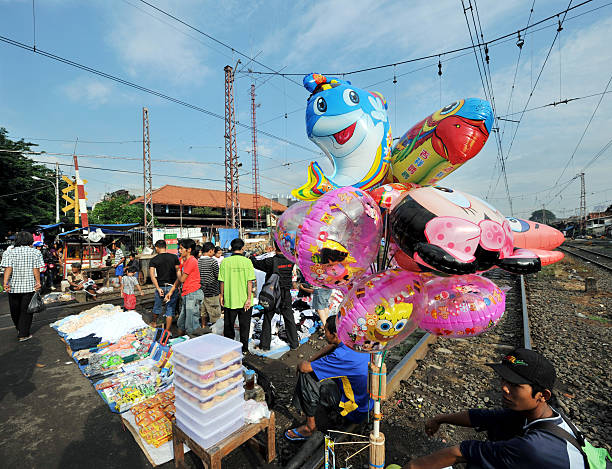 Market on the railway tracks at Kemayoran in Jakarta. Source: Twitter
Waru, Indonesia:
Its said this market which is located in East Java, has been closed and the people moved elsewhere. However these videos are utterly dramatic because of the speeds these trains are doing.
A fast freight hurtles through a local street market!
Passenger train passes through, a bit more sedate this one! (But watch to the end – there's an express coming the other way! And yikes its fast!)
Yogyakarta, Indonesia:
This one is near the historic city of Yogyakarta in Central Java. People will know the place more for the huge attraction that is Borobudur which is an absolute must. There are on street railways in the region too and this is one of them, this one goes through a housing estate.
This train has problems because a motorbike is parked too near the tracks!
I am currently doing a substantial number of posts involving railways in these and other regions. This is just an initial post, there will be more in due course.