This week the news arrived, perhaps somewhat unsurprisingly, that Grand Central had dropped its bid to start new Euston to Blackpool through services and the reason given was of course COVID. The company must have spent a enormous amount of money on the development of the project because it had complete trains standing by waiting to begin operations and driver training runs were being undertaken until almost the last minute. This post is just a reminder of what could have been – and the services would have been a change from the somewhat mediocre liveries currently using the lines into Euston. I had originally hoped to write about the new GC services and had been watching developments with interest – this post is sadly a tribute to a train service that wasn't ever to be….
The idea of providing services to Blackpool had been a long time in the making, following on from other attempts. GC had been on the project since at least 2010 hoping to build on the success of their Sunderland and West Yorkshire services. Their earliest plans were rejected on practical grounds in 2011 as this letter from ORR shows. A further bid was made in 2015 and another made in 2018 which was the basis for the current attempt.
Crop from the 2018 letter from ORR to Grand Central approving the Blackpool scheme. Source: ORR
In early 2019 it was announced Class 91s with Mk IV rolling stock would be used. This eventually was changed and Class 90s were used instead. The alteration was because the Class 90s had better acceleration.
On 10th September 2020 after speculations the previous day which got more serious as the day wore on with confirmations even coming from GC staff who were affected by the move, Grand Central officially announced the end of its planned services.
Anyway let's take a look back and see how the services would have looked…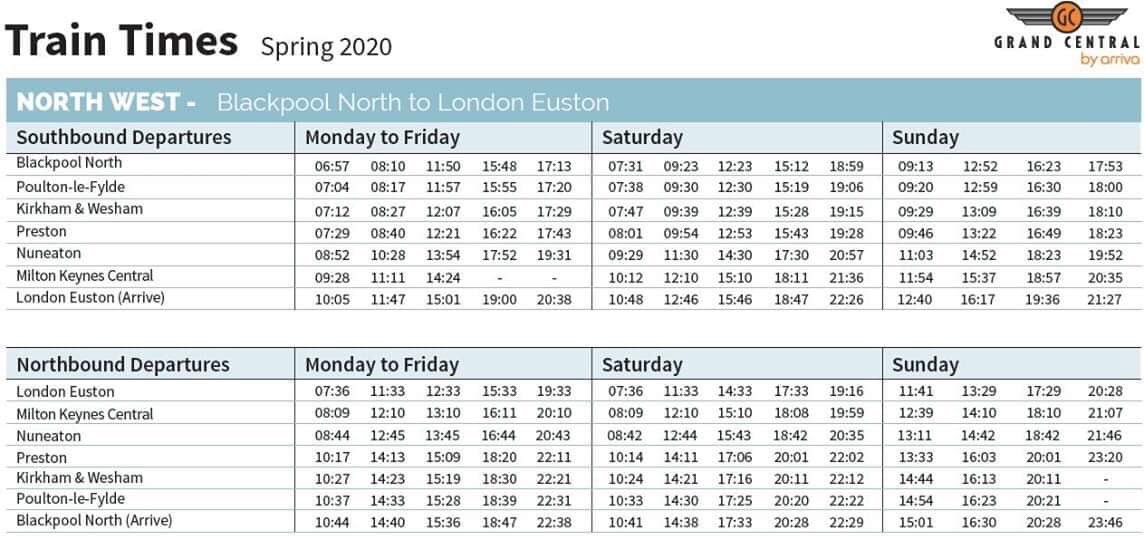 Early view of draft timetables released in June 2019. Source: Twitter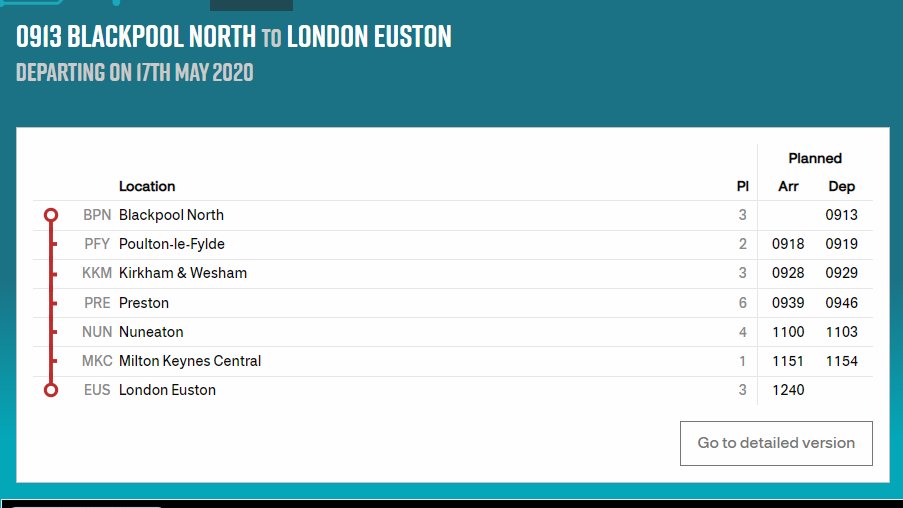 In January 2020 GC's timetables began showing up on Real Train Times for May. Source: Twitter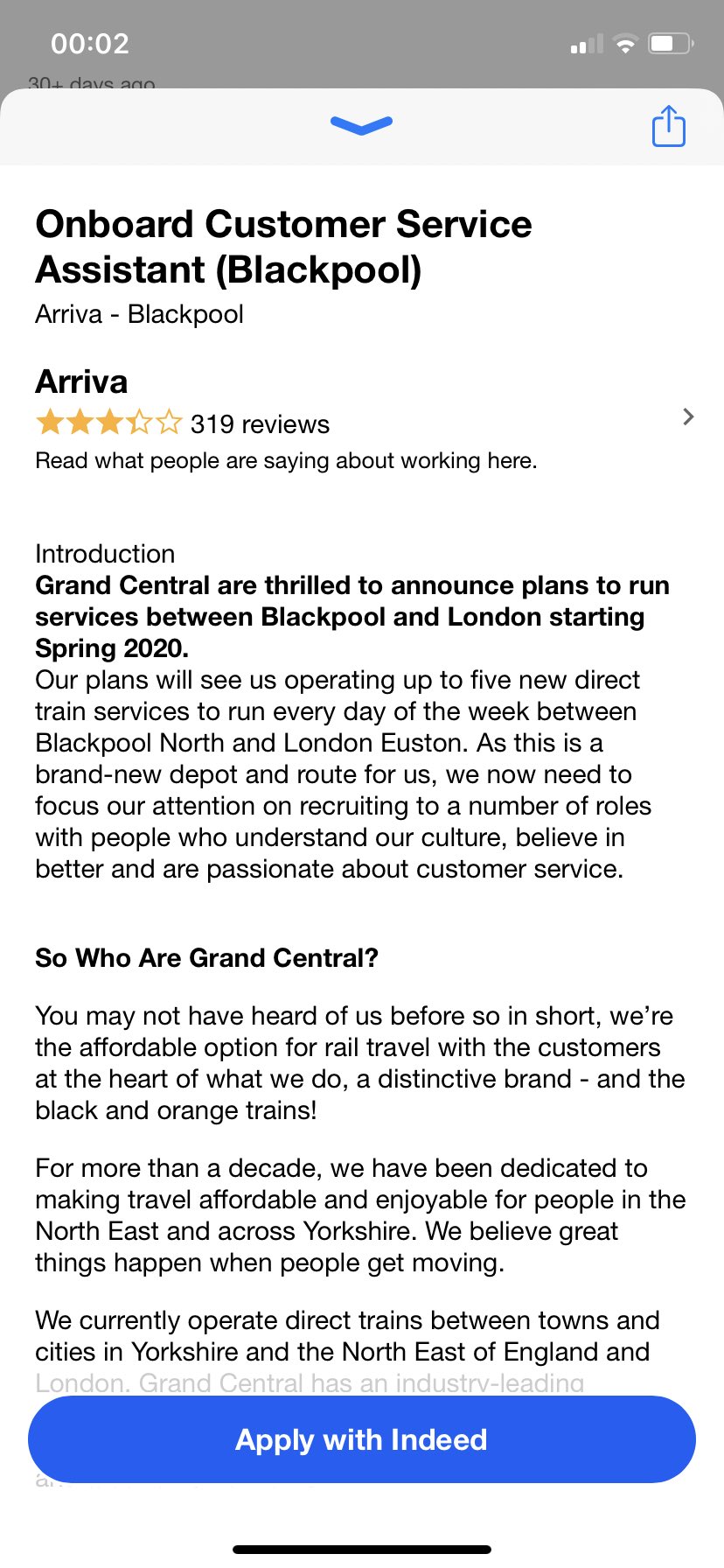 January 2020 – GC begin advertising for rail staff to work its new services. Source: Twitter
I am aware of the many images that show stock transfers of the ex-LNER sets or full ex-LNER liveried test trains at Blackpool North and other locations, however it was decided to keep things simple because after all, this post is specifically about the sadly aborted GC Blackpool operation thus nearly all the images depicted in this post are of the black liveried GC stock. There are two exceptions however as these do show GC liveried Class 90s hauling ex-LNER liveried rakes.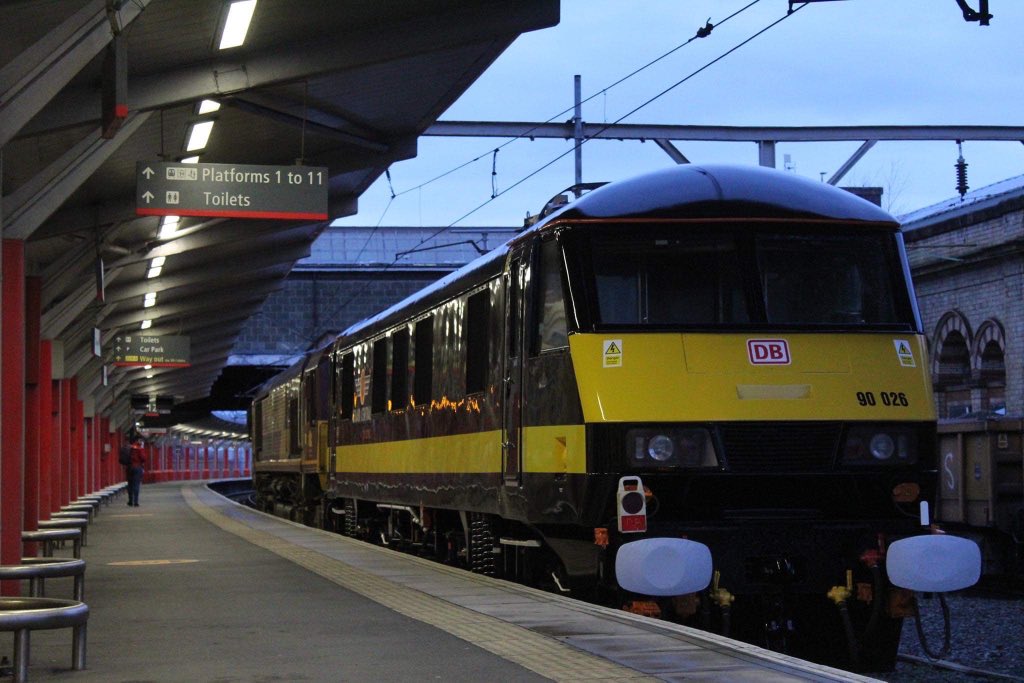 In February 2020 enthusiasts spotted the first of the Class 90s for the new GC services. This is 90026 at Crewe. Source: Twitter
Another view of the new look Class 90 livery at Crewe. Source: Twitter
Both the above images were taken by DS Trains based at Crewe.
The planned layouts for the Mk IV coaches on the Blackpool route, issued February 2020. Source: Twitter
These and the other graphics above are in fact from Grand Central's Blackpool page. Its still up on the web however it could be taken down soon in light of the recent announcement. Hopefully the Internet Archive will capture the page in question for prosperity.
The main image at the top of the page I created specially for this post. Its not even a Grand Central graphic, they have never done one featuring a Class 90. I know its not perfect but its done in the style Grand Central would have likely done – rather like the example seen on their Facebook page.
90026 resplendent in its new livery at Crewe. February 2020. Source: Twitter
Lovely atmospheric view of a Class 90 in the resplendent new livery. Source: Twitter
Fantastic shot of 90026 at Blackpool North in March 2020. Source: Twitter
As GC announced the deferment of its new services this picture was issued of 90029. There was an announcement the trains could hopefully be used on other services. Source: Twitter (Note: The Twitter account has been deleted thus an archived image is used here.)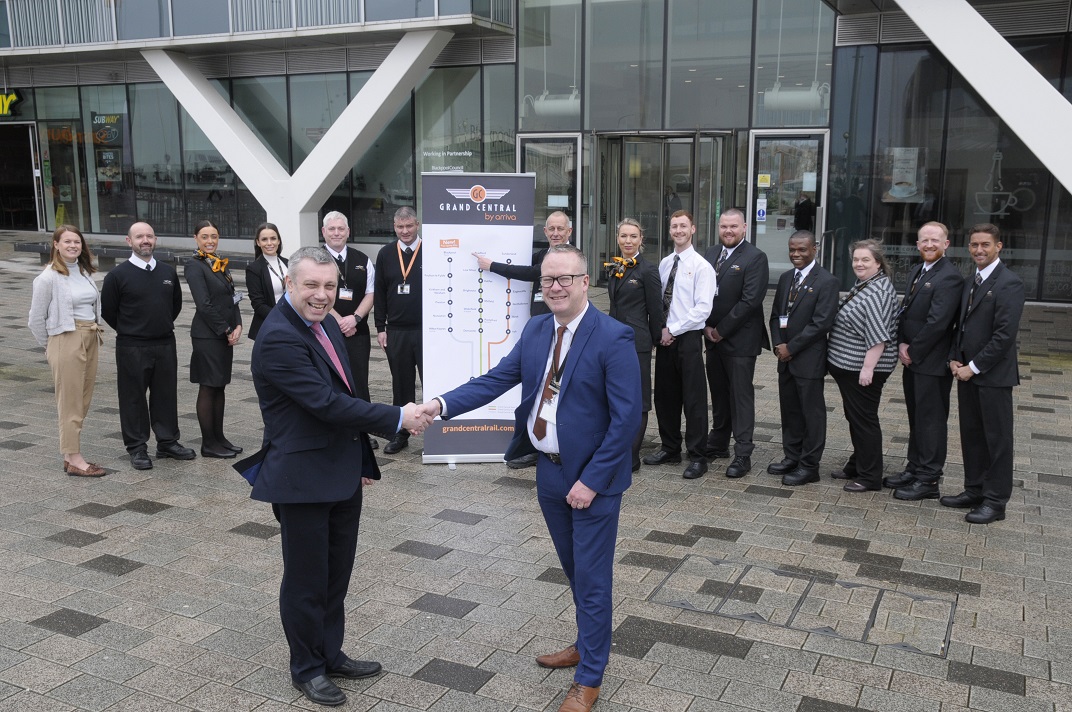 Beginning of March 2020 GC signs agreement with Blackpool Council for the use of offices in its Bickerstaffe building at Talbot Gateway. Source: Twitter
On 3rd April, following the coronavirus lockdown imposed on the whole of the UK, Grand Central announced the suspension of all its services – and further added its proposed Blackpool services would not commence until 2021 at the earliest. GC did not run any Blackpool trial runs for a while but eventually they did recommence when restrictions were eased nationwide.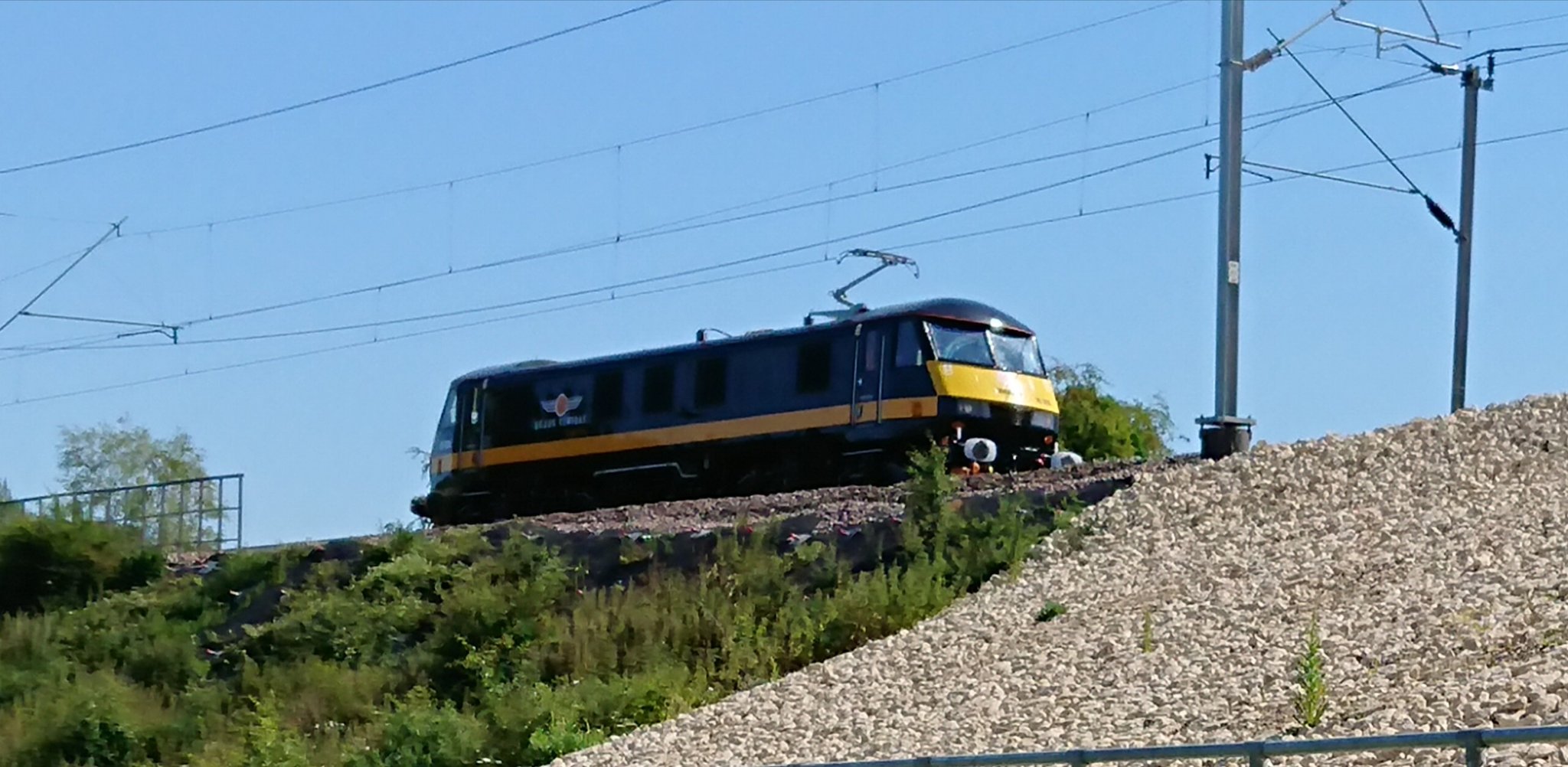 Class 90026 heading from Crewe to Wembley 1st June 2020. Source: Twitter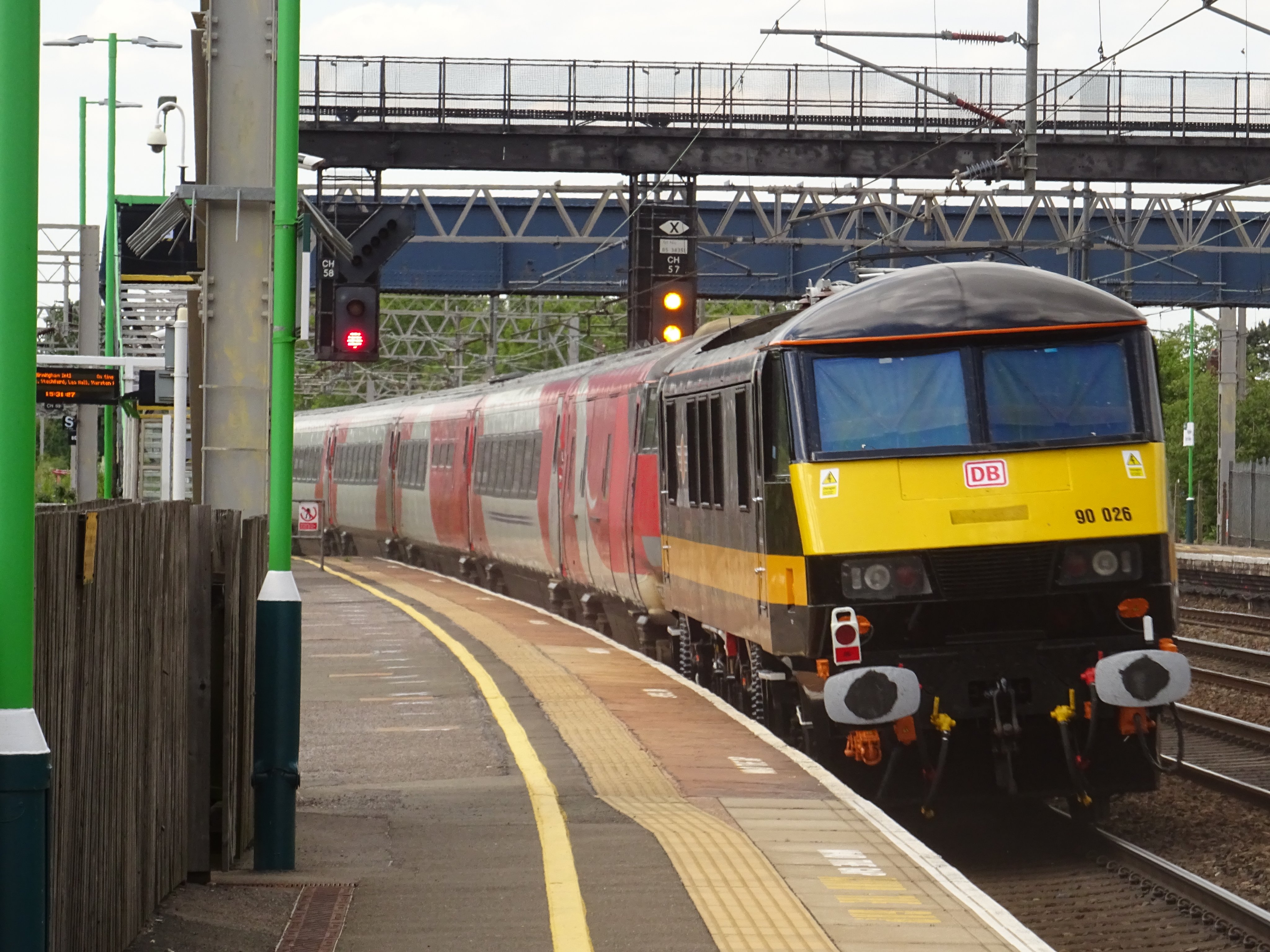 90026 again the same day at Rugeley on the rear of a train consisting of ex-LNER liveried stock from Wembley to Widnes GEC Alstom (Widnes Transport Technology Centre.) Source: Twitter
Class 90s 029 and 026 looking smart in the sun. June 2020 Source: Twitter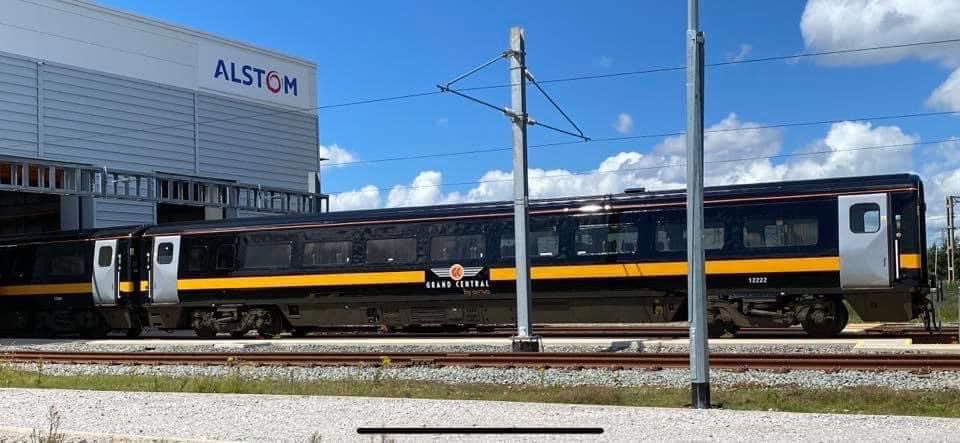 GC coach outside the Widnes Transport Tech Centre. Source: Twitter
Even a model GC Class 90 made the grade! July 2020. Source: Twitter
Photos of actual train sets (apart from You Tube) are rare on social media thus its thanks to Burbage Fox there's pictures of GC's full train sets on test as seen from the Oxford Canal towpath, Shilton, on 26 June 2020. The canal and WCML run parallel for a good distance between Shilton and Brinklow and this section has long been a favourite for photographers and painters – plenty of steam trains have featured on this section too – its not just the electrics! There's a list of other photographers at the bottom of the page who have done some great shots of the full Grand Central rakes of Class 90s, Mk Ivs and DVTs.
90029 leading the GC set alongside the Oxford Canal. 90026 was at the rear. Source: Twitter
GC's Blackpool set heading south towards Wembley. Source: Twitter
Here's a short Twitter video showing a pair of GC sets on test (2 DVTs, 8 Mk Ivs and two Class 90s – 029 leading with 026 behind) at Acton Bridge in July 2020, courtesy of SKH Trains.
How many train sets were actually completed for the abortive GC Blackpool operation? I'm not sure but it seems four rakes were completed along with one additional locomotive 90020. This extra locomotive is almost non-existent in terms of photographs but the following tweet shows a glimpse…
Perhaps the last photo of the GC sets? Taken at the very end of August 2020 this is 90029 as it nears Crewe with its Wembley Inter City Depot to Crewe Carriage Sidings working. Source: Flickr
One sobering aspect of this is the new GC trains never got to Euston! Wembley was the furthest south the Class 90s and renewed Mark Iv stock ever reached. I am sure rail enthusiasts would have had a field day had just even one GC Blackpool rake somehow managed to reach the London terminus!
How much did the project cost Grand Central? Who knows! It was envisaged the work to set up the new services would in fact cost an initial outlay of £21 million. I'm no expert on this however I would assume its now possibly more than that now – there's the costs of storing and dispensing of the stock, the costs of refurbishment and repainting, train crew wages, ongoing contracts for maintaining and stabling the stock plus reneging the recently signed lease with Blackpool council for offices near the town's main line station as well as the leases with the ROSCOs for the DVTs, locomotives and Mark IV coaches. Despite redundancies I am sure a small number of employees will have to be retained to oversee the wind-down of operations, the disposal of the stock in question and the rest of it. It will of course take some time to wind down the operation fully and I imagine it could affect the company's income margins for sometime especially with the way things are at the moment.
More pictures on Flickr of the Grand Central sets – some with pictures of 90020 in use: