This covers the afternoon on the first day of the Northern Line Extension's opening (20th September 2021.) Originally I had no intention of doing a series of pictures but thanks to my morning visit being cut short, I vowed to return later and do some more photographs. Its how the idea of doing a daily series of photographs arose.
But first there was an inflatable roundel which flew over the power station (as a homage to Algie the pig which flew between the power station's chimneys for Pink Floyd's album Animals.) There's very few pictures of that tube symbol which occurred on the first day of tube services and that's because the roundel got taken down quickly due to strong winds. Here's a couple of pictures of it though!
The inflatable roundel at the power station on 20th September 2021 for the launch of the new tube services. Source: Twitter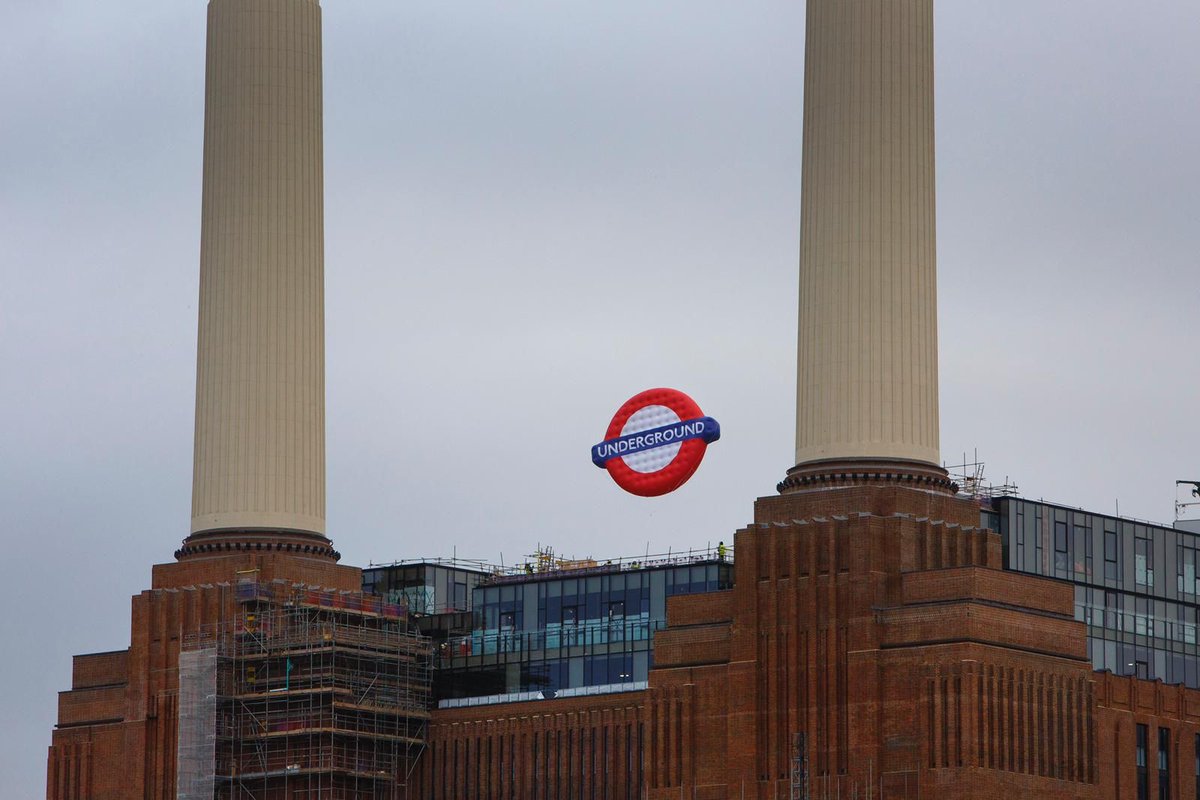 The inflatable roundel while it was briefly flown between the famous Battersea chimneys. Source: Twitter
And next is a gallery of some pictures I took in the afternoon of that same day!
Some no doubt like to wave, or worse, photo bomb. Sometimes it does add dimension to one's photographs, other times, it ruins the composition.
This guy had just got on the escalator and he's clearly indicating 'Aha! You're photographing me!'
This wasn't even deliberate. I was trying to see how well one could see through the large station windows and down the escalators when this guy appeared in view and photobombed my test picture!
I wasn't the only one wanting to shoot these kind of pictures! Others too found the windows looking to the substantial escalator lobby quite a draw for potential compositions!
Classic social photography! Stand by a monument or other artwork and ask someone else to take the picture.
A vlogger perhaps? TfL staff look on. Tube staff were at the station forecourt much of the day handing out free face masks to would be passengers. This wasn't repeated on subsequent days.
Looking down the escalators.
Look up the escalators.
The BTP make an appearance. Battersea Power Station and Nine Elms no doubt expands their beat quite considerably!
One thing I noticed about Battersea Power Station (and Nine Elms to an extent too) is the large number of dogs that get to use these and ride the trains. Clearly the advantage here is the new tube provides an additional transport connection to the Battersea Cats and Dogs Home, thus its obvious the famous charity now has a much wider area from which people can travel in order to pick up an unwanted stray cat or dog that they are adopting.
Its not just that, it seems to me people are also using the new line simply to take their dogs for a walk. Both Nine Elms and Battersea Power Station have opened up new avenues along which are some excellent riverside walks. So one could for example take the Northern Line to Embankment, walk along the river to Nine Elms or Battersea, and catch the Northern Line Home, or vice versa!
Anyway here's a picture of the first dogs to use the new tube line! Previous to this there had been a photoshoot a few days before opening involving some dogs from the cats and dogs home, but they didn't travel on a train however!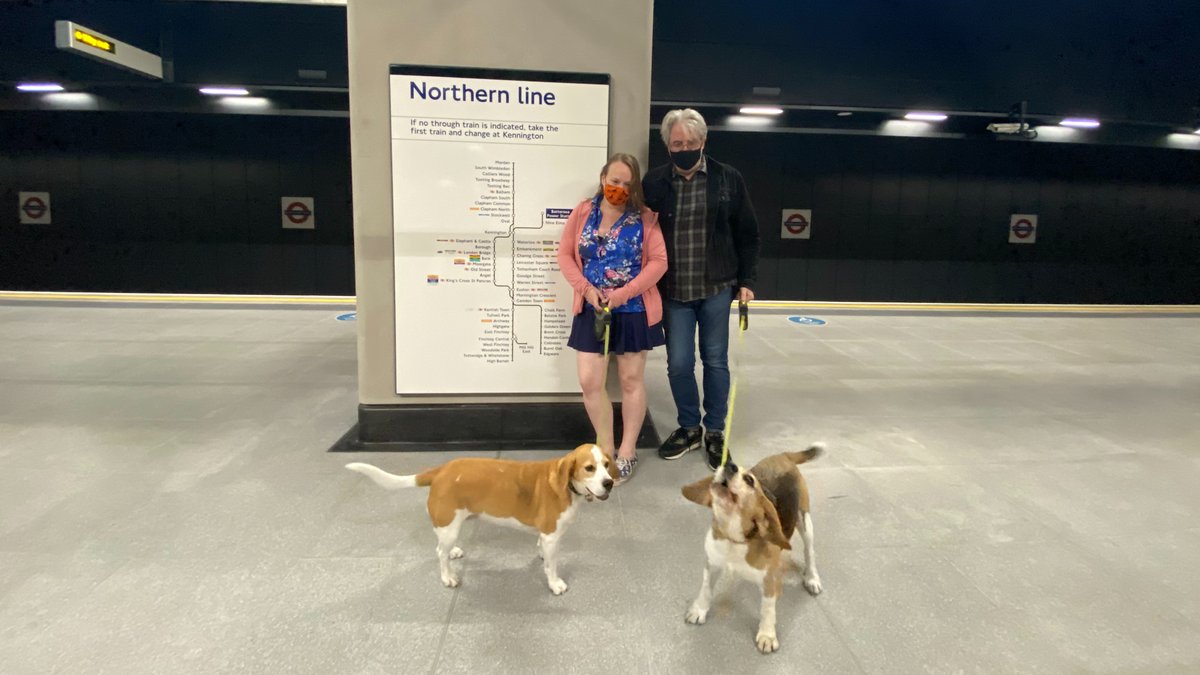 The first dogs to travel on the new Northern Line Extension! Source: Twitter
Back to my pictures!
The afternoon saw a large number of well wishers and photographers – everyone wanted to be here on the very first day of opening!
TfL staff walk past our carriage as we wait to depart from the station. They sort of look like bouncers in this shot!
Nine Elms. A photographer takes advantage of the stationary central escalator to do some compositions.
During the afternoon the Nine Elms escalators were having problems and LUL engineers was called in to investigate.
Lots of people photographing about Nine Elms. This kid is very enthusiastic about getting his videos right. He was getting his tablet ready to film our train as it left the station. A potential future film director perhaps? And no doubt listening to music helps!
At Kennington en route home, it was great to see this guy with tube clothing in the style of the seating moquettes. The mask, the T-shirt and possibly the socks too! I love it!
Next: Tuesday 21st September 2021.