This weekend fifty years ago both British Railways and London Transport began a major task in their ticket offices and ticket machines to embrace the pending national conversion from pounds, shillings, pennies, to the new decimal coinage of pounds and pence. The change was effected on 14 February with the rest of the country following on 15 February 1971, officially known as DDay. The momentous event had been a long time coming for Britain had first advocated decimalisation of its currency more than a century earlier. Here's a transcript from Hansard from February 1824 – one of the early parliamentary debates on decimalisation. The then Labour Government decided to embrace the change in 1966 on the recommendations of the Halsbury Committee – though it was in fact the following Tory Government who implemented the change.
A reminder to use certain coppers only as DDay arrives! Lord Fiske, chair of the Decimal Currency Board does a presentation on the new currency. Source: Twitter
London Transport
The reason for BR and London Underground switching a day early was to make things easier on the day itself! Often LT has used Sunday for introducing new things – like new tube services, new bus services or any other type of major change in its set up. Sunday is a quiet day compared to weekdays thus Valentine's Day 1971 was ample opportunity to give ticket office staff a chance to get to grips with the new system in readiness for the rush hour the following Monday morning. There was of course a lot of work to be done over that weekend and that included changing the numerous ticket machines, and I suppose in many ways it too could be seen as a means of giving the new system all the love it needed!
Unlike the Underground, LT's Red Buses were a different kettle of fish altogether. The system was vast and complex thus it was easier to stage the switch across an entire week, giving staff a whole six extra days of real world practice, especially bus conductors with their reconfigured Gibson ticket machines. Some of LT's buses ventured miles from the capital into deepest Essex and Surrey, thus there was additional complexity here the Underground didn't have to face. Another issue here, as LT explained, was an immediate change over on the buses especially would cause problems with conductors having to carry huge amounts of extra money, there were issues with the three penny and the six penny pieces because the fares system would require more change to be used whilst conversion was underway – thus Sunday 21st February would be the day by which all of LT's bus/coach services had completed conversion. Also it was hoped that by then bus users would then be quite accustomed to the new coinage and certain of the money they would be tendering. LT hoped this would be the exact fare and not little bits of one or the other smaller denomination coins!
LT's fares table for its earlier changeover on the Underground 14th February 1971. This was sourced from the LURS magazine, however I cleaned it up for presentation here.
There were problems with childrens' fares because these were in old currency denominations thus there was no direct conversion of these. LT wasn't really wanting to increase these fares to the nearest round penny just to make life simpler. In the event it was decided if exact fares could not be tendered passengers would be asked to tender old money in such a way they paid more than the amount required necessary in order to tally with the decimal price, but they would in fact given the correct decimal change. Again the conversion nevertheless did require large amounts of money to be carried by conductors and that is why the buses/coach services were given a extra week in lieu of conversion.
Ironically it worked the other way round on the Underground! Instead of continuing the fares that could be bought for a sixpenny, LT decided to hike these to a minimum of 5 pence. That's double the value of the old money. The reason of course was to simplify the ticket machines in terms of the money that could be handled but many saw it as a cynical ploy to introduce a fares increase by the back door. Conversely the minimum fare on the buses was exactly the equivalent of the old sixpenny piece – two and a half pence! However a limited number of fares in the further reaches of the Underground system continued to be either 2½ or 7½ pence because these did not require automated ticket machines to process the transactions.
In an attempt to give reason for some of the complexities and inconsistencies in the new fares structures, it was said the continuation of the 2½d fare across the bus network had been tied to a caveat which LT's chairman (and indeed its decimal spokesperson) Sir Richard Way attepted to explain: 'From the time of the changeover· we shall be studying the coin problem intensively. If, in the end, the coins that are so vital to our fare scale disappear to such an extent that change­ giving is causing delays which affect the efficiency of the bus service, we shall have to recommend a change in the fare structure, based on whole new pennies.' In other words if the 2½d (and its increments) on bus services proved to be problematic LT would have no hesitation in raising the fares to five pence.
Both authorities had long been planning for the event however in terms of archival material it seems (at least on the internet) there's more that survives from BR than from LT. The latter however published regular features in its London Transport Magazine on the issues of decimalisation and the challenges this posed. BR similarly did the same with its own in-house magazines covering the different railway regions such as the Eastern, London Midland and Southern. Anyhow, the following leaflet is the only complete example I can find from the LT stable in terms of decimalisation.
LT's bus services leaflet specifically aimed at parents and schools advising of the changes to services Source: Flickr
On this note it must be mentioned LT's former Green Line network which had been taken over by National Bus in 1970, too operated many services within the capital itself, and like the rest of the metropolitan area's services, the now renamed London Country Bus network also staged its conversion from old to new money over an extra week due to the sheer complexity of its vast network which stretched from Central London right out into Hertfordshire, Essex, Sussex, Surrey, Berkshire and Buckinghamshire – no doubt with a bewildering array of fares to suit! The company issued leaflets which described the situation that would be faced – and here's a detailed explanation of the challenges London Country faced – no doubt the following explanations would have also applied to LT's buses:
When will it happen?
Decimal currency will be introduced and will become legal tender throughout Britain on Monday. 15th February, 1971 ('D' Day). Most bus operators, including this one, will be going decimal from Sunday, 21st February, 1971 – the Sunday following 'D' Day.

How will it happen?
Between 'D' Day and 21st February fares will be charged in shillings and pence as hitherto, but from Sunday, 21st February, all bus fares will be charged in new pence and from that date only decimal coins will be given in change.

Will the conductors and drivers understand it?
All our platform staff who take fares have received instruction and practised the handling of the new coins – obviously some will be more proficient than others, but life will be particularly difficult for them for several weeks.

How can passengers help?
We know that many of our passengers are, themselves, going to have difficulty in understanding and handling the new coinage and the following notes are intended to assist this understanding and to ensure that the minimum time is wasted in making the transaction on the buses – the least time in change giving will result in the best time-keeping on service.
In an attempt to inform passengers of the changes and how they could help bus staff ensure the switchover went as smooth as possible, London Country issued these tips in one of its leaflets published during February 1971:
Again its basically the same scenario as that for LT, however it seems the former Green Line management's way of explaining the situation still didn't given passengers very much confidence! I am sure few passengers bothered to try and find out their fares in advance!
British Rail
Like LT, British Railways too changed over on the Sunday however considerable publicity was generated advising commuters and other season ticket holders to renew their seasons and travel passes on either the Saturday or the Sunday 13th/14th February rather than on the preceding Friday or the following Monday when ticket offices would no doubt be much busier. In general BR did not begin any publicity work until August 1968 when a campaign was begin in collaboration with the Decimal Currency Board.
As mentioned earlier, there's more archives in terms of British Rail and decimalisation than there is with London Transport. That in part may have been because BR's campaign was quite eye catching! Its series of adverts were designed to hammer home decimalisation and what it meant for both operator and passengers alike. One of the highlights of this was the use of a mascot known as Decimal Des. He didn't represent a particular region but rather the network as a whole, thus there was a sort of cuteness factor to the whole imagery. In a lot of ways the campaign was prodigious to British Rail because they too were trying to convey the notion the railways were modern, hence the BR blue uniform Decimal Des wore to show off the organisation's new corporate identity. After all, British Rail wanted to show this was the age of the train, not the age of the strain! P.S. They never did get rid of those celebrated curved sandwiches!
As shown in the poster below BR used the image of steam trains as old fashioned stuff, being used to shunt off equally old and knackered pre-decimal coinage into the sidings! That would have been the age of the strain! In many ways the modern image was most crucial to BR as it had only recently seen its last steam trains off into the sunset. The modern image was at the fore of BR's publicity machine from as early as 1964 and it was a defining element in most of its publicity right through to perhaps the late 1980s. Of course decimalisation was a major element in the railways' drive to be totally modern.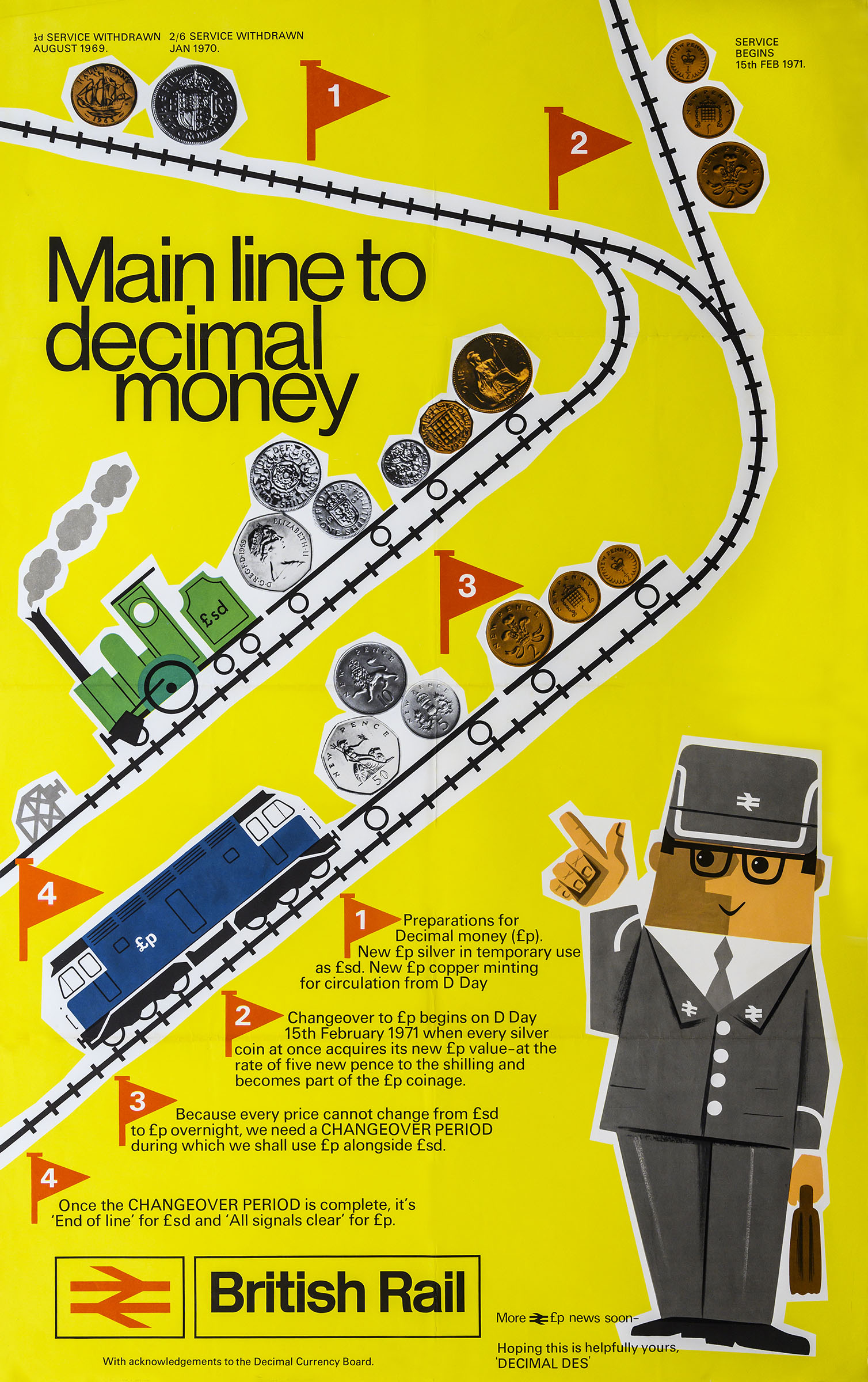 This poster was published to cover the change over period from August 1969 to February 1971. Note the interesting analogy of old vs new here – a steam train heading for the buffers with the old money whilst a diesel is proudly hauling the new coinage! Source: Didcot Railway Centre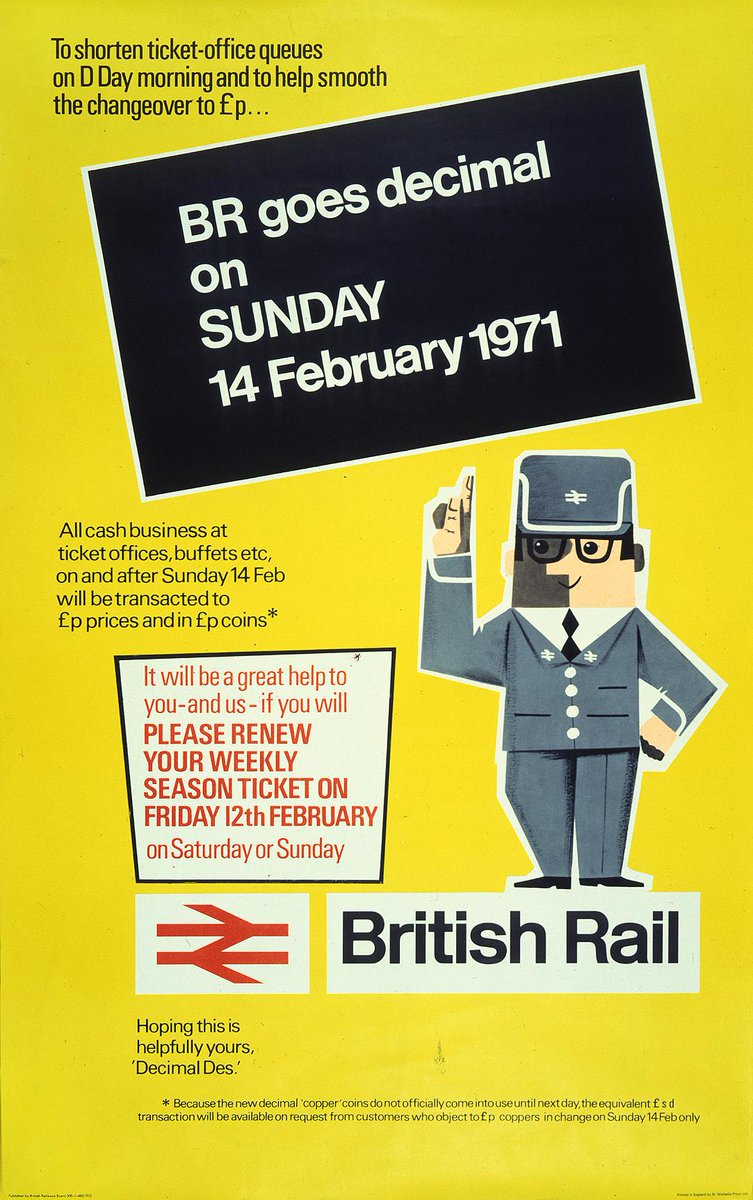 Advance warning of an imminent change on how one should pay for their rail trips…. Source: Twitter
Some of the decimal fares drawn up on a board at Clapham Junction. 15 February 1971.
Staff at work in the Clapham Junction ticket office on DDay. These scenes are from this You Tube video.
On the weekend of decimal conversion at British Rail, Lord Fiske was spotted at Euston extolling the virtues of the new system and testing its integrity by way of purchasing rail tickets and also a cup of tea at the station's buffet! A filmed news report on that can be seen at Getty's, and indeed Lord Fiske can be seen consulting one of the posters that is shown below. There too is a picture of him at one of the station's newly converted automatic ticket machines.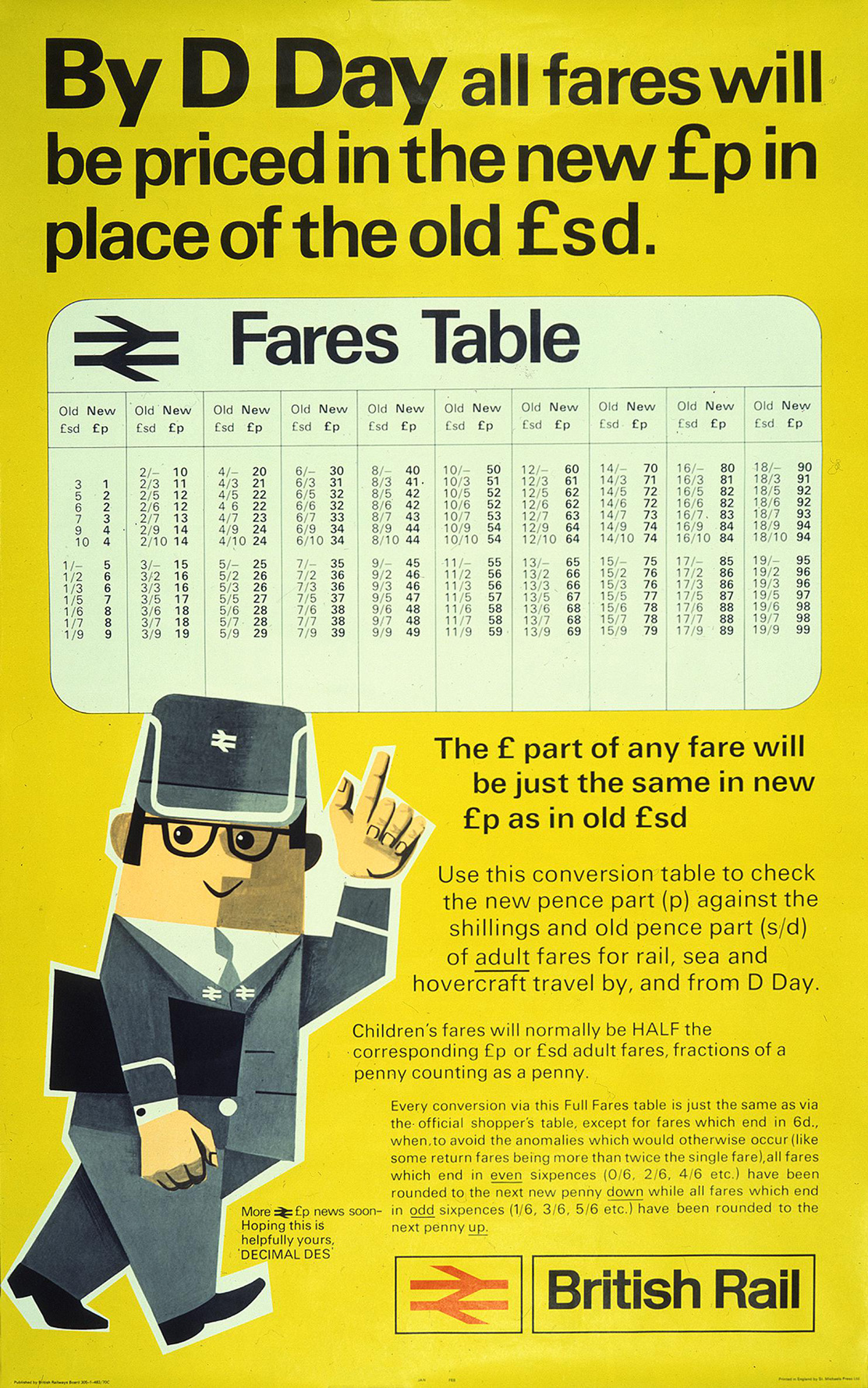 A simple decimal converter for confused railway passengers! Source: National Archives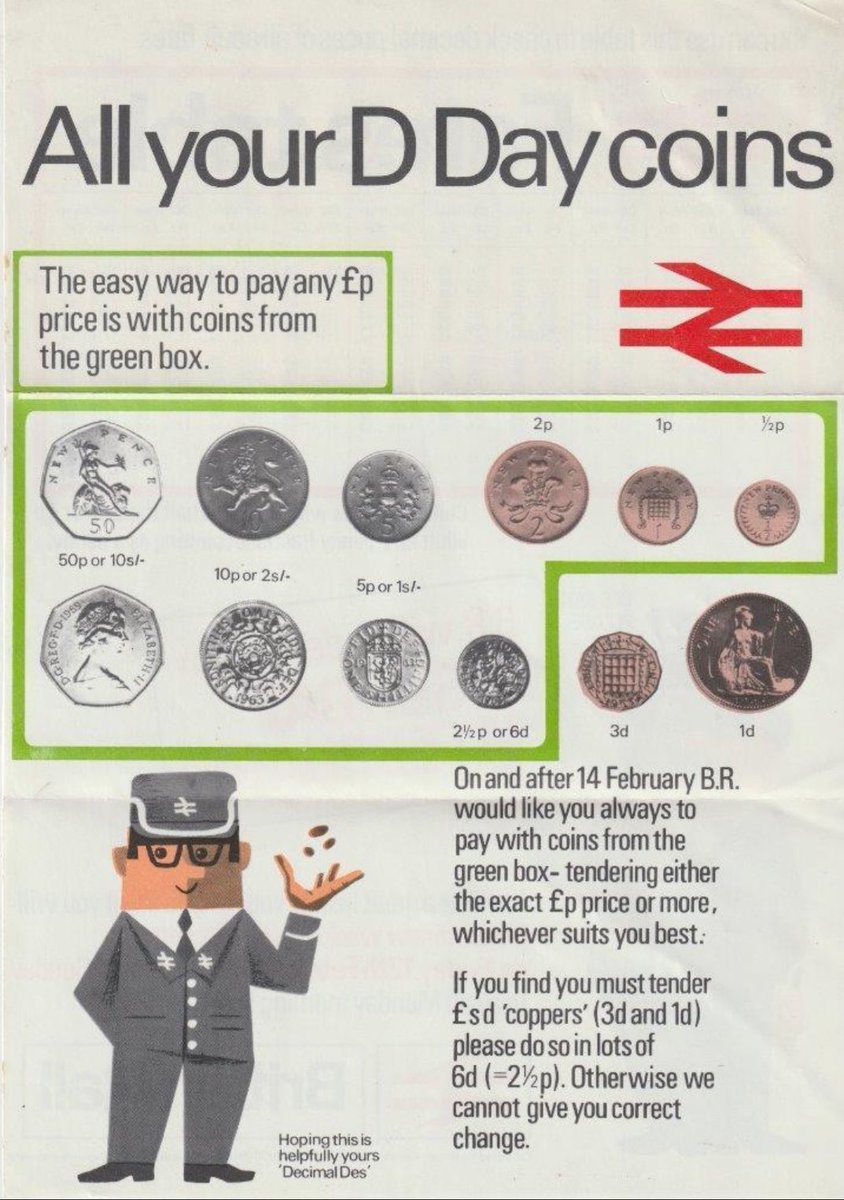 Advisory from BR/Decimal Des on the coinage that could be used after 15th February 1971. Source: Twitter
The different BR regions had their own publicity too as shown below, however these were somewhat different to the nationwide attempts. Its said BR (Eastern) was well ahead of the country for in the weeks preceding the official day itself, guards' ticket machines on its paytrain services, which were numerous across the region, these machines were calibrated to decimal currency. Shillings were omitted thus a five shilling fare was shown up as 60d prior to DDay, and 25d after. This long term approach was of course beneficial in that it gave staff lots of early real term experience in dealing with the new systems and understanding how the conversions worked. Not only that, as evidenced by railway tickets I bought at the time, the Eastern Region's manned ticket offices too had gone decimal at the start of 1971! The earliest decimal railway ticket I have is one issued at Liverpool Street on the 7th of January 1971, more than a month before DDay!
BR (Eastern) whose Paytrains (first introduced 6 March 1967 across the Norwich division) were an early convert to decimalisation.
In that respect its quite possible the London Midland Region also issued decimal priced tickets at an early date as both the Eastern and the London Midland were strong advocates of those blooming great ticket machines (pictured below). I cant say for sure as I didn't use the trains out of Euston until the mid 1970s. I do not know these machines' make other than they were introduced at many late 1960s built stations as well as remodelled ticket offices within existing stations such as at Liverpool Street. Like Euston these machines too could be seen at other new stations including Colchester, Coventry, Birmingham New Street, Bishops Stortford, Broxbourne and Harlow Town to name a few, and its likely these machines were configured from new to print ticket prices in either pre-decimal or decimal currency – which would explain in part why BR was printing decimal priced tickets, at least on the Eastern Region, from the start of 1971.
Those great big ticketing machines at the new Euston station in 1968! Its not really a decimalisation image – but rather one to show what those huge machines looked like.
In terms of the other BR regions, the only publicity I can find is this below from the Western Region. Evidently that too was well prepared as they began a rolling programme of the region's many automated ticket machines at an early stage. I don't remember the main ticket offices at Paddington having the new ticket machines as described above, I think they were using the old ticketing systems still. WR's automated machines were clearly a different matter as the poster shows. Note Decimal Des' absence! As mentioned earlier it was a national effort rather than a regional one. However in the days imminent to decimalisation BR did issue a poster for the local stations in every region featuring Decimal Des, but nevertheless with empty boxes and columns which could be completed to show fares or perhaps other important information as staff wished. One of those posters is shown above, this being that at Clapham Junction showing the cheap off peak fares in decimal prices. These posters ended with the blurb 'Hopefully I've been helpfully yours. Decimal Des.' And I think that was the last anyone saw of him!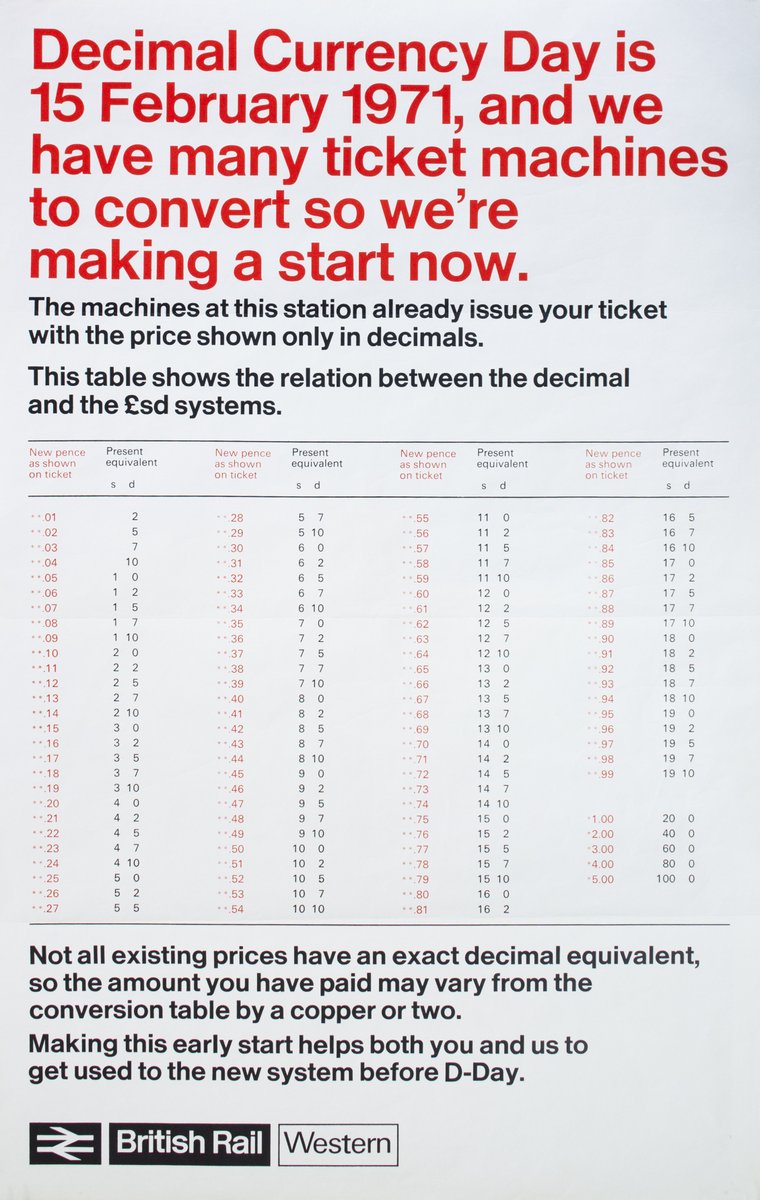 Western Region's notice of intent to convert many machines prior to DDay 1971. Source: Twitter
Updated 18th February 2021.