This is one of the units from the Island Line. The cost? 'An eye watering price of £32,000' says the Isle of Wight County Press! Someone claimed it wouldn't be anything more than 'an expensive shed.' Another quipped 'it won't fit on your mantelpiece though!' I'll take that to be a fair enough warning… lol! Others joked this 483 unit could be something GWR might need at this very moment as there's a shortage of 800s (although I don't think GWR currently operate any third/fourth rail lines!) The unit could be 483002 which was kept for spares on the rear depot cleaning road, or failing that, 483004 kept on the siding north of no 3 platform at Ryde St John's Road. What happens if no-one buys the 483? As its already in a London scrapyard it'll just be cut up on the spot. Just as I finished writing this, it seems someone took up the offer – thus the train is presumably safe for now.
Ebay Link: 1938 tube stock/Class 483 for sale on eBay – sorry its already been sold as of 22.47pm on 11th May 2021!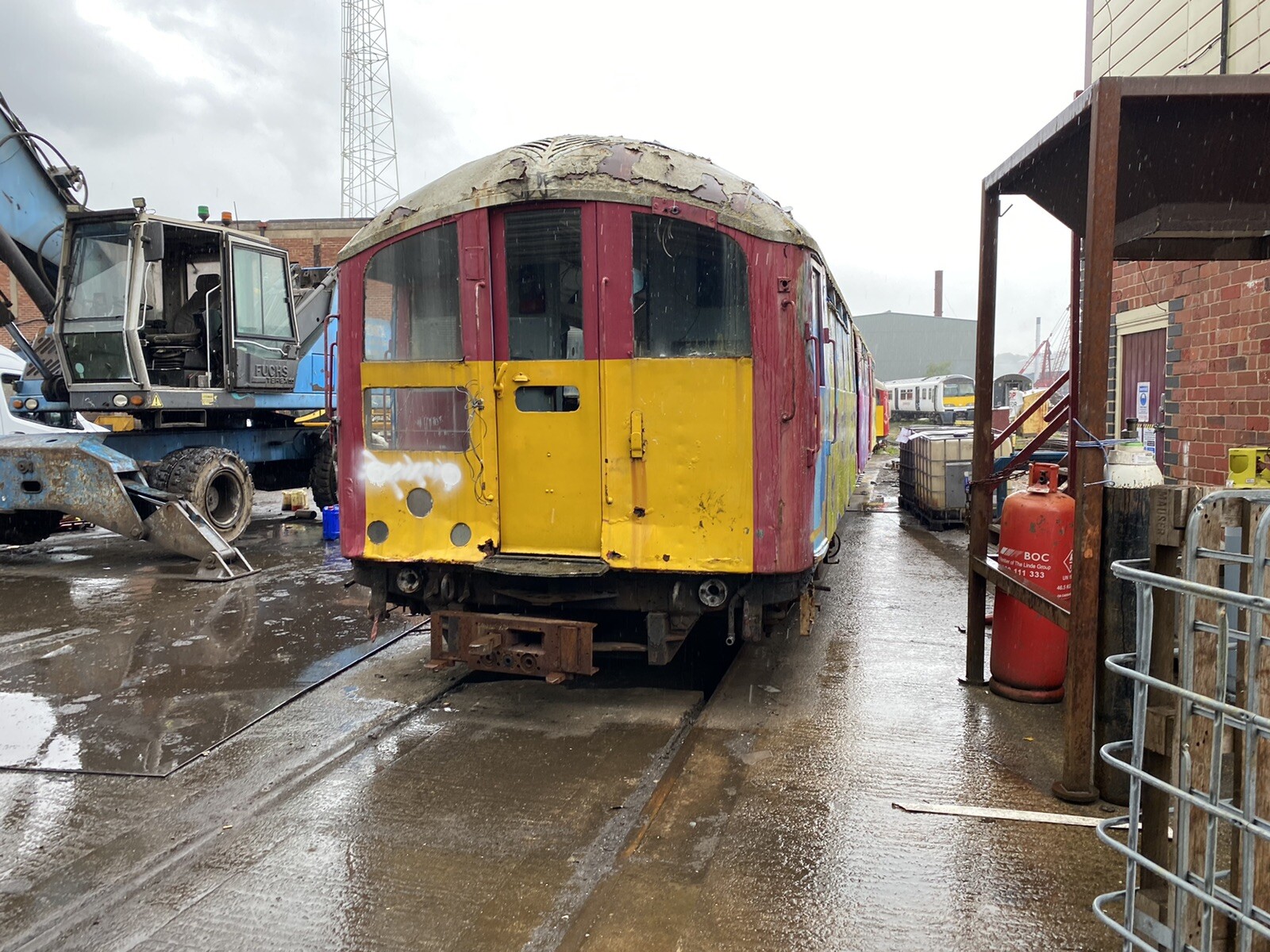 The train stood in the scrapyard awaiting a buyer. Source: Ebay
There's not much left of the once vast fleet of 1938 tube stock and to even acquire some of the last examples in use (or stored as a spares unit) on any public railway system in the UK has to be a once in a lifetime opportunity. Having said that the good units that were most recently in service (and still could be moved under their own power as late as early May 2021) have already been given homes at the Isle of Wight steam railway or the Epping – Ongar line. It'll be a big job to restore this particular unit but its not the worst possible restoration job by any means. One aspect of the sale that intrigued me was the offer to assist with the restoration – at a cost of course. Not totally unusual however the fact it was even on Ebay was a surprise because the last anyone knew of these units was they had been carted off to the scrapyard. To see it resurface is as they say, nothing short of a miracle!
I have included parts of the sale description below simply as a matter of interest. They were quite forthright about the work needed and that it was simply a spares unit – which some rail people like to call a 'Christmas tree!'
Here for sale we have an incredibly unique opportunity – the chance to buy an ex-London Underground train. This is car 225 which in part formed unit 483002. Built in 1938 in Birmingham by Metro-Cammell, these deep-level tube trains were revolutionary: being the first to have all their motors and equipment under the floor of the train – freeing up valuable space for passengers. These iconic trains have had a hard life, serving the Underground between 1938 and 1988. Then the Isle of Wight from 1989 to January this year. More recently found on the Isle of Wight running in rakes of 2 carriages as British Rail Class 483 EMU's. Withdrawn from Island life earlier this year, these trains were the oldest operating units on the rail network in passenger service…
Of course, if you're looking at this ad then you probably already know that! This is honestly a once in a lifetime opportunity – with all of these units going for scrap or preservation, act quickly to secure this piece of transport history. This carriage is used and was used on the Island as a donor vehicle in later life so will require a full restoration. We can arrange restoration at cost, to suit requirements. To be clear, this carriage will need extensive work – from a brief inspection it is clear that many interior and exterior fittings need attention and replacing/sourcing – some of which are:
Seat cushions
Light covers
Electrical equipment
Door buttons
Floor vinyl
Some windows
Drivers seat/controls
Flip down seats
Minor interior panels
Items that need work/are missing are not limited to the above list – this is a guide from initial inspection of the vehicle.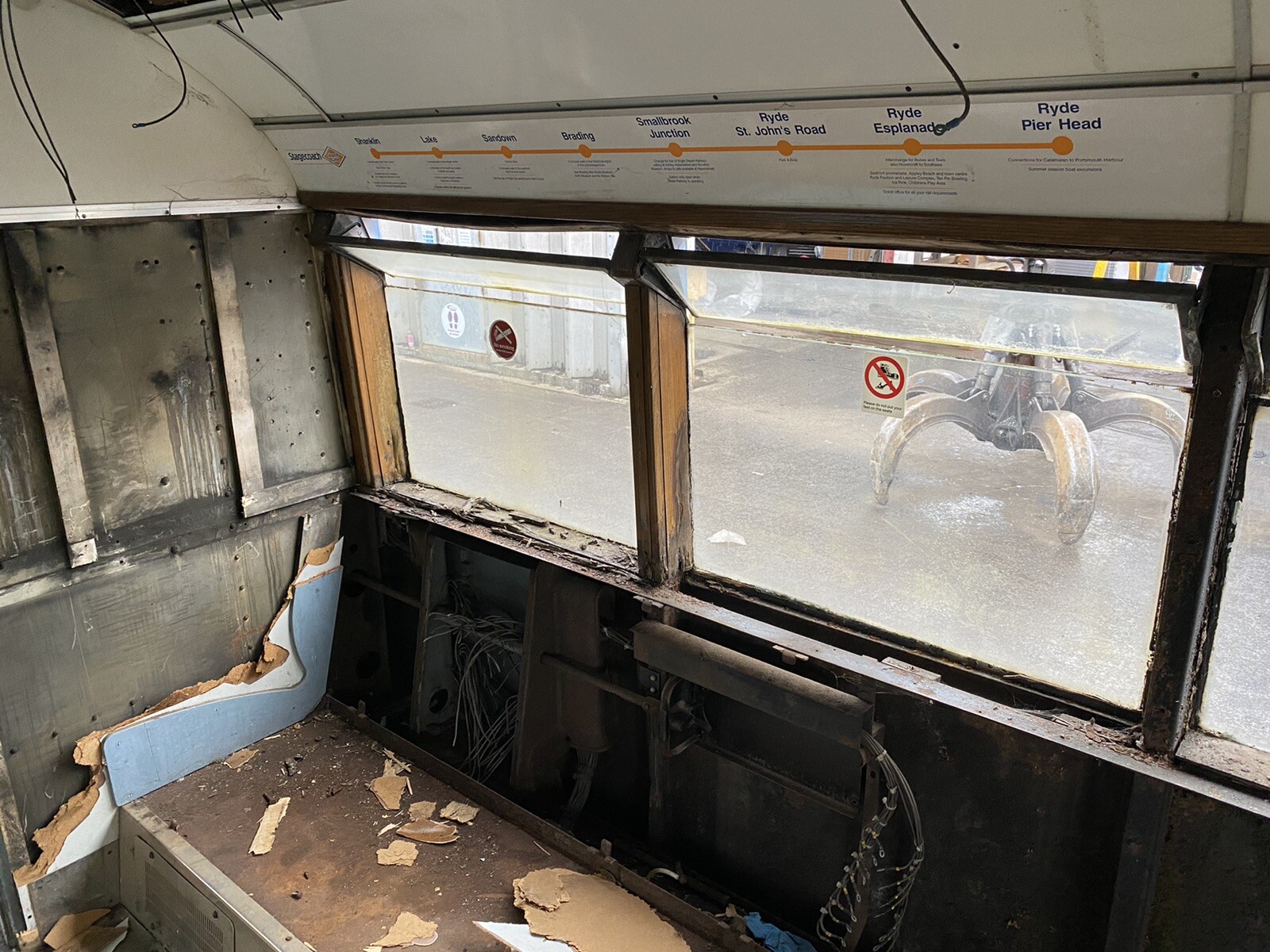 The Ebay unit still sports an Island Line car diagram from when Stagecoach operated the franchise. That ended in 2007! Source: Ebay
Below are a couple of pictures from the Island Echo (30th March 2021) of the same Ebay unit which was removed at the end of that month.
The unit being lifted over to the low loader it will be taken away on. Source: Island Echo
The unit being put onto its low loader. Source: Island Echo
Another picture on the London Transport Traction Group's Facebook page.