The mysterious Helch continues to spread his word across London and the south of England. I did a small run on the trains/tube and found other examples of Helch's work. I have posted these here. This fresh quest began because I wanted to capture the huge work which has been on the side of a plain concrete wall by Kensal Green gasworks – before anyone thinks to scrub it off. I got photographs of it – just before I discovered another Helch tag at Acton – one which hasn't been documented online!
By the way I noticed others have been using my photographs from the previous post elsewhere without crediting me – but then who am I to challenge them? Besides I'm not going to be a pedant over it.
A trip on the Central Line revealed at least two more. I did see a third but wasn't sure it was the artist's own tag, its more likely some rough scrawl by some other party in an attempt to (for want of a better word) steal some of the territory. Since, I have seen further examples of the tag in question and most are alongside the Central Line, with one by the Metropolitan Line.
In my previous post I said I had seen this one at Kensal Green gasworks (some will know the location better as Ladbroke Grove) but had not photographed it at the time. Well that has been amended and its now been photographed! The tag can be seen on the north wall a short distance from Ladbroke Grove bridge near the large Sainsbury's superstore.
Helch by the Great Western railway at Kensal Green/Ladbroke Grove. (Was removed in early 2022.)
There's this other one, which given the location and the fact it was probably the dead of night, the artist had plenty of time to work this one and give it nice clean edges.
Helch under the A40 bridge at Acton.
The reason this one probably hasn't been photographed until now is because its in a very dark location. Not an easy task when the train is going at perhaps 70 miles per hour and there's barely any light under the bridge. However I somewhat managed it. The image was a bit dark but I corrected it.
The next few examples are visible from the West Ruislip branch of the Central Line.
The A406 bridge at Hanger Lane. This tag can be seen from the station platform easily. I took this picture from a train departing the station.
There's another Helch tag on the corner here (not shown) its a rough one and may not be an original by the artist himself.
Helch on the Great Western railway viaduct over the River Brent between Hanger Lane and Perivale stations.
This one at Perivale would have been an easy one. The railway is now closed between Greenford and Old Oak due to the work for the new HS2 interchange at the latter place, thus the work wouldn't have needed to be rushed.
One must remember there is still the matter of trespass however as this – like the Western Avenue and the Ladbroke Grove examples – are all on railway property, and there are severe penalties for being caught and defacing railway property. No matter how good the work or the reason for doing it, some artists do end up in jail and that's essentially their choice.
A better close up. These were taken as part of a sequence and I chose the best shots from this.
Its visible from the Central Line train in either direction. The trains are going pretty fast here however so one must be ready with their camera!
I passed the site again today (21 August 2019) and discovered there is the faint traces of a tag on the adjacent arch! Its either unfinished or has been painted over.
I also found several other examples – and besides these also photographed those I thought might be Helch's but not certain about it.
This one can be seen by the junction where the Ealing and Ruslip branches of the Central Line meet.
This one is by the Central Line at Wormwood Scrubs – very near the notorious prison! Is our tag artist looking for a spell there?
Two rough Helches (one is behind the bush) can be seen on this wall between North Acton and Hangar Lane. Are they genuine though?
Another two more rough ones near Perivale. There's this big one and then a scrawl at the extreme right. Genuine or not?
This is by the Jubilee/Metropolitan/Chiltern lines at Dudden Hill, Neasden. This picture was taken from a passing train.
It seems this particular tag on Dudden Hill Lane is the first to be captured by Google Streets! Here's a screencap (shown below) of Google's street view with the Helch tag back in March 2019.
Google has been Helched! Source: Google Streets
Having shown my pics of some of Helch's further exploits, once again the question bears upon us. Who is Helch? Bristol Live quoted the following:
They claimed he was an old school graffiti tagger who had suddenly, in middle-age, gone back to his youth and begun painting the name 'Helch' – which doesn't necessarily mean anything, it's literally just a word, apparently – everywhere.
The Bristol news outlet is sort of comparing Helch to Banksy by referring to the famous artist's humble beginnings in Bristol. I'm not even sure Helch is attempting to emulate Banksy in any way or any form. He just wants his tags where he can get them. They're not saying anything really, they're not even political statements or environmental statements like Banksy did with his work. Compared to Banksy, Helch is actually more of a hindrance rather than any sort of positive force. He is however quite pervasive and clearly wants to make a substantial impression.
On the other hand, it could be Banksy with a new line of work whose message has yet to emerge! Maybe that is why Duke's in Bristol is 'keeping the unwanted tag for now.' And its why the Bristol news are bringing Bansky into the equation? Perhaps they know something most of us don't lol!
Okay, let's have a look at the Duke building itself, its at 53 Newfoundland Street, Bristol. I've seen pictures of this before but until I looked on Google Streets I had not realised the wall was in a totally inaccessible spot.
The land to the side of the building is empty at the moment – awaiting development to turn it into a hotel. So far so good. But wait. There isn't anything below, not even a lean to, a temporary shed or whatever for anyone to stand on and write stuff on that wall. It means the artist had to have help, undoubtedly he also enlisted the use of a ladder. Two lots of tags were painted here so a considerable amount of work was expedited. The second tag on the other wall was perhaps quickly done as an afterthought.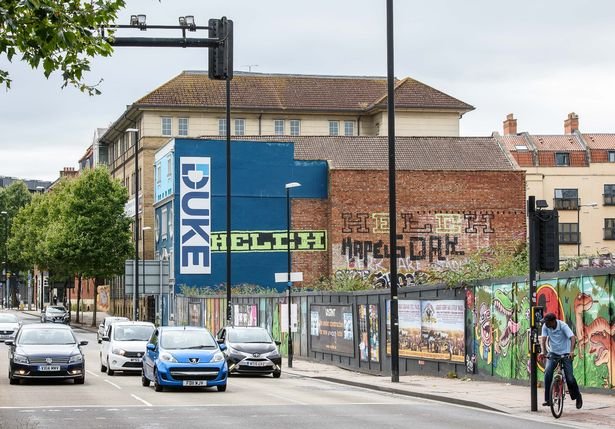 A view of the building in Bristol Source: Twitter
What is amazing is the site is right next to the tail end of a very busy motorway into Bristol (the M32) yet no-one saw the artist at work!
Helch has been busy in Camden too – here's an example of his work at Chalk Farm….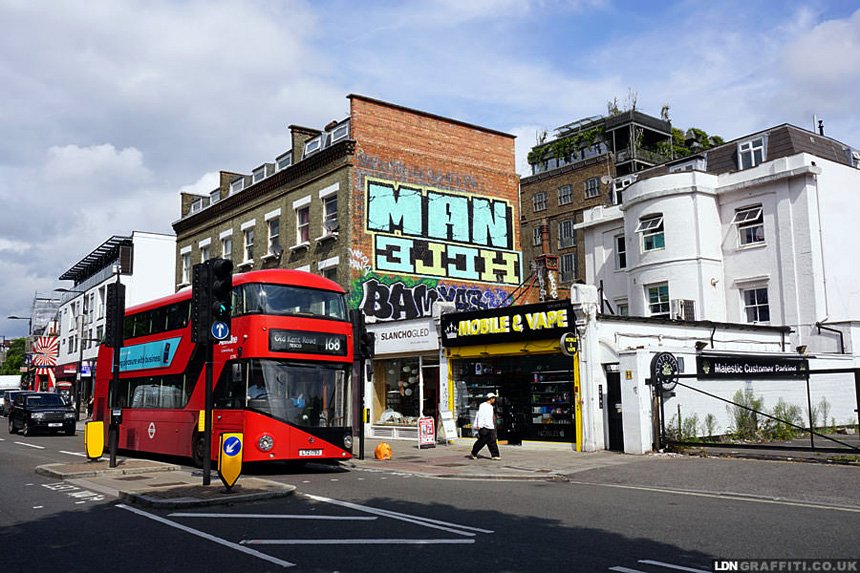 Another previously not in the public domain – at Chalk Farm. Source: Twitter
Concerning the above image, it doesn't look like Helch but it is, its just the four letters that make up that word. Starting with the first letter 'H' at the end, one then jumps to the last 'E' (at the beginning) then the next 'L' then its 'C' and again back to the 'H.' Which spells H-E-L-C-H!
The addition of 'MAN' is a new one – perhaps with this latest do the artist is changing tack? However this particular one has a great annoyance to bear. The reason is there was a ghost sign on this building. Its been obliterated and its not the first such attempt. Is this artist simply going to destroy more ghost signs? I hope not.
I'm surprised the often up to date local newspaper, Camden New Journal, did not report on this attempt at spoiling some of Camden's ghost signs.
Helch at Queen's Park. Source: Tomato
The Helch seen at Queens Park is on the side of a building in Claremont Road. If its still there it'll just be visible from Claremeont Road. A better view would be afforded from either a London Overground or a Bakerloo Line train. The platform (with a rough Helch on its fence) belongs to the out of use main line station – no trains have stopped here since 2013!