When brand new trains get well and truly f**ked… or how Thameslink's trains got crossed off the rail network map!
Friday 9th August 2019. The heavens opened and there was torrential rain and gales. Somewhere in the national grid a glitch occurred. Two power sources, one at Little Barford power station in Cambridgeshire, followed almost immediately by Hornsea offshore wind farm, failed at the same time. A good part of the UK suffered power cuts as a result.
As soon as there was this nationwide power outage, many of the country's train services suffered. Perhaps the worst were those services leading north from London. Euston had its services in chaos due to the mass influx of passengers trying to find a way home when they found both King's Cross and St. Pancras shut. These two stations were the worst affected with some trains not reaching King's Cross until well over eight hours later!
In the initial moments of the chaos that ensured, Thameslink was saying to its passengers via social media the problem was clearly due to overhead power supply being cut.
In the above thread Thameslink were telling John Turner at 5.17pm there was indeed a power supply problem – but not that it also entailed a reboot of the trains.
When the outage occurred, some passengers, given the almost daily excuses for the many railway failures, were quite cynical.
By around 5.10pm ish GTR were at least beginning to acknowledge there was in fact also an issue with their trains – these needed rebooting. The following picture shows TfL were by that time informed there was substantial reboot problems with the Desiro Class 700 trains..
It was about that time (5.13pm according to the Twitter timestamp) that the company was then starting to officially acknowledge to people stuck on their trains that these needed a reboot.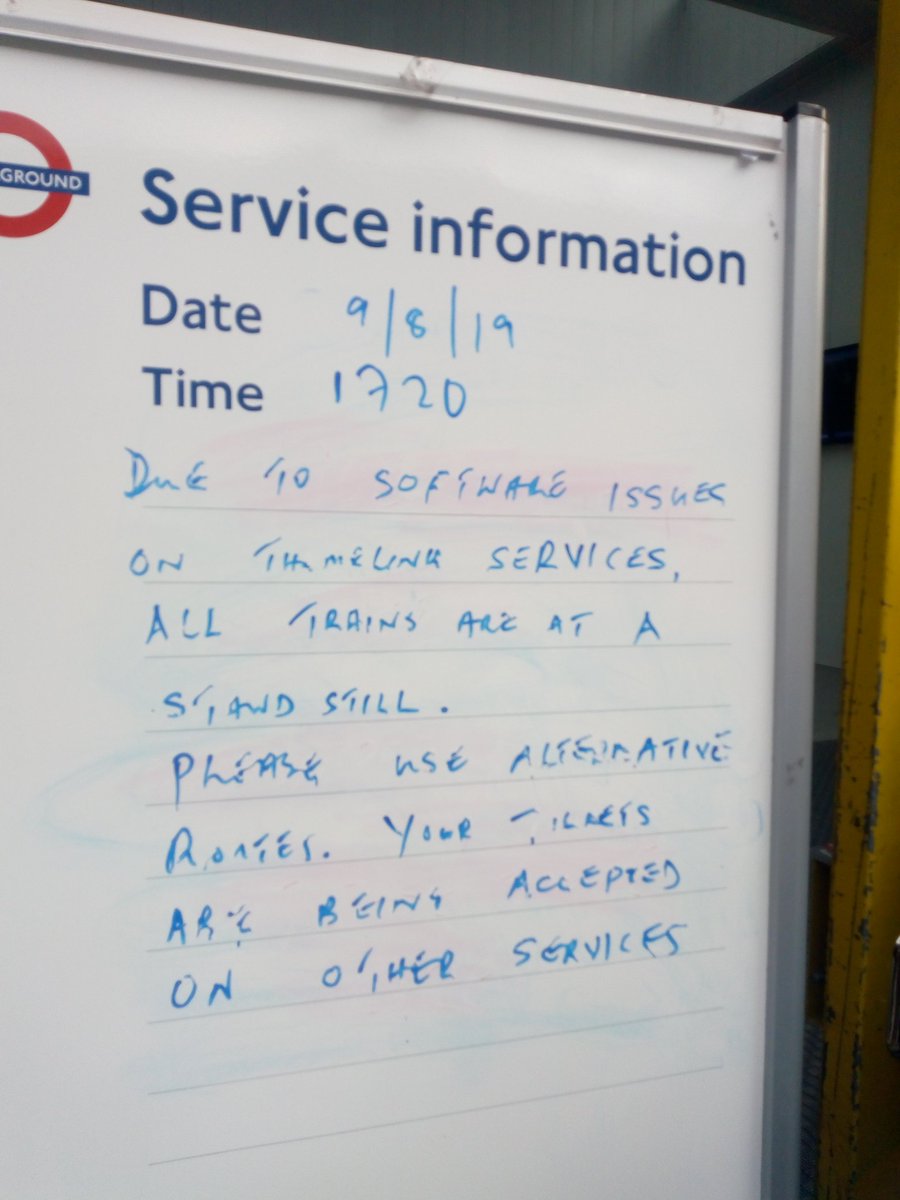 Even though the timestamp of this tweet is about 8.35pm other tweets confirm this message was displayed by about 5.20pm as it says on the board. Source: Twitter
Diesel trains managed by East Midlands Trains suffered because Thameslink's stricken trains were block all possible train paths…
By this time there were at least 30 trains stalled, as the tweet below confirms.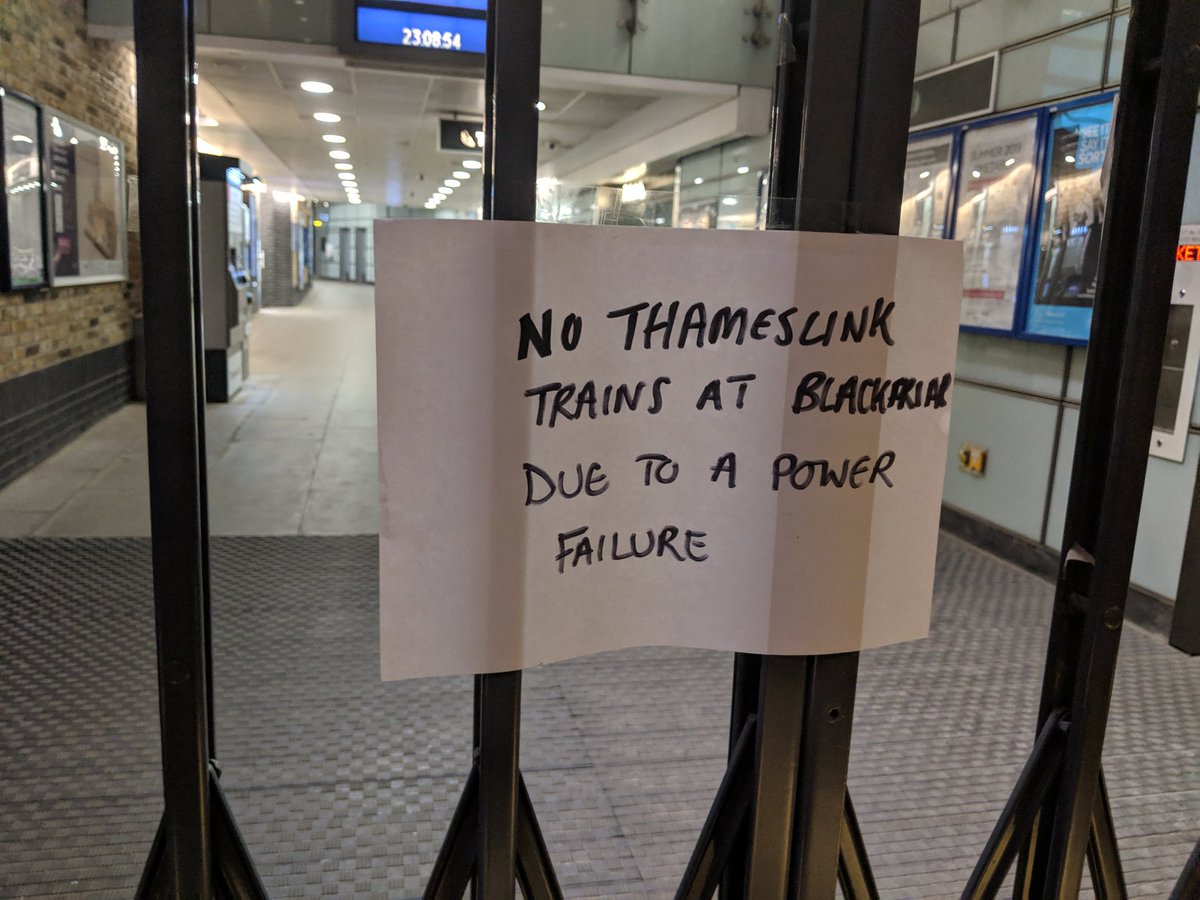 Yes we have no trains! Blackfriars. Source: Twitter
Even Justin P. who works on the Eurostar services was caught up in the melee….
Hull Trains advised people to take other trains onward to King's Cross – except there were none.. however they did find a train at 8.20pm to take some of their passengers southwards! It was probably a bit slow but they'd have got there eventually.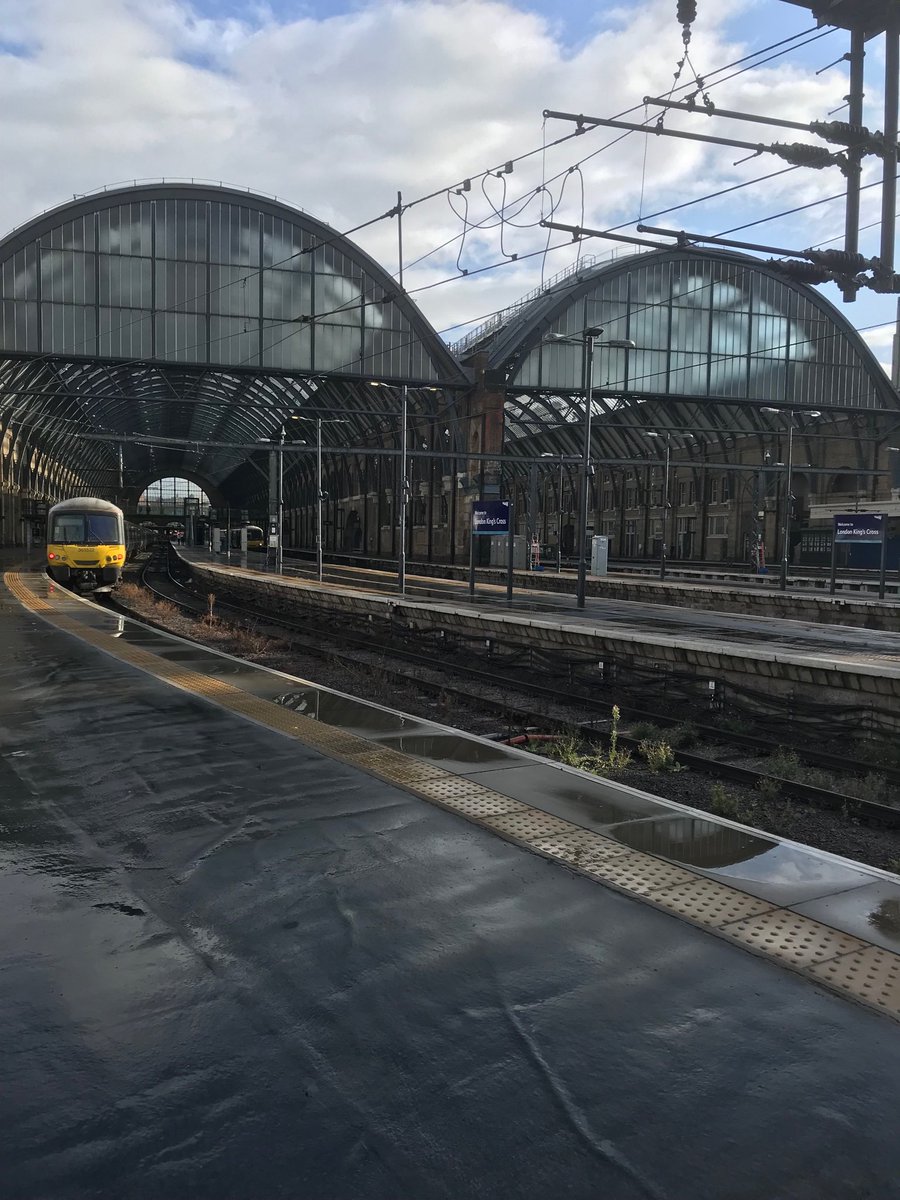 King's Cross at the height of the rush hour. Except there were barely any trains here – they were all stuck out the main line somewhere. Source: Twitter
Thameslink was telling many of the stuck passengers there was ticket acceptance to assist them on their journeys. But if they were stuck on trains they were clearly going nowhere and in hindsight it was a pretty bland piece of advice. A rather empty promise given that many would not be getting home until late evening.
The problem with the re-booting was apparently more serious. Trains could reboot and be on their way except in this particular case trains were rebooting several times and after perhaps three or four tries, their on board computers were shutting down completely having decided it was a no-hope situation. This meant specialist attention was needed to get the trains moving again.
For some reason, the power fluctuation has fried the systems on many of Thameslink trains. After power was back, drivers tried to reset the systems, but this hasn't worked on most trains. After a few attempts, the train also goes in 'lockdown', requiring specialist staff to reset. Source: Twitter
Some of the lucky ones were those who got off their Thameslink trains quite early on, evacuated via the tracks. In comparison many on LNER services were stuck for hours on their trains.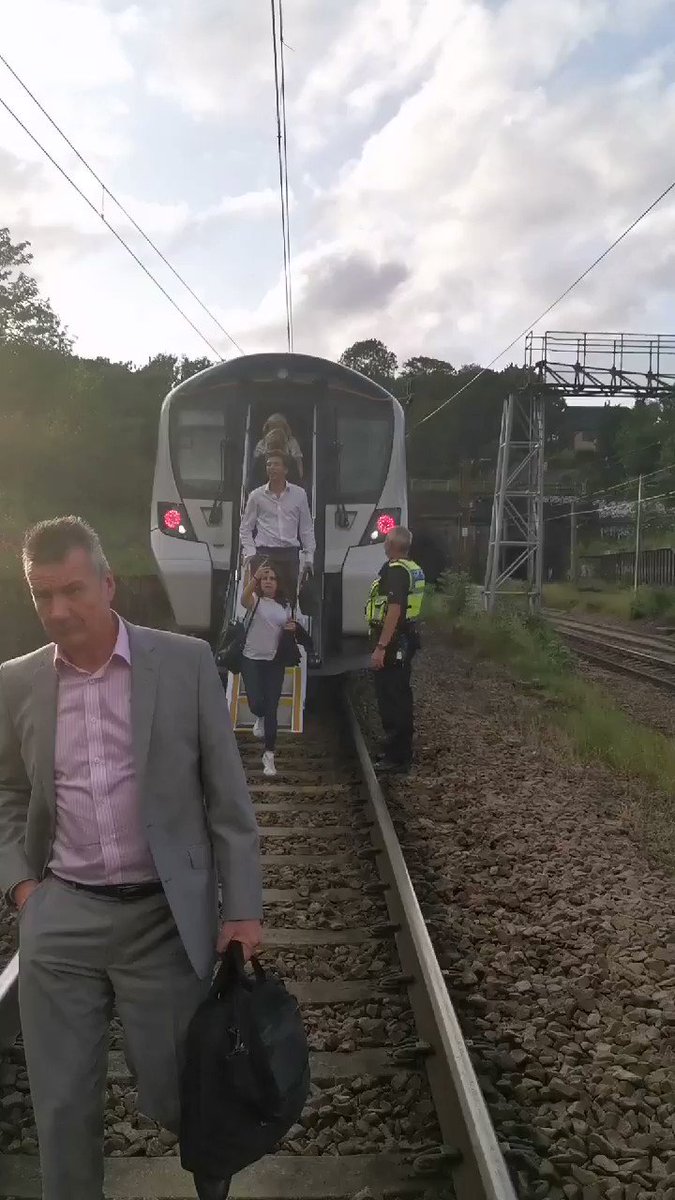 One of the Great Northern's Class 717s being evacuated just south of Wood Green tunnel. It was the 16.30 from Moorgate to Welwyn Garden City. Source: Guardian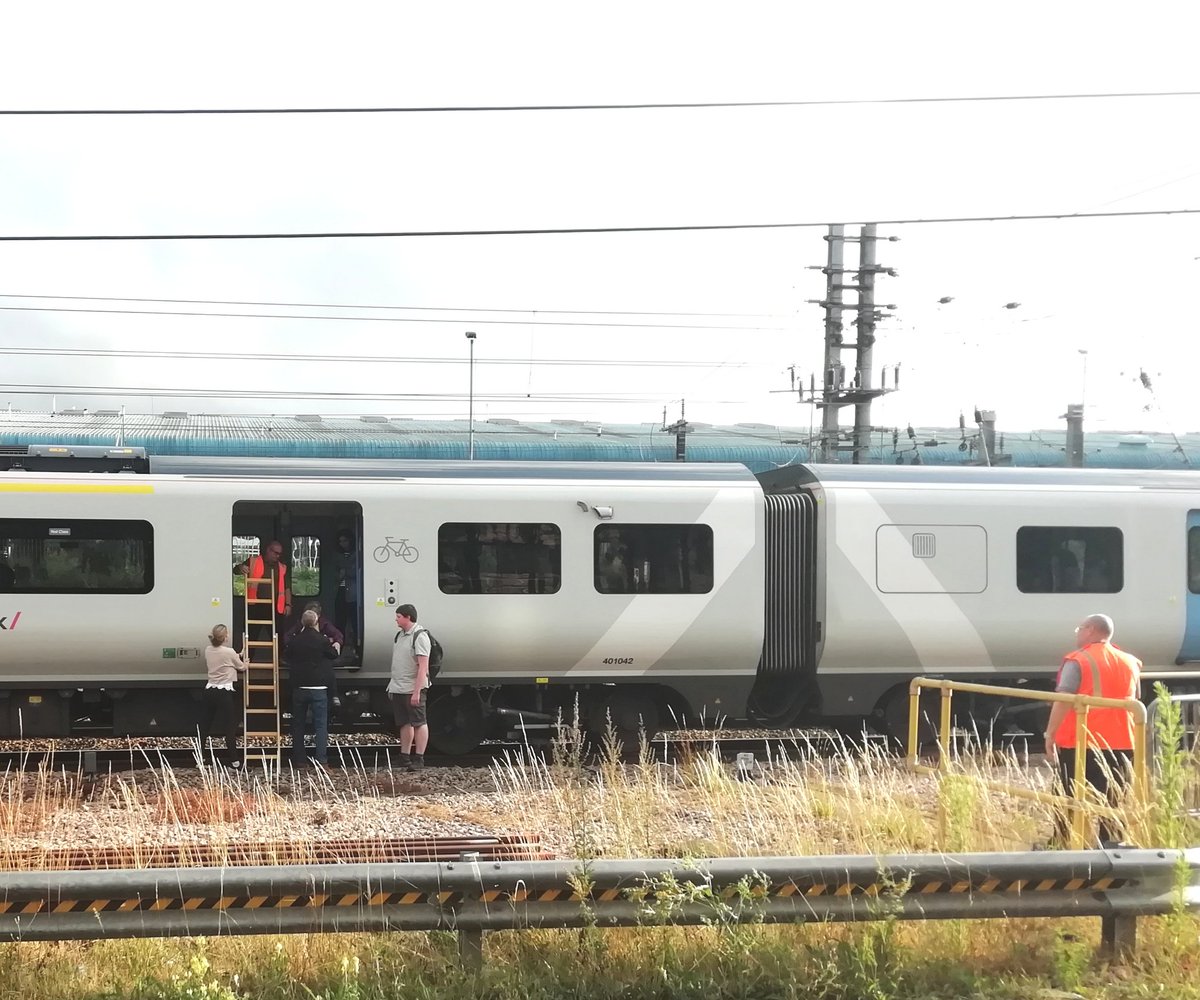 Class 700 Evacuation at Kentish Town. Source: Twitter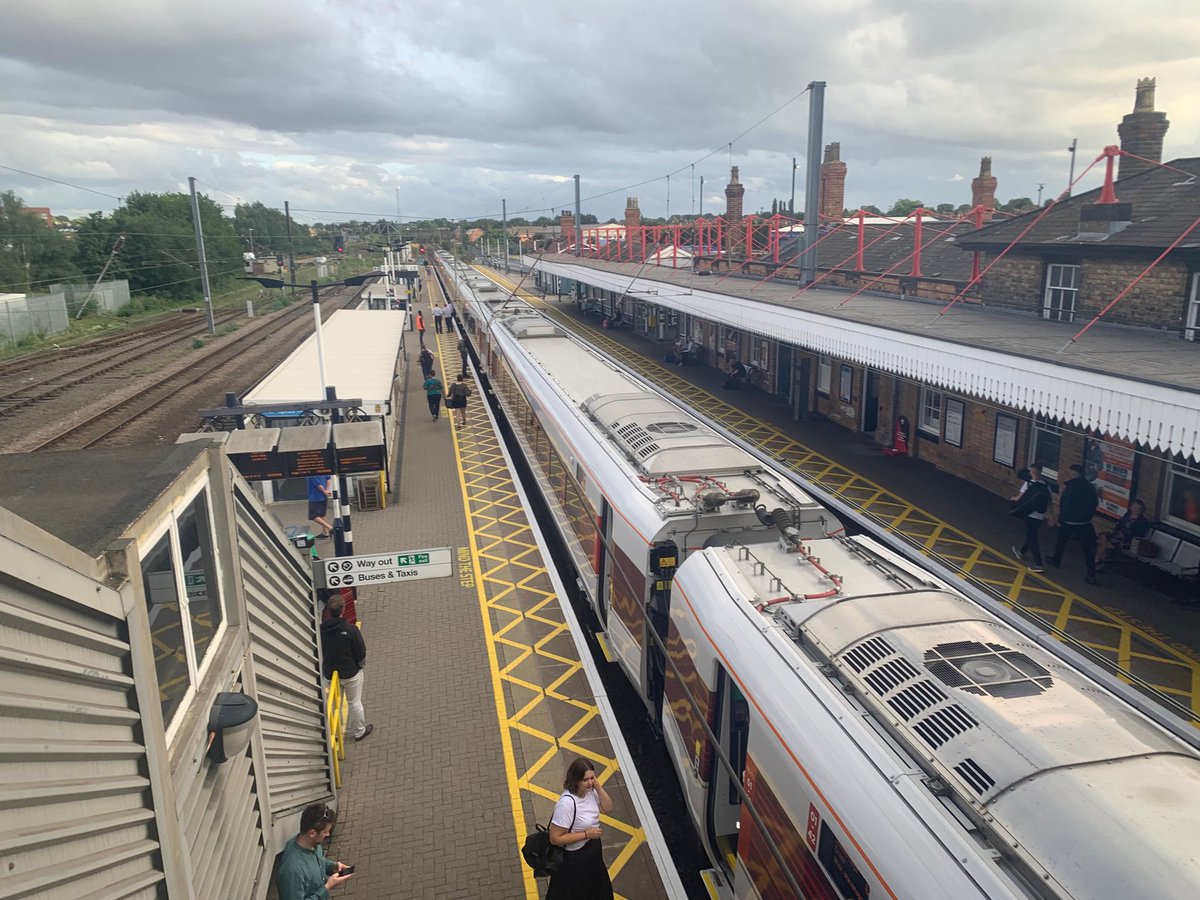 LNER Azuma stopped at Newark Northgate on account there are absolutely no available tracks south to King's Cross. Source: Twitter
The big problem with this re-booting scenario was numerous trains were being affected which required specialist engineers with laptop computers to attend the trains and reset them. The problem there is there's only a handful of specialist engineers and they were being called out to numerous jobs, many of these in inaccessible places such as inside tunnels. It was slow going to try and get at least 30 trains on the move again.
Source: Twitter. (Note: Tweet was deleted thus a screencap has been used.)
By this time the extent of the problem was realised and East Midlands, LNER, Hull Trains, and Thameslink itself were all advising passengers not to try and attempt any rail trips until the next day. Tickets valid on the Friday would also be valid throughout the weekend on all of these services.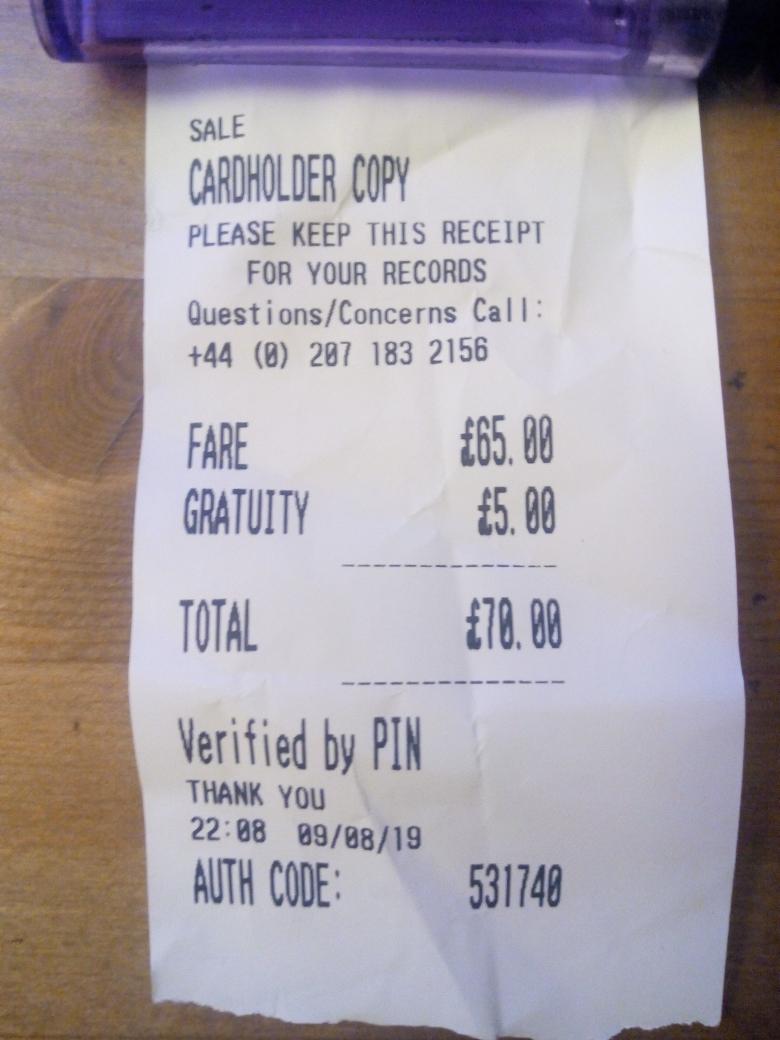 Cab fare £70 that had to be coughed up by an unfortunate passenger. Source: Twitter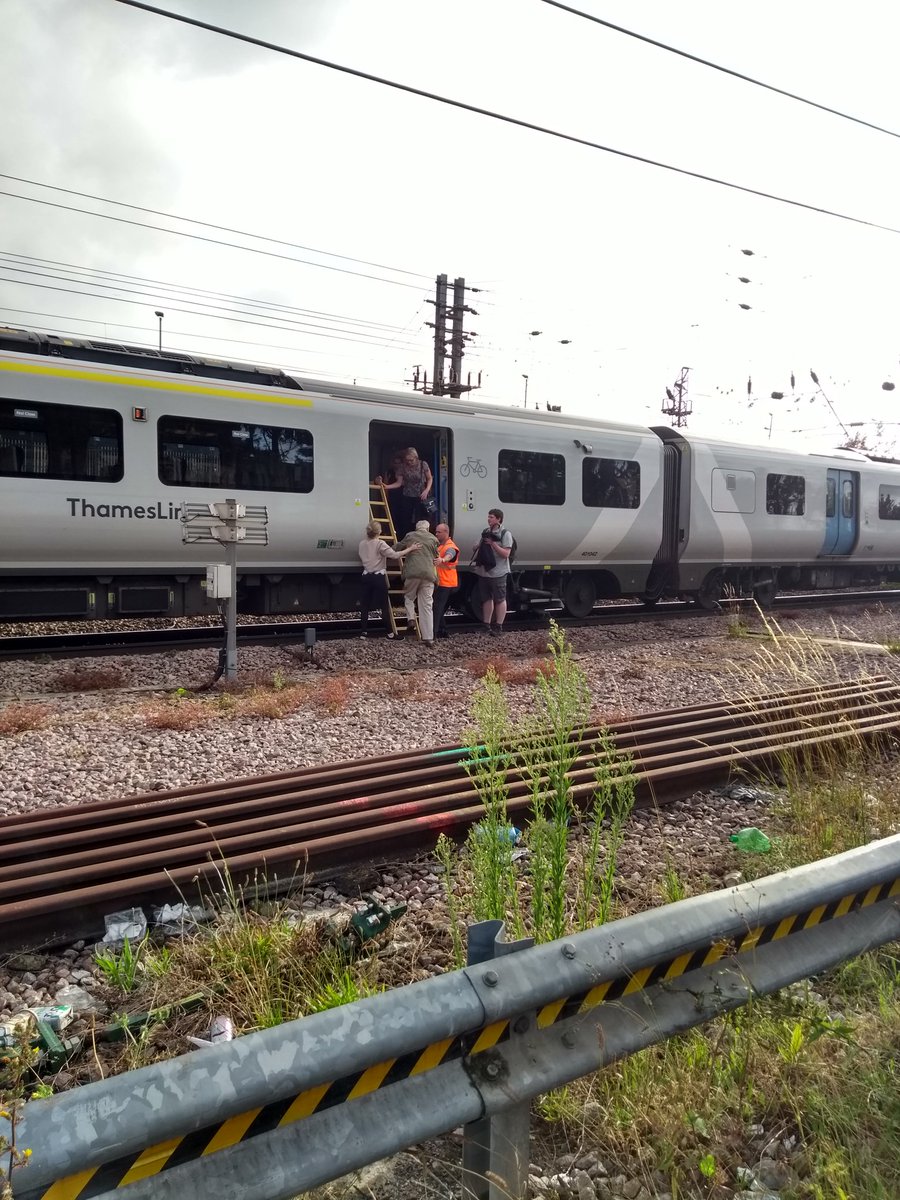 A later view of the evacuation taking place at Kentish Town. Very slow going as people need to be helped down the ladder. Source: Twitter
One thing that is evident from some of these reports is how long evacuations take. If it was an aircraft passengers are expected to evacuate these in just 90 seconds. That is achieved using chutes and 50% of all available exists.
Yes I am aware there is the problem, the danger of suddenly having to instigate emergency evacuations from trains and people landing on electrified lines or even getting mowed down by trains on other lines and so on.
However it still seems somewhat archaic having to use ladders – especially the 717's which can be evacuated only through the drivers cabs at front ends because of these units' need to work in the single bore tunnels down to Moorgate.
Indeed, rail evacuations take a lot of organising. Those in the signal centres must know and approve every step of the process. It must be ensured there are no other trains moving in the vicinity. The line power must be off. Staff must walk down the lines to the stricken trains to assist with the evacuations.
This is why railways are such a bane when it comes to problems. Getting stuck usually means well and truly getting stuck – and any hope of evacuating is often a very long shot.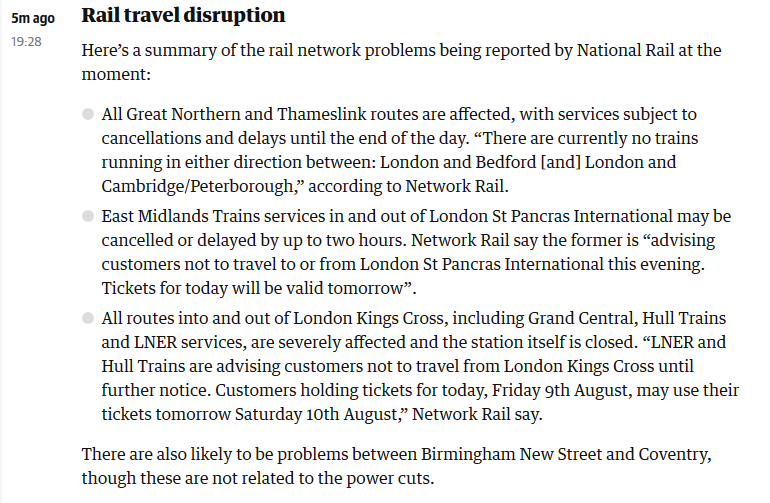 The nationwide scale of the problems. Source: Twitter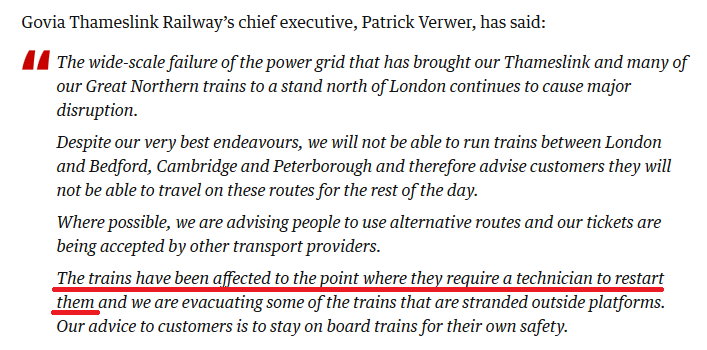 The CEO explains the matter of needing to reboot the trains. Source: Twitter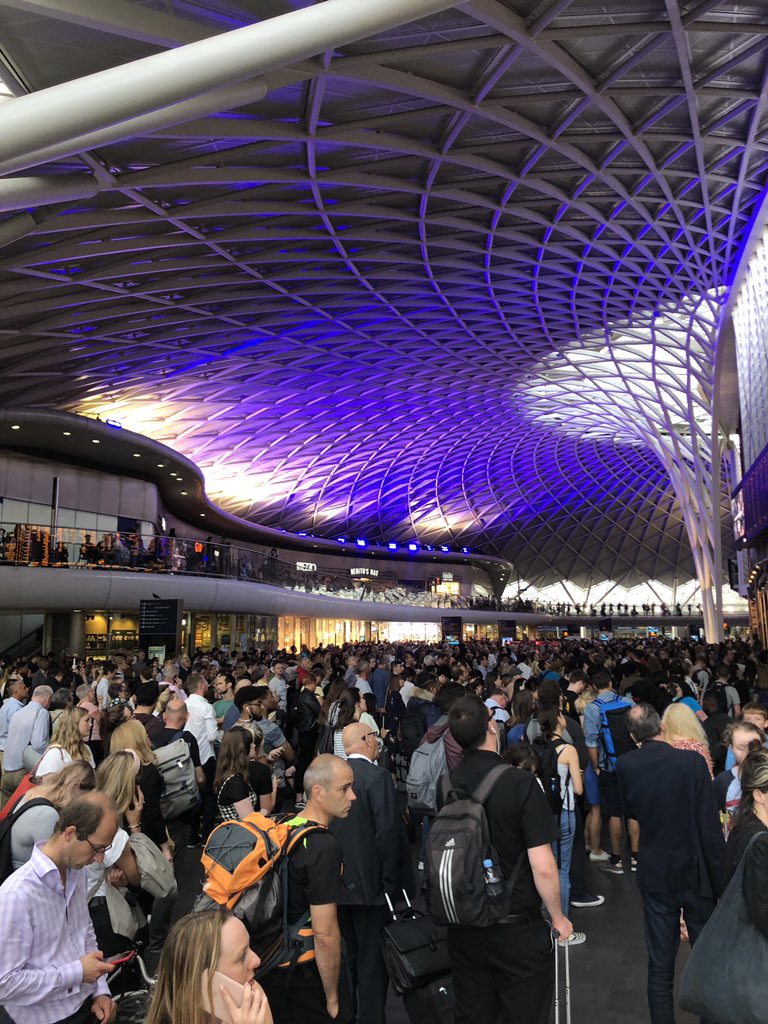 Kings Cross at about 8.20pm. Source: Twitter
In desperation by about 7pm it seems Thameslink decided to employ a set of rescue units to retrieve some of their stricken trains and tow these errant units off the main line back to their depots, or into sidings, in order to clear the tracks for LNER's trains which were of course going nowhere.
The tweet below showing rescue units at Radlett may have been the rescue units mentioned in the above tweet thread by Dayna McAlpine.
In due course LNER was warning passengers its trains shouldnt be used at all for the remainder of Friday 9th August. The first train out of King's Cross, possibly around 9.50pm and it seems for Peterborough, was put on unannounced yet it was crammed full, and only a small number of further trains were able to depart from the Cross that evening.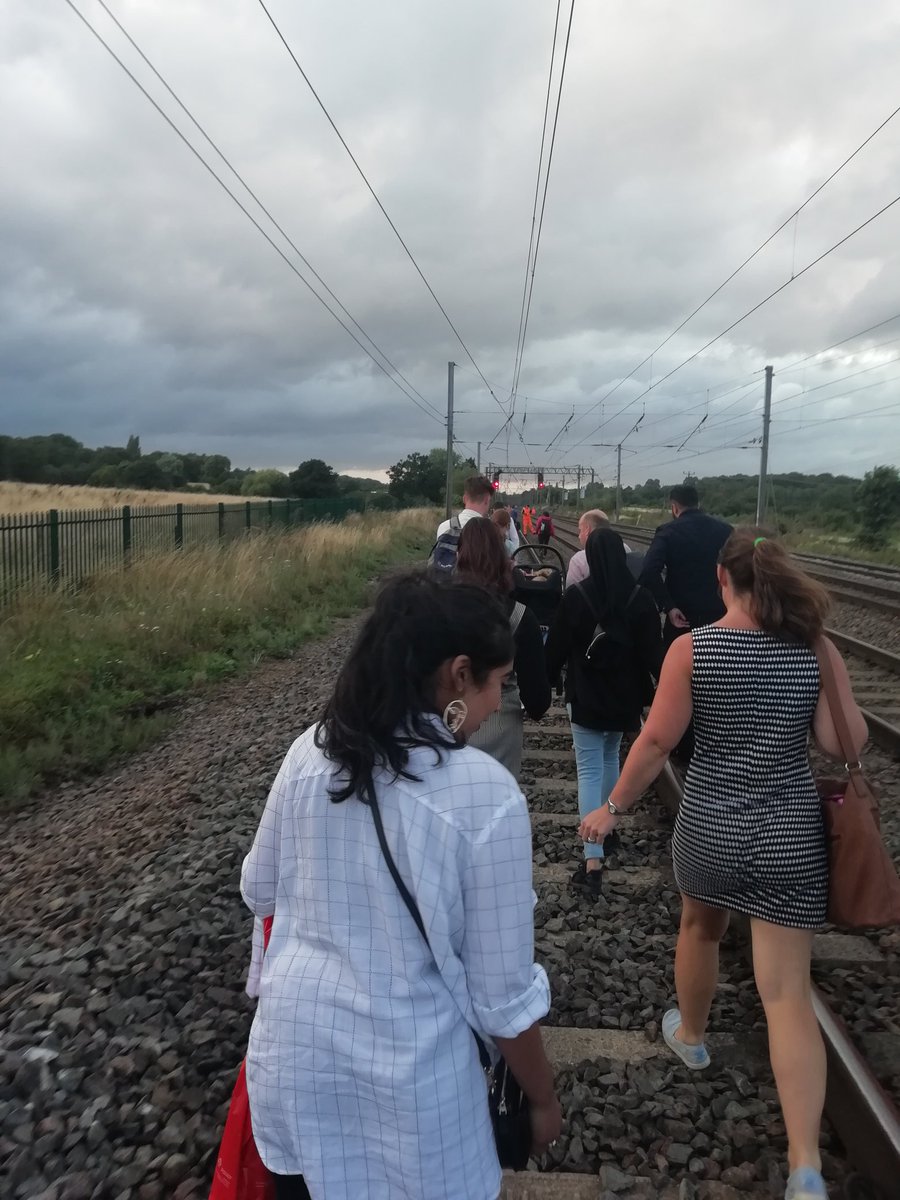 Thameslink evacuation. Source: Twitter
The same evacuation shown in a video. It seems this may have been either somewhere near Harpenden or north of Luton.
UPDATE 16 August: I found a tweet (show below) which says the location is Radlett.
Its obvious they escaped from a Thameslink train walked the tracks for a good number of minutes, traipsed along a dirt road and eventually arrived at this main road somewhere in Hertfordshire.
The road is in fact near Radlett according to other tweets above. The train was the 16.36 from St. Pancras.
At about this time people on other Thameslink trains were being evacuated via ladders onto the tracks. The following tweet (and its thread) shows a sequence of videos of this operation in progress…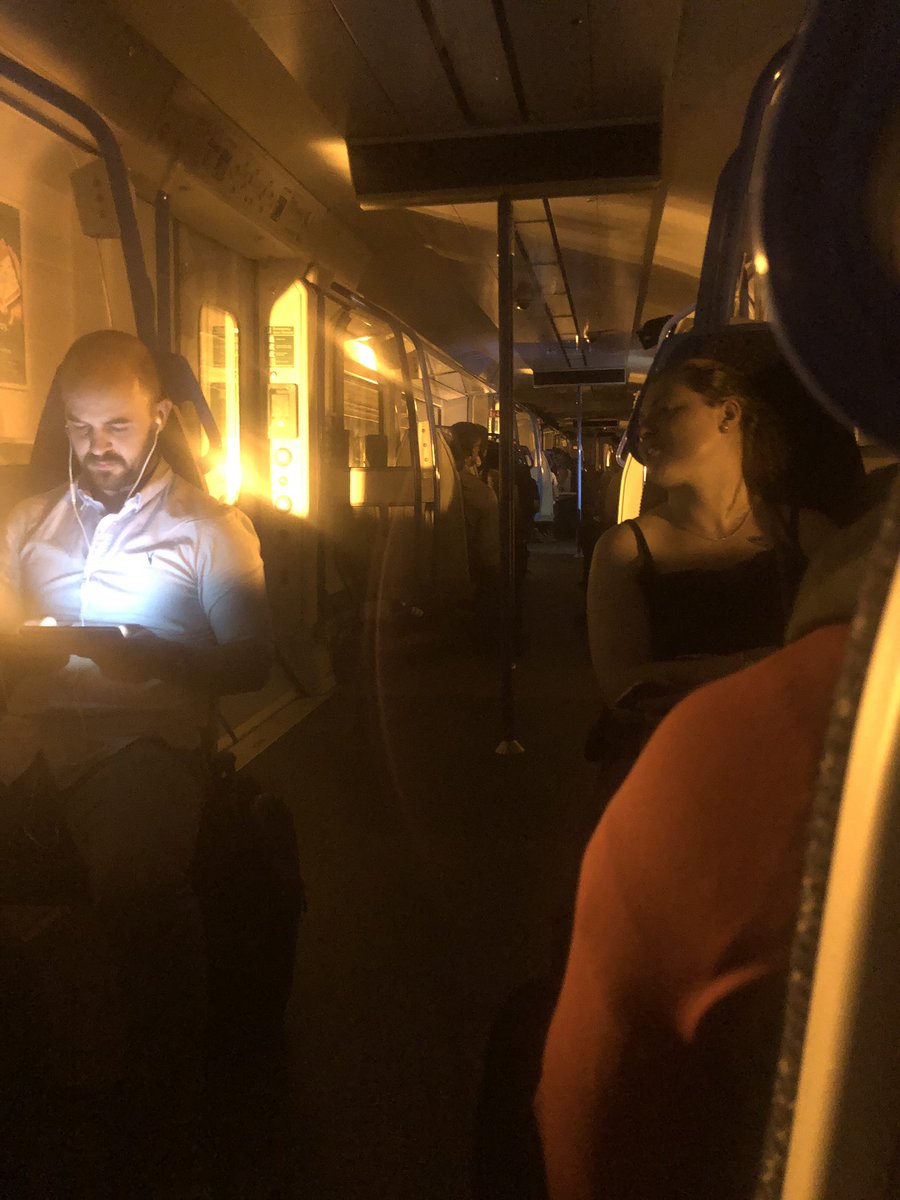 Over three hours in the dark and its only just after nine pm. Source: Twitter
Some people complained of spending several hours on trains in the dark. However as the following tweet shows, some trains were fortunately not in the dark for such a length of time…
Its nearly 10pm and people are still stuck, its said they're pissing out of the driver's door because there are no toilets. This means the unfortunate passengers were on a Class 717.
GTR's Chief Operating Officer Steve White was caught up in the debacle. He wasn't saying much about the matter however one astute passenger recognised him because he was on their stricken train…
And this was Steve's one response…
There are not many pictures of the stricken LNER trains – but this one was clearly stuck for over four hours at Welwyn North station…
Source: Twitter. (Note: Tweet was deleted thus a screencap has been used.)
This guy sounded quite desperate to get off his train…
At least some were lucky to get off their trains for a while and watch the footie at Elstree… before being rescued by an East Midlands train!
Source: Twitter. (Note: Tweet was deleted or account restricted thus an archived image has been used.)
Some trains in the front of the queue simply don't have the benefit of being first come first served. Their being on the wrong section of track means they have to reverse and then switch tracks in order to gain an unobstructed track routeing onward. What it means essentially is the first trains into a major disruption are often the last to get out of these situations.
The next tweet shows how some train staff were able to keep in the spirit of things and help to keep the passengers' chins up – it must have been incredibly hard given the circumstances but at times like this staff who go well above and beyond their duties are indeed a blessing.
Its the only jovial video I can find of staff during this very difficult evening on the railways.
About this time the passengers on the 4.15pm from Leeds were arriving at King's Cross….
Arriving at King's Cross from Leeds – just under sixty minutes before the appointed hour… Source: Twitter (Note: Tweet was deleted or account restricted thus an archived image has been used.)
The last train to arrive in King's Cross was the 09.52 from Aberdeen, which arrived at the Cross 01.07am according to Realtime Trains. A delay of eight hours and fifteen minutes! It had spent most of that time stuck somewhere around Hatfield whilst Thameslink attempted to shift a number of its stricken, non-rebooted, class 700 stock off the main line.
There were also problems on other lines and stations however I decided to focus primarily on the King's Cross routes (and in part the St Pancras route too) because this is where the Class 700s/717s were affecting so many other trains and invariably several thousand people's journeys.
People of course wanted to know what was up with the Class 700s and 717s, but Thameslink (and presumably Great Northern) were not wanting to saying very much…
There was this pretty useful post at District Daves which described the situation with the Class 700s/717s. Apparently the trains tried to reboot when the line power was still off, and because they couldn't detect any voltage in the overhead wires, they simply shut down completely.
One thing from this episode is clear. These new Desiro trains came absolutely crimped in terms of capability. The event showed up these trains' faults and it is a surprise despite all the months of testing, and the delays in to service, this one problem was not identified.
Exactly! Are these new trains fit for purpose? It seems Steve White just as no answer to this question. Who is to say there are no other software bugs in these new trains waiting to launch onto an unsuspecting railway company and its passengers?