Great British Railways is on the way! Its basically a re-nationalisation of the railways (to some sort of extent based on the TfL model where individual companies manage the various transport systems TfL requires as part of the day to day operations keeping London on the move.) I'm not going to write very much about the new railway proposals (which is known as the Williams-Shapps plan for Rail.) Its been drawn up as a result of the Williams report which many have been waiting for. In many ways its a surprise because the Government has acknowledged the present franchising system with ROSCOs renting out the rolling stock and a nationalised company, Network Rail, managing most of the railway's infrastructure, has essentially been a failure.
Rail privatisation in some ways however has been an interesting system, even though it has been problematic and its actually cost the government more than subsiding the railways directly. The best of that system was the different railway operating companies, some with very distinct liveries and great ideas of how a railway should be run. Unique but short lived train companies also provided much interest (such as Wrexham and Shropshire) and the interest has continued right down to liveries, staff uniforms as well as seeing famous railway names revived (such as GWR, LNER, and Southern etc.) Of course there's also been some of the worst railway companies too, not forgetting that awful Railtrack whose ultimate end came by way of gauge corner cracking and a series of evidently quite preventable railway accidents – and that showed how bad the whole concept of privatisation actually was.
One thing about the new Great British Railways is well, is that a good name? I personally don't like it much, it should have been plain old British Railways, or perhaps some other unthought of name. You know, something like EWS (I don't mean that one as a definite choice by the way because it would only work if Britain stays united.) 'Great British' sorts of sucks if you know what I mean, and that's because there's nothing that's really great about the UK! We might have 'invented' the railways but by jove we've certainly given them a hard time and in the light of environmental considerations, oversubscribed road networks and the rest of it, we're now paying the price.
Anyway I don't want to get too political about our railways, I've done that in posts elsewhere on my blog. I've seen the railways totally screwed and shut down en masse, and I make my displeasure on that very clear. I hope this next move will be a new and more fruitful chapter in the history of our railways.
In terms of a logo for the new railway authority there seem to be a line of thought the standard National Rail logo (the red reversed arrows symbol) will be that for the new GBR operating authority. I think that should be kept on as a standard symbol for the railways in general, but the authority itself will probably devise a logo of some sort when it gets into the swing of things.
You know, people were discussing a potential logo for the new rail authority and some were saying it should have Michael Portillo as its head. No surprise I've done Michael Portillo as the figurehead! Anyway I thought I'd have a go at making the first ever official (well unofficial if you prefer it that way… but I absolutely insist its official) Great British Railways logo. I thought if they if they cant do one now, I'll do one!
Here's the first official Great British Railways emblem. I drew it up in the course of a couple of hours! PS I hope the flashing lights doesn't affect people! I know some tweeted up new possible logos based on the BR arrows or the BR lion and wheel emblem. I just wanted to be a little different!
I reused the good old British Railways totem emblem, because it was mostly rendered in green (yes there's black too I know) but more importantly the green represents the environmental benefits of the railways. I could have chosen a lighter green other than the standard BR green, but decided against that even though it might have looked a bit more environmentally appropriate. I mean nature has loads of different shades of green so does it really matter which is used? Actually I gave Portillo a lighter coloured shirt so we have two shades of green here!
Michael Portillo is of course the figurehead lol! If you've been watching his Great British Railways series on television, well one can always say this new GBR emblem is a homage to that tv series too! You might wonder why I've used flashing red and blue colours on this? Its meant to reflect the constant battles between both the Labour and Tory parties, and the railways in particular (the means of funding, expansion, nationalisation etc) have always been a source of huge disagreement between the two parties.
And what are those little symbols around Michael Portillo? Well they're meant to be buffer stops! But they do look a little like those protein spikes on COVID-19. I hadn't meant it to be that way and didn't even think about it until sometime later – but of course you can all go make up your own conspiracy theories as to what the new railway symbol actually means lol!
Network Rail's new Main Lion
A bit of other news and something that might possibly be linked to the new Great British Railway organisation. It seems Network Rail (aka the @ECMLupgrade) has a new mascot and its called Main Lion! LOL! I haven't seen anything else on the internet or in railway publicity other than just the one picture Network Rail has publicised so far. One wonders if it'll be a mascot for the new Great British Railways!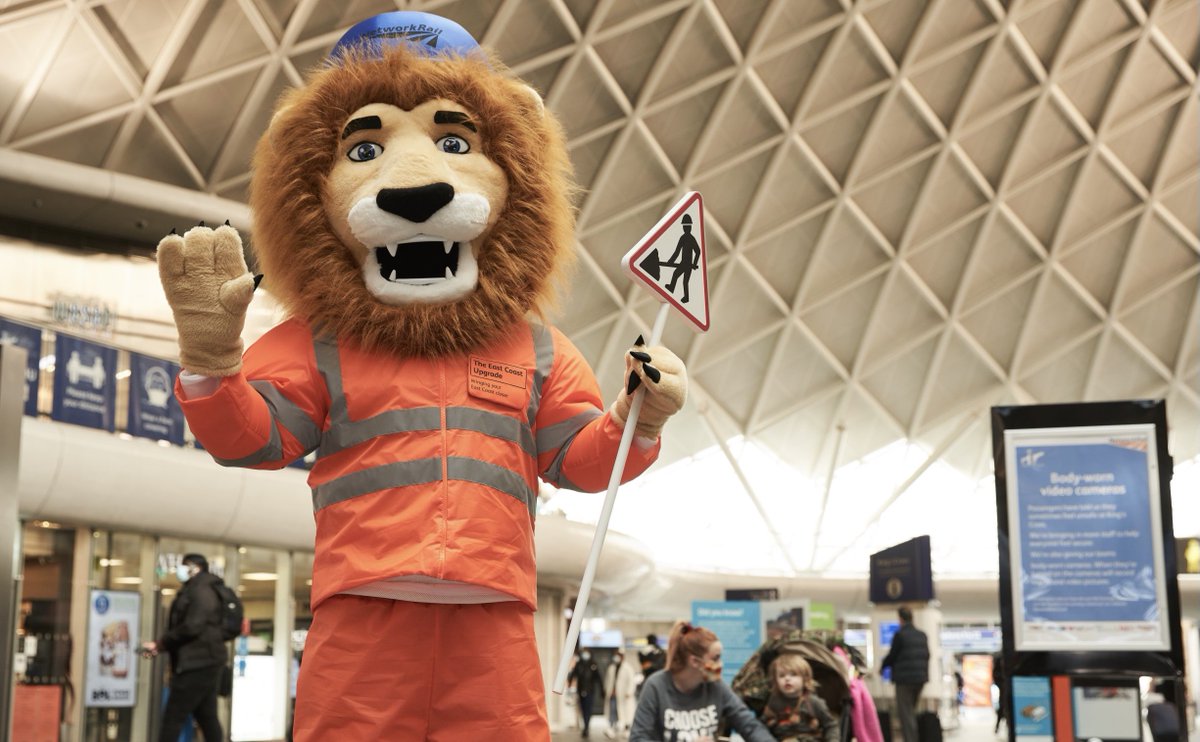 Network rail's new Main Lion! Seen for the first time on social media 24 May 2021. Source: Twitter
Anyway if you're interested in the Williams-Shapps plan for Rail and want to download the reports, here's the link to that page.