The West Clare's greatest mystery, that being the one surrounding Percy French's ill-fated trip on the railway to Kilkee in order to perform there, was examined at great length in this blog over two years ago. The post was called Stuck in Miltown – and fuming! It was a reference to Percy French's frustration at the railway's total incompetence. Ireland's three foot gauge railways are a fascinating subject, and the idea of further articles on the Irish systems have been entertained, which means there may well be one or two more to come!
The three foot railway systems over there in many ways combined a larger narrow gauge network than the biggest narrow gauge systems to be found in Europe!
That was the County Donegal and Londonderry and Lough Swilly combined. Both lines were independent companies but were interlinked thus freight could easily travel between the two systems. That made the total mileage of the combined systems two hundred and thirty nine miles – a pretty hefty number for a gauge of this nature on these islands!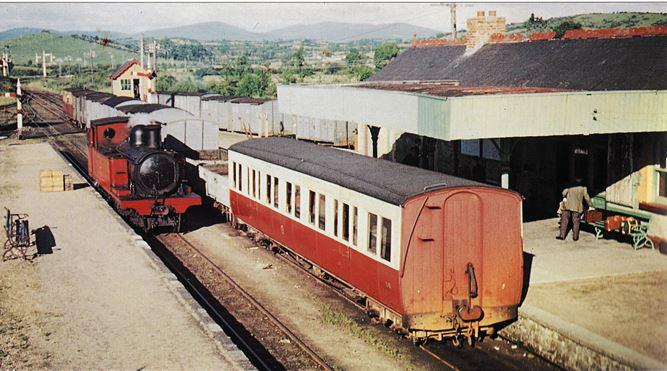 Donegal Town on the County Donegal Railways. Source: Twitter
Those two lines were quite fortunate in being rare among the Irish narrow gauge lines as having a neighbouring company to share facilities with. Most others including the West Clare were of course isolated systems mainly acting as feeders to the main Irish railway system.
However in many respects the West Clare too was unusual because it actually consisted of two separate companies – the West Clare and the South Clare Railways. Although both shared trains, services and common practices they practically ran as one company and that state of affairs lasted until the CIE took over.
West Clare locomotive no.5 seen during my visit to Ennis in 1991.
In terms of the Irish narrow gauge I recently discovered the Reverend Roger Farnworth's blog. His excellent blog has been doing the rounds on the West Clare, and the Cavan and Leitrim railway systems, and both posts are excellent reading especially as it is rare to find something with both the scale and depth that Roger Farnworth has done.
I ventured upon his blog for the first time when he had done parts one to three of the West Clare (covering the section between Ennis and Miltown Malbay) and of course looked forward to the rest covering the sections south to Moyasta Junction and Kilrush/Kilkee. These have all now been published.
The Cavan and Leitrim section even includes a look at the celebrated Argina line which some of you will know was a branch line to some quarries and was noted for its roadside running.
A selection of pictures from Roger's blog showing the West Clare at Ennistymon during both steam and diesel days.
In terms of the West Clare if one has read Edmund Lenihan's book In the Tracks of the West Clare, it has been one of the few books that has really examined that line in great depth. I think Roger Farnworth's work goes several steps better because Lenihan's book doesnt have that much in the way of illustrations, and Roger illustrates the West Clare exceedingly well.
Roger's blog refers to Lenihan's work but also adds loads of other stuff and pictures too as well as detailed surveys, so one can be sure of finding out almost practically anything about the West Clare Railway.
Besides Ireland there's plenty of other stuff including railways and tramways in France, the railways of Uganda, plus a little known monorail in Kampala, and also a post on British Standard Steam Locomotives and the Callington branch in Cornwall.