The London Underground's history has been replete with many instances of main line passenger trains, and freight trains sharing tracks with London Underground's trains. Bow Road to Upminster, Shoreditch to New Cross and New Cross Gate, Gunnersbury to Richmond, Putney to Wimbledon, Ealing Broadway to High Street Kensington, Kilburn High Road to Watford Junction, Croxley and Rickmansworth, Harrow on the Hill to Quainton Road, East Finchley to Mill Hill East and High Barnet, White City to West Ruislip, Leyton and Newbury Park to Epping and Ongar, not forgetting Latimer Road to Olympia and Earl's Court (the former Outer Circle) and so on. Most of these have however fallen by the wayside and there's just three lines that still see mixed types of passenger traffic on London's Underground system.
Railway Clearing Map from 1911-14 showing the area in question – and the complexity of lines to the west of Paddington station! All the GWR's lines (solely/jointly owned) are in yellow or yellow/blue & yellow/red. Source: Wikipedia.
By the time the sixties arrived it was still possible for example to see Eastern Region staff only DMUs to Ongar and coal traffic to Woodford or Great Central Main Line services between Harrow and Aylesbury. Many first generation DMUs (Class 116, 117 etc) ran on the Metropolitan until 1967. But that wasn't the main traffic for Marylebone still continued to have a vast number of these DMUs equipped with LT/LUL gear for working the Metropolitan's tracks from Harrow on the Hill to Amersham (and Chesham on special occasions.) These lasted until the 1990s when Network Turbos finally took over.
But first generation DMUs could still be seen on other parts of London's underground network. As an example I remember a three car DMU passing through Moorgate one year on track surveying work and have pictures of DMUs working on the Richmond line – and these all had to be trip cock fitted. There's another example shown below – and this must have undoubtedly been the final of the first generation DMUs to work on London Underground tracks.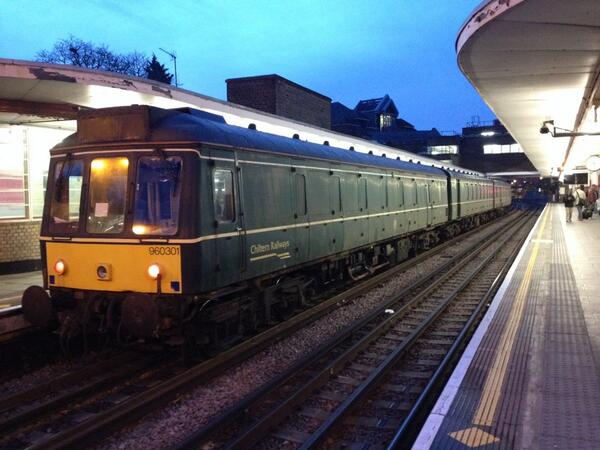 This image is somewhat how most will remember those first generation DMUs! Seen at Harrow on the Hill circa 2012, it was the last tripcock equipped Class 117 ever to regularly work the Metropolitan line and is a converted unit whose job was clearing leaves off the tracks. Source: Twitter.
Today there's only three remnants of this once vast mixed rail network consisting of main line suburban and London Underground trains – these are the District lines to Richmond and Wimbledon, the Bakerloo to Harrow and Wealdstone and the Metropolitan to Amersham.
Ironically London's Underground system set out to be a mixed use system right from the start. Both the Metropolitan and Great Western Railways shared responsibility for the trains that ran on London's new underground railway which opened in 1863. That soon developed into a whole new passenger network stretching across London as well as servicing freight from the west to both the east and the south of the capital. The Great Western in fact ran its own trains on the City to Hammersmith Lines until 1923 and the GWR's successor – British Railways – in fact owned the Metropolitan (Hammersmith) line until the early 1970s.
The construction of Bishops Road station in 1862. The buildings seen above the tunnel mouth (which is framed by the girder bridge) are those at the canal wharf and these still exist to this day. The original station was a three road affair with two platforms and a centre road. Source: LT Museum.
The oft mistaken conception of the Great Western Railway having been a steam and diesel only railway until the 1990s is one that is wrong because the Great Western Railway in fact was the UK's first ever main line company to operate a electric railway and even had EMU's of its own – this being the sub surface lines between the City and Hammersmith. To that end the GWR even had to build its own power station and substations for powering its trains too – and not only that it also built the new electric multiple unit stock for use between the City and Hammersmith.
Its a reason why one finds a strong GWR influence still extant on the Hammersmith Line. GWR wooden built cream coloured stations at Royal Oak, Westbourne Park, Latimer Road, Shepherds Bush, Goldhawk Road, and GWR seats and roof brackets at quite a few of these locations too! Even the entire station, signal box and train depot at Hammersmith were built by the GWR too!
GWR/Metropolitan timetables:
Basically, as has been mentioned earlier, for sixty four years the GWR and Metropolitan routes shared each others tracks and even their trains. Thorough GWR trains from the Hammersmith line to Farringdon, Moorgate Street and Aldgate were a very early feature of the operation. In the reverse direction the Metropolitan was too extending its trains to places such as Southall and even Windsor. These mixed system services remained in use until 1967 when the Metropolitan and the Western Region (GWR) were made into completely separate entities with no shared track or platforms whatsoever.
1906 example of the GWR timetable featuring through trains to Aldgate. Source: LURS.
The above timetable is a sample of the services on offer and not comprehensive. The services were far more intensive as can be seen from the next two examples.
A very interesting timetable from 1933! Source: Flickr.
The above 1933 timetable has a number of intriguing aspects. First the top section shows through trains and terminating services that call at Bishops Road station (the predecessor to the present Paddington suburban platforms.) Evidently a very comprehensive operation and one that no doubt was enabled by the newly built four platformed Bishops Road station (previously it was three platforms.) Some services were for Liverpool Street whilst others were for Aldgate. In earlier decades these services might also have been for the south east – all of which were electrically operated from Bishops Road to Liverpool Street, Aldgate or the New Cross stations.
The middle section of course features the Smithfield services. These were of course steam operated for the simple reason both the section to Old Oak and Smithfield depot itself were unelectrified track. These special GWR/Western region steam operated services lasted until the mid sixties.
The bottom section features coal trains on the Hammersmith line in brief. What is more interesting perhaps is the GWR milk train – described as using the 'Crystal Palace loop.' That wasn't actually anywhere near the Crystal Palace but rather a nickname for a section of the Great Western that did indeed offer a more direct route from Paddington towards Crystal Palace (also Brighton and other points south.) The Crystal Palace loop simply cut out the GWR main and Hammersmith lines west of Paddington and rejoined the Hammersmith route south of Westbourne Park. In short that 'loop' offered a route from Paddington which avoided all the busy junctions plus the first three suburban stations westward. One passenger service that's known to have regularly used the Crystal Palace loop was a short lived Paddington to Brighton service.
1938 Timetable showing GWR's services on the Metropolitan line between Acton Yard and Smithfield. Most services between 12-4pm (to avoid the busier parts of the day on the Metropolitan.) Was originally sourced from RMWeb.
Listing showing 1939 freights from Old Oak for Smithfield. Interestingly this shows just a year later the Smithfield traffic had been reduced to the hours between 11 am-2pm. Image upscaled and enhanced from a document I found on Ebay.
The 1939 timetable is interesting because it does at least show a sample page of Metropolitan/GWR combined services which started or ended at Aldgate. These services originated from the following stations: Greenford, Hayes, Henley, High Wycombe, Reading, Slough, Southall, Staines West, Uxbridge Vine Street and Windsor & Eton. Some of these survived right up until the sixties as Western suburban DMU workings. These of course didn't venture along the Metropolitan to Aldgate, however by way of needing to use the Metropolitan line from Royal Oak to Paddington suburban, those trains (in both steam operated and DMU format) had to be suitably equipped for working the London Underground lines.
In terms of the old steam services the GWR too operated many steam hauled freight trains right across London, some via the Metropolitan and District railways and even down the East London line into Southern territory. The GWR had depots across London including huge yards at Poplar and Battersea – and one of these was of course at Smithfield. In terms of train frequency and operations Smithfield was by all means the GWR's biggest customer in Central London as the timetables above shows. The GWR had dedicated sidings there and the freights to and from Smithfield were a regular sight on the Metropolitan. These were hauled over the years by different types of GWR locomotives.
The GWR's intensive traffic on the Metropolitan east of Paddington, even though these are fascinating in themselves – it isn't really scope for this post where the focus is rather more on the mixed use lines (GWR/Metropolitan) between Paddington and Royal Oak. However in the second part of this series we shall see some pictures of these Smithfield freight workings on those lines west of Paddington.
GWR no. 9703 at Old Oak, 1961. These 'Tunnel Motors' as they were sometimes known, were for working through the Metropolitan's underground system to Smithfield and were equipped with condensing gear. This picture is from the NRM which has a fascinating article on the GWR's Smithfield workings. Source: Twitter.
The section between Farringdon and Baker Street was one where either a GWR steam hauled freight train or one of LT's own steam hauled works trains would often be spotted and I can just remember these passing through King's Cross station. The GWR's own freight operations from Smithfield ended five years short of the total cessation of mixed traffic usage on the Metropolitan west of Paddington. However LT's own operations to the Croxley tip continued a bit longer and the final trips occurred in 1971 – these were ironically operated by ex GWR Pannier tanks which LT had bought about ten years or so earlier. One of the crew working on these trips during the final years was Kirk Martin who I knew quite well – there's a book on these LT Red Panniers (pub 2008) penned by both Kirk and John Scott Morgan.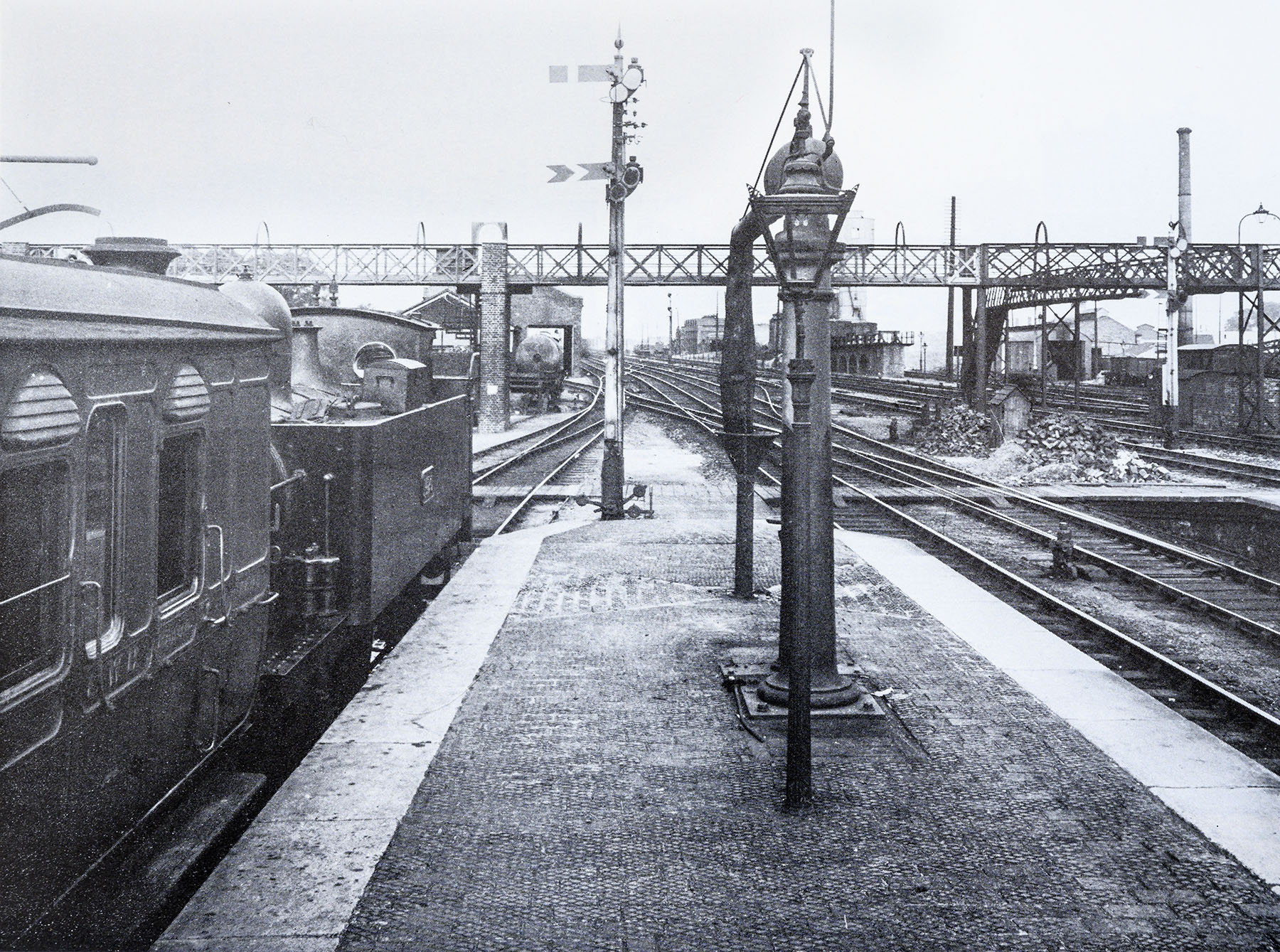 The main objective of this post is to show how GWR's services fitted in with the London Underground at Paddington. However this unique picture shows the reverse! Its a Metropolitan train waiting for the off at Southall on a Paddington service in the 1920s. It will go through the tunnels to either Moorgate or Aldgate, the Met's steam locomotive being changed at Bishops Road station for an electric locomotive of the type seen in the picture below. Source: Didcot Railway Centre.
What all of this essentially means is the Great Western Railway was basically the only main line railway company who operated such a vast range of mixed services (electric, steam, freight and passenger) out of a singlular London terminus, this being Paddington. One could see GWR trains quite happily running besides for example R or Q stock on the Metropolitan lines and in fact both systems shared tracks and platforms at Paddington station – something that hasn't been possible for a very long time.
GWR's trains (both passenger & freight) were able to go down to Farringdon, Liverpool Street and further on, even to Southend. However that was not the end of it. Until the sixties the main lines and underground lines out of Paddington station were shared across the board and both GWR/Western Region trains and the Underground had to share each others' routes as far as Westbourne Park station. There were many combinations of junctions and sidings which were shared but perhaps the most notable was the fact the Underground trains negotiated the GWR's tracks all the way to the start of the fly-under at Royal Oak, something not even to be seen these days as the Underground is now a self-contained railway.
Met electric locomotive in the centre road at the old Bishops Road station clearly showing it on Great Western main line duties – possibly having just brought in a GWR train destined for Ealing Broadway or Windsor. Source: Internet Archive.
In the last days of mixed working many GWR suburban services used the electrified Met tracks to gain access to their platforms at Paddington station, and that wasn't just any occasional traffic but a quite intensive weekday service in fact. Trains using the Metropolitan's tracks were bound for Greenford, Staines, Uxbridge, Windsor, Reading and further afield. The steam locomotives and the DMU's that worked these services involved had to be specially equipped with trip cocks and other mechanisms to enable them to work over the Metropolitan.
Thus not every DMU was compatible for operation on the Metropolitan tracks. Quite a number were not trip cock fitted nor had a mechanism that lifted the GWR AWS gear, thus preventing these fouling the Underground's conductor rails. These DMU's simply could not be operated on tracks shared with the Metropolitan's trains. (Similarly the Chiltern Line doesn't have a full fleet of LUL compatible Turbo trains either thus only those which have the necessary gear can operate from Harrow on the Hill northward.)
The GWR and the Western Region of British Railways were in a unique position of having to ensure part of their fleet was fully compatible with London Underground's services because the suburban platforms at Paddington were shared by both operators and these platforms (as well as the suburban tracks as far as Royal Oak) had the four rail system as well as embellishments such as raised train stops for trains that failed to halt at red signals and so on.
This was quite a unique operation and it was Paddington, the only one of all the London termini, to have a long standing tradition of having both main line and London Underground passenger traffic using its platforms – and it was those dedicated Western Region DMU's which could only use these specific tracks. That's the very reason for the title of this post! I'm aware the post's now expanded to far more than just writing about the Western Region's Class 116s and 117s that once ran on the Metropolitan line, but let's face it I like the title very much – and that's why I've kept it!
Before we move on I must mention this series of posts wasn't a simple afternoon's work of finding and collating stuff – its taken a very long time – three years in fact! The main feature image at the top of this page, which looks historic but isn't in fact – and shown above – is one I did to show how the Paddington suburban platforms once looked when these were dual use (eg Western diesel multiple unit operated and London Underground EMUs). That image took around five hours to create!
Lovely atmospheric shot of large GWR Metro tank 1420 with a suburban train leaving Paddington in 1927. However the purpose of this image really is to show the lower quadrant semaphore signals on the Metropolitan Line one of which can be seen against the wall of Paddington goods depot. Love those US style semaphores on the right! Source: GWR Modelling
This series of posts covers the electrified Great Western lines section from Paddington as far as Green Lanes Junction. Rail forums covering this particular subject have found it a very difficult topic to cover because of the rarity of photographs and information regarding the shared platforms and mixed tracks. I've never seen any good explanation of how it all worked either despite having used it too – and that's the main reason why this post originated.
In the next part we look at the early days of the Great Western/Metropolitan Hammersmith and the changes that occurred upon it which resulted in a terminus for the GWR's services and a through station for the Metropolitan's services.
Continued in Part Two.