What the….? No its not hell, but Helch. If you do not know what Helch means well you are in luck – for it seems no-one else knows either! At the time of writing Helch was perhaps the most profligate graffiti artist on the railways. No he did not tag trains but only bridges and walls. Even though his huge and often colourful graffiti caused much resentment because his modus often was to target places where tags hadn't been made before. Since a spawn of other artists such as 10 Foot have emerged who are far more determined to make their mark by suitably lining major rail approaches with their tags (eg Clapham Junction, Liverpool Street & Paddington) as well as the usual competitive locations. 10 Foot has even gone so far as to tag escalators and escalators steps on the London tube system.
This post was originally published in 2019. It had been thought after sometime that Helch had ceased his activities but that is far from the case. One of his huge tags, at Notting Hill tube station, removed at considerable expense, recently saw a new tag placed there with a single 'H' in a clearly evident Helch style.
Helch happens to be a graffiti artist who has had some of his tags in very prominent locations. The most controversial of these was a re-rendering of the famous Give Peas a Chance bridge, altered last year to read Give Helch a Break.
It seems you don't have to go far in London these days to find the word Helch painted on a wall, a bridge or the side of a building. Nobody knows for sure what his motivation is but what we do know is that Helch is the name of a graffiti artist. And he is becoming increasingly prolific. Source: My London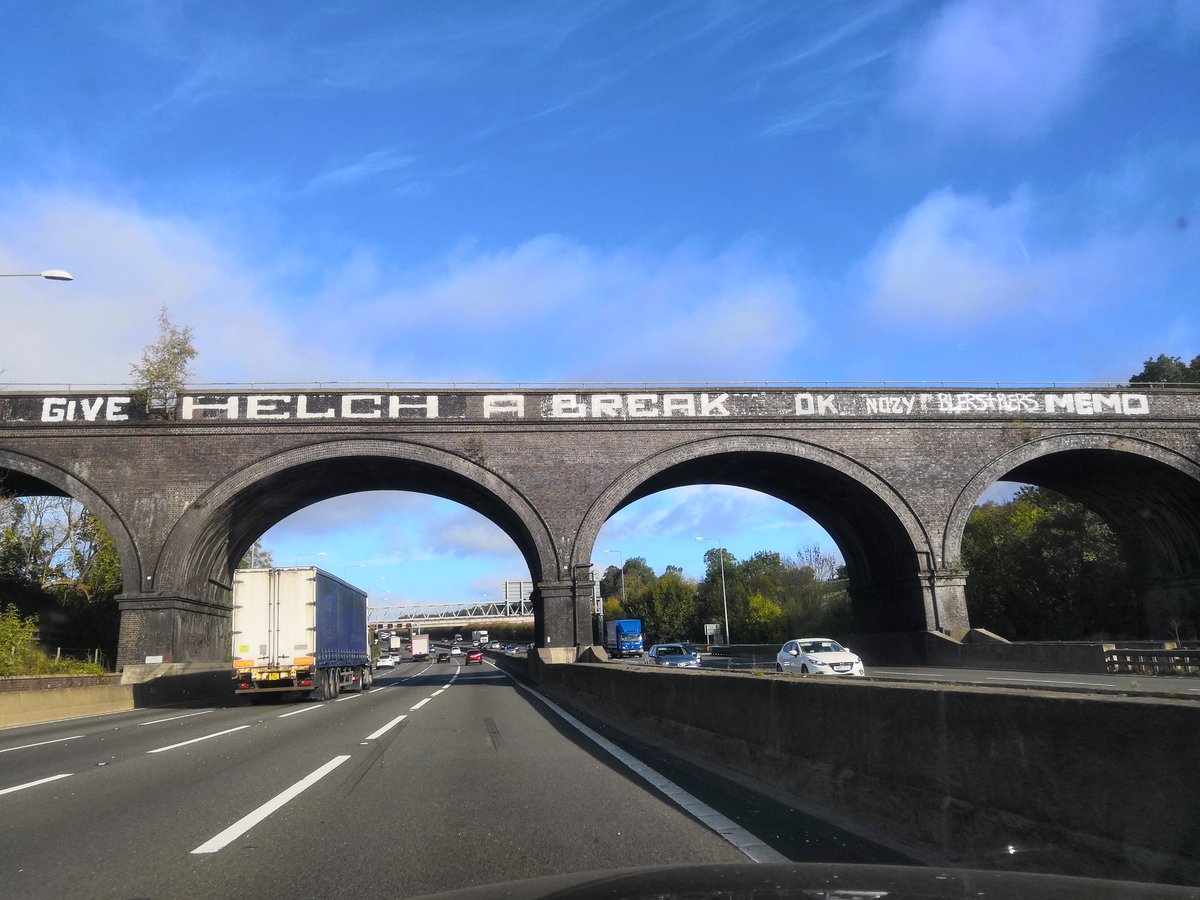 Give Peas a Chance bridge on the M25 at Chalfont altered to Helch. Source: Twitter
I first knew of Helch this year when a huge tag went up at Paddington station earlier this year. That sign didnt last very long it was soon obliterated. However another one at Notting Hill Gate station has survived and is still intact at the time of writing.
I first spotted Helch at Paddington station on a wet day earlier this year. It didn't last long and was soon scrubbed.
When I saw that at Paddington I had thought it was some kind of stunt because of the sheer difficulty of accessing that particular wall. Its a very tall wall along one side of London Street and the fact whoever did it had to get over this wall and then stand on the other side (note there isn't even a ledge for this) or at least reach down from the top of the wall to write their tag, it must have taken some confidence doing.
Its a similar situation for Notting Hill Gate, however there's a tiny ledge so that must have helped. What's amazing is they have returned to make their original lettering stand out more!
That at Notting Hill Gate as it originally was. Source: Twitter
The improved Helch look at Notting Hill Gate station. Pic taken by me 7th August 2019.
Other places on the underground include South Kensington and Sloane Square tube stations. The former location has now been scrubbed out, however its understood from this Tweet the latter too had an attempt at being rubbed out, however no sooner that they had got the H scrubbed off, it was painted back again overnight!
Helch as seen from Sloane Square's eastbound platform. Picture taken just a day ago.
Its a mystery how the artist got to this wall high above Sloane Square tube station. Its not just a case of leaning over a wall as at Paddington or Notting Hill Gate. The properties here at Sloane Square are part of a gated community, thus some clambering over security gates or walls must have been necessary and its a surprise no-one saw the graffiti being applied especially when one considers that practically every building up above the station at that point is either a blocks of flats or town houses.
Street level view of the graffiti at Sloane Square.
This year besides these central London tube locations the name has also been found in a number of place in north west London, especially around South Harrow, including apparently overwriting a ghost sign which made some people quite angry.
Clearly some graffiti artists are not too choosy about their locations….
That at Ladbroke Grove by the railway. Source: Twitter
He has also been seen in Lewisham and most recently in Bristol itself. There is a large one by the Great Western main line at Ladbroke Grove – I have seen that one however I did not think to take a picture at the time.
As Boris Johnson was about to become Prime Minster graffiti appeared on the motorway near Bristol saying Boris is Helch.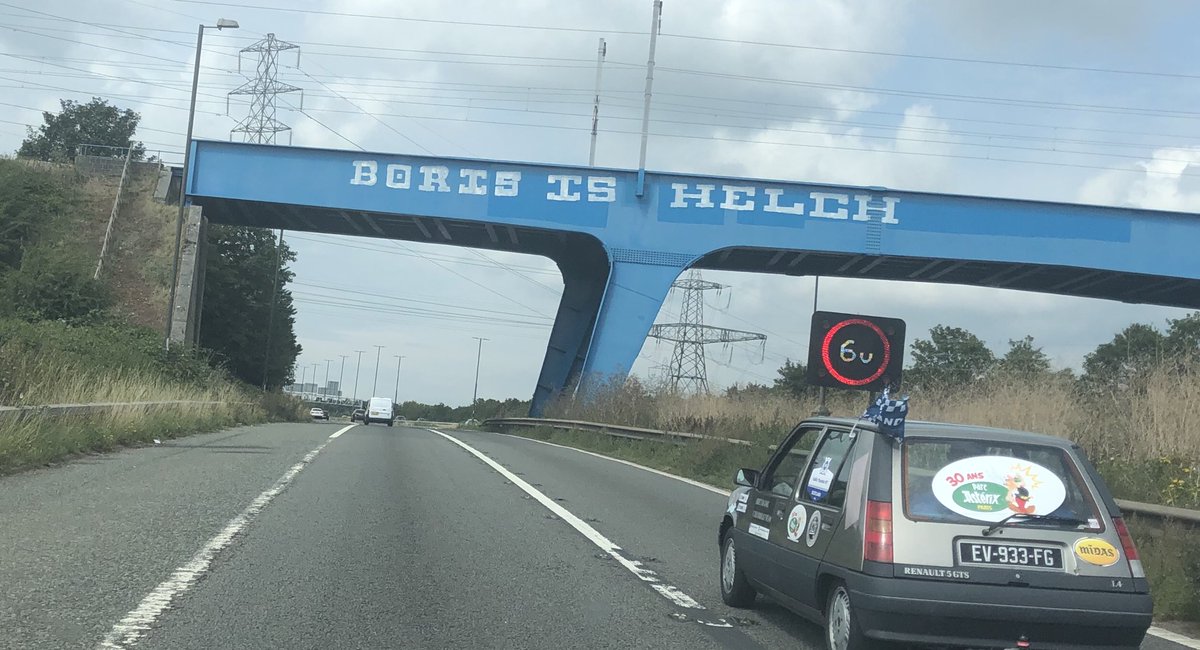 Boris is Helch. Seen on the M4 near Bristol. Source: Twitter
It could plausibly refer to Boris being an idiot for all we know! Evidently the artist has some referential mechanism we do not know of – yet.
The Highways Agency issued a warning a couple of days ago to whoever Helch is, to stop spraying his tag all over their bridges. The report can be seen here.
As if not to be outdone with his daring exploits, earlier this year the artist put a Helch on the Queen's head. Its quite prominent on the railway viaduct leading across the marshes at Eton Wick towards Windsor & Eton Central, and it has been suitably positioned to ensure maximum impact upon the view of Windsor Castle from this part of the world.
Helch on the railway viaduct at Eton Wick with the world famous castle prominent. Source: Instagram
Unauthorised graffiti is of course dangerous, and people get killed trying to cross railway lines or dangle from awkward bridges. Helch seems to be doing it in the most dangerous places, which are almost invariably bridges. That's his prerogative however given the risks and the possibility of jail, its entirely his choice in what he is doing. The feats of doing it may be impressive but given the downsides, is it really worth the risks?
Here's a list of definitions of the word Helch. I expect some of those definitions will be applicable in the artist's context of his tags.
I have written an update on Helch's work, including places that have not been mentioned anywhere else.